What Kate Middleton Won't Name Her Baby: A Psychic Predicts 2013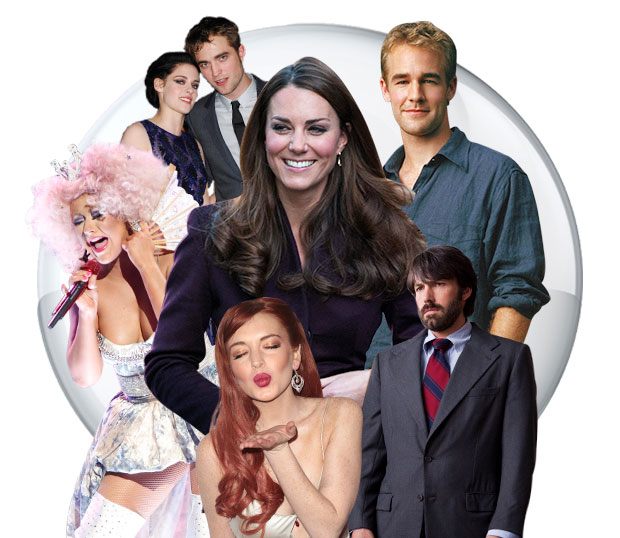 In the past 12 months, we watched as Ryan Lochte took the London Summer Olympics by storm, epic Hollywood couple Katie Holmes and Tom Cruise called it quits, and President Barack Obama was elected for a second term. We were transfixed by the The Hunger Games long before it hit theaters in March, and women the world over were mesmerized by the BDSM sexual exploits of Christian Grey in Fifty Shades of Grey. But what about next year? Will 2013 pack the same pop culture punch as 2012?
According to Psychic Medium Barb Powell, it will — that is, if we don't all go down on Doomsday (Dec. 21). She predicts what's going to happen in the coming year, and boy, is it a doozy. 
Psychic Predicts 2013:
1. Kate Middleton won't name her baby Diana.
"I know it's going to be a girl," Powell says. "People think that they are going to name the baby Diana after [Prince William's] late mom. I just don't see that. I think they're going to include [Princess Diana] in some way, but I don't see [the baby] being named Diana."
2. Who will win big at the Oscars?
"Best Picture, I'm leaning towards Argo," Powell says. "Best Actor would be Daniel Day Lewis. Best Actress [will be] Jessica Chastain."
3. Kristen Stewart and Robert Pattinson will break up for good.
"I know there's talk about marriage — I just don't see it," Powell says. "By the middle towards the end of 2013, that would be it between them. It would be done forever."
4. Ashton Kutcher and Mila Kunis will also split.
 "I know that they've been seen around a lot and going hot and heavy, but I certainly don't believe that they are in for the long hall," Powell says. "Mila is a distraction for him. I think she's on the rebound as well. As for Ashton, going into 2013, there's no balance in this guy's life. In 2013, he's likely to drop her. They are going to break up. And he's more inclined to embrace chaos in his life in 2013. His career will go along fine, but a lot partying, running around, chaos."
5. Ryan Gosling and Eva Mendes will still be going strong.
"They will get engaged in 2013," Powell says. "I like their energy together. They're not hugely out there with their personal lives. And also, expect pregnancy with those two in 2013. [But] I don't see them completely walking down the aisle in 2013."
6. Christina Aguilera will completely lose it.
"I see a huge decline in her emotional and mental state in 2013," Powell says. "She's just going to fall completely, completely apart. She's kind of a mess right now. 2013 will just be a complete decline with her."
7. Lindsay Lohan will do time.
"She will completely, almost disappear out of public eye towards the middle-end of 2013," Powell says. "She's going to be made an example of. She's going to get locked up for a while."
8. Martha Stewart will face a crisis.
"Shes going to have huge money problems," Powell says. "She's going to try to disappear. But certainly in the next few years, I see her kind of turning everything around. I certainly think she can rebuild what she [will lose next year]."
9. The Dawson's Creek gang will get their reunion.
"Yes. Absolutely. For sure there's going to be a reunion with that," Powel says.
10. Will Taylor Swift ever find true love?
"I don't think she's going to find the love of her life," Powell says. "She'll be tied to at least three people in 2013. She gets around. She can be a bit needy. It's going to be a long while before she ties the knot and settles down with anybody. [And] we can expect more songs from her."
11. A vintage power couple will make a comeback.
"We are going to hear a lot about Ben Affleck and Jennifer Garner," Powell says. "I keep feeling that Ben is going to be this huge guy in 2013. It almost reminds me of the next Brad Pitt and Angelina Jolie. They are the next 'it' type of couple."
13. And what of singing competition shows?"
The Voice is going to survive another round," Powell says. "American Idol is certainly on its way out. It might be its last go. The X Factor is going to be coming back."
14. Chris Brown and Rihanna will continue to make us want to vomit.
"I certainly see some back-and-forth with them," Powell says. "But it's almost going to be a quick engagement. I wouldn't be surprised about a marriage, but it's not going to last. [Also, I see] a pregnancy. All in 2013."
15. Will Revenge get good again?
"The way it feels, the next season for them, the writers are going to throw in even more ridiculous scenes," Powell says. "I don't think it's going to come back in a flourish and fans aren't going to be all over it again. I don't see a huge comeback."
16. Britney Spears will finally be back on track, and back on top.
"Britney Spears is on a huge comeback," Powell says. "She's going to be making a lot more music. I don't see any breakdowns for her. She's going to come back with a flourish and take control of her life."
Follow Lindsey on Twitter @LDiMat.
[Photo Credit: Photo Illustration by Hollywood.com; Photo Credits: INF Photo (2); WENN; WB; NBC; Warner Bros.; iStockphoto]
More:
Cher to Release First Album in 12 Years
YOLO, Jeah! 10 Catchphrases We Don't Want to Hear Again in 2013
Recovering from Head Injury, Kristin Chenoweth Starts Dating 'Bachelor' Star Jake Pavelka
You Might Also Like:

Britney Spears to Be Fired From 'X Factor': Report