When Britney Spears Switches On Her Mic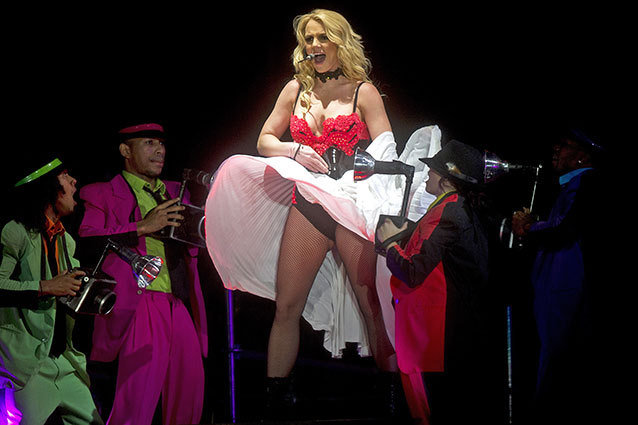 WENN
Despite the fact that she appears to have been sleepwalking through most of her performances since her infamous meltdown, Britney Spears insisted last week that she always sings live when asked whether she would be lip-synching during her upcoming run of 'Piece Of Me' shows in Las Vegas. While the disastrous response to her previous Femme Fatale tour suggests her claims are nonsensical, there have been at least a handful of occasions when the troubled star has made the effort to switch her mic on. Here's a look at five examples of her on-stage vocal prowess.
Star Search
Britney may have lost out to future Broadway star Marty Thomas during her appearance on Star Search in 1992. But her rendition of "Love Can Build A Bridge" at the tender age of ten years old is arguably her most impressive vocal display. What happened?
Late Show With David Letterman
Seven years on and this performance of her signature hit, "…Baby One More Time" on the Late Show With David Letterman proved that her voice had obviously lost some of its powerhouse quality, although it's still head and shoulders above anything else she's managed since.
Top Of The Pops
Perhaps a sign of the craziness that was to follow, Britney seemed more concerned with pulling the kind of faces you'd expect to see at a gurning competition than providing competent vocals during her slightly deranged take on "Lucky" for British TV institution Top Of The Pops in 2000.
"You Oughta Know"
The jury's still out at just how unaided Britney was during this unexpected cover of Alanis Morissette's "You Oughta Know" during her 2009 Circus tour. But the odd dodgy note and moments of breathlessness suggest that fans who coughed up hundreds of dollars for a seat did at least witness one semi-live performance.
The X-Factor USA
One of the few notable things she did during her stint on The X-Factor USA, Britney surprised fellow judge LA Reid and every single viewer when she sang "Happy Birthday" entirely without the use of AutoTune while presenting him with a cake in 2012.
Follow @Hollywood_com


More
Britney Spears Works It In Her New Single Artwork
Britney Spears Looks Like Her Old Self In New Video
Glee Will Break Your Heart With Tribute Songs For Cory Monteith
---
From Our Partners:


40 Most Revealing See-Through Red Carpet Looks (Vh1)


15 Stars Share Secrets of their Sex Lives (Celebuzz)