Win or Lose, Obama Warms Hearts: Connects NJ Governor and The Boss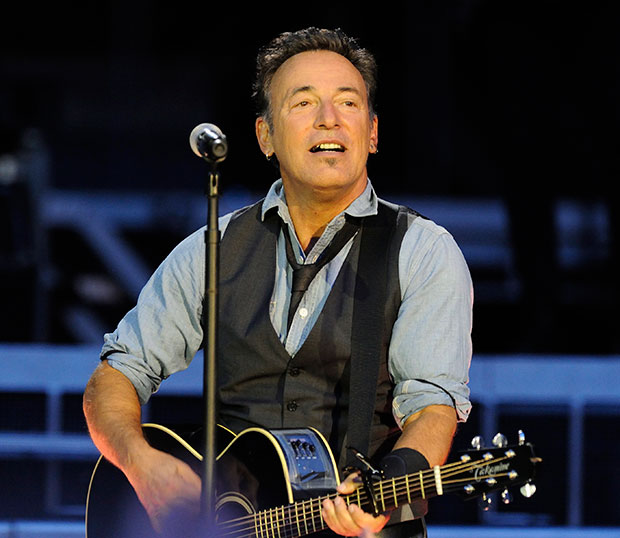 Tragedy often brings out the best in people, and when destruction hit New Jersey last week during Hurricane Sandy, that became abundantly clear. Volunteers and municipal workers have been exhausting all efforts to help those in need, and even in a time of extreme political divisiveness,
New Jersey Governor Chris Christie
and
President Barack Obama
put aside their party affiliations and the election to take care of Americans in need. It's enough to make your heart swell with American pride. And now, we can let our hearts swell a little more, because that party gap has been further bridged by the connection made between outspoken Obama supporter and staunch liberal
Bruce Springsteen
and the Romney-endorsing, conservative New Jersey governor. According to
The Hollywood Reporter
, Obama put Christie in touch with one of his favorite musicians, and one who'd been giving Christie the silent treatment, after Christie had experienced one of the most harrowing weeks of his career.
Of course, on Election Day, it's hard not to think along party lines, crossing your fingers that the other guy loses and you party snags the highest office in the land. So it's a heartwarming notion that just one day before Americans flocked to the polls to either reinstate or essentially fire Obama, he took a moment to give the man who's endured sleepless nights and agonizing sights of his home state post-hurricane a gift of sorts: the approval of The Boss.
Now, it's easy to make the takeaway of this event about securing last-minute votes; after all, Christie has been chummy with Obama during hurricane relief efforts even while he hangs on to his initial endorsement of Gov. Mitt Romney for president. But as Christie has expressed on television the day after Sandy hit, "If you think right now I give a damn about presidential politics, then you don't know me."
Despite Springsteen's extreme involvement in the Obama campaign — the musician hosted a free Pro-Obama concert in Virginia in late October and was aboard Air Force One when he spoke with Christie — his staunch liberal views, and his previous silence towards New Jersey's conservative governor, Springsteen is still a rock star. And not just any rock star, he's The Boss.
And yes, Christie did refuse to go a Republican rally on Sunday, but let's face it, he's still got more work to do in New Jersey than most people could even wrap their heads around. He's a little busy, but that doesn't mean he's renounced his party to be a party of Springsteen's über-liberal, Obama-loving entourage.
That leaves only one option for this chance conversation: A discussion between one fan, who's been burning the candle at both ends for the state Springsteen calls home, and The Boss, who's been giving the guy a hard time for his party alignment.
At a press conference, Christie said that Springsteen expressed his pride in his home state and his eagerness to return home soon, adding, "We had a good conversation today."
No matter what happens at the polls today, whether or not your chosen candidate wins, we can be assured that political parties don't dictate everything. Some things still come down to two people having an open conversation about something they both genuinely love.
Follow Kelsea on Twitter @KelseaStahler
[Photo Credit: Dominic Chan/WENN]
More:
Vote! Reality TV Reminds Us Why Each Vote Matters
Looking Back on the 2008 Election: Can Pop Culture Predict the President?
Why We Can't Peg President Obama's Pop Culture Persona

Channing Tatum to Be Named Sexiest Man Alive by 'People' (REPORT)
(Celebuzz)