Worst To Best: Arctic Monkeys Albums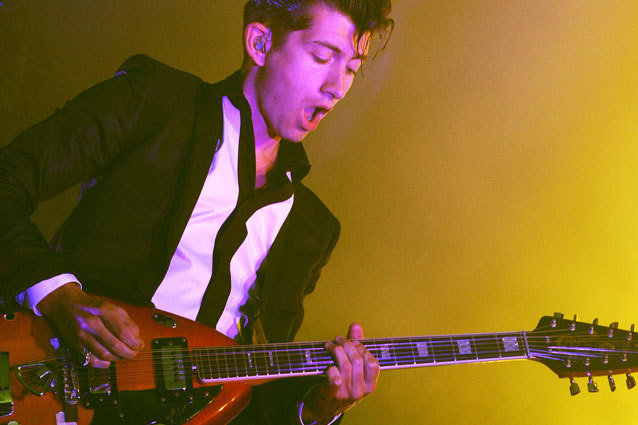 WENN
Buoyed by a triumphant headline slot at Glastonbury and an anthemic performance at the London 2012 Olympics Opening Ceremony, Sheffield's finest, Arctic Monkeys, appear to have rediscovered their mojo with their new record, AM. But how does it compare to their other studio efforts? Here's a rundown of their five UK number one albums, from worst to best. 
5. Humbug
Entirely subverting the public's impression of the band, 2009's Humbug saw the Monkeys abandon the Yorkshire Moors in favour of the Mojave Desert with a slightly menacing swamp-rock affair co-produced by Queens Of The Stone Age's Josh Homme. The riffs may have been thicker and Turner's tales darker, but apart from the lovely "Cornerstone," the tunes were non-existent and the band appeared to alienate half their audience in one fell swoop. 
4. Suck It And See
The title of their fourth album's lead single, "Don't Sit Down 'Cause I've Moved Your Chair," proved that the Monkeys had regained some of their mischievousness even if the music didn't necessarily always reflect that. Indeed, the stodginess that consumed its predecessor had thankfully disappeared but Suck It And See  was the sound of a band coasting rather the sound of a band hailed as indie-rock's great big hope.
3. Favourite Worst Nightmare
The Monkeys followed up their striking debut with more of the same, only with the volume turned up to eleven. Indeed, drummer Matt Helders was undoubtedly the star of the show on an unashamedly louder and faster record which hinted at the heaviness ahead, but wasn't afraid to embrace the concept of a hummable melody either, as shown on the utterly charming "Fluorescent Adolescent."
2. AM
Making everyone who had jumped ship since their third album sit up and take notice again, AM showed that the quartet still possessed the ability to surprise with twelve hook-laden tracks which embraced everything from Beatles-esque pop, stomping glam-rock and in the case of "Why'd You Only Call Me When You're High?," 90s G-funk, with impossibly infectious results.
1. Whatever People Say I Am, That's What I'm Not
A thrilling ball of energy which immediately positioned the Monkeys as guitar band saviours, Whatever People Say I Am, That's What I'm Not justified all the MySpace-assisted hype with ease. Combining Turner's distinctly Northern tales of teenage life with an inspired mix of post-punk, indie-disco and garage rock, this Mercury Prize-winning debut still stands up as one of the most of enthralling of the '00s.
Follow @Hollywood_com


More
Kanye West - Financial Advisor
Keep The Day Job: Dylan Pastels At The National Portrait Gallery
Unexpected Music Star Reinventions
---
From Our Partners:


40 Most Revealing See-Through Red Carpet Looks (Vh1)


15 Stars Share Secrets of their Sex Lives (Celebuzz)