Your Handy Dandy Pop Culture Gift Exchange Guide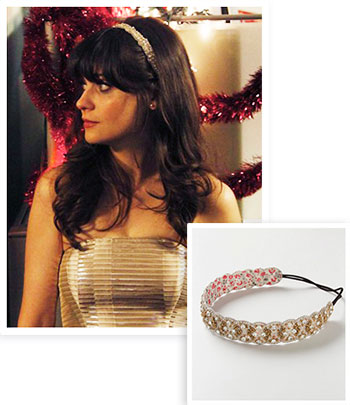 The thing about Christmas, and Hanukkah, and family, and presents is that you don't always get what you want. Each year, the mound of gifts that waits for you under the tree fills your soul with hope, anticipation, and expectation. And each year, those hopes are dashed upon the shore of broken dreams with each festive bow you untie; each glittering piece of paper you rip to shreds.
But blessed is the relative who includes a gift receipt at the bottom of your package. All hope is not lost! In two shakes of a lamb's tail and four hours spent in traffic on the way to the mall (or, for smart people, fifteen minutes on the Interweb) that sad, unwanted present can become something awesome. Lucky for you, we have the ultimate resource for finding the perfect substitutes for your meh gifts right here.
Let's say your mom gives you a scrunchie; trade it in for… An embellished headband just like Jess wears! This New Girl may currently be single and unemployed, but her snappy style never takes a day off. She knows you're never fully dressed without a smile (and some great accessories).
Find it at: Anthropologie
Your grandmother gives you an ugly Christmas sweater, complete with reindeer and actual jingle bells; trade it in for... One of Taylor Swift's polka dot sweaters! Taylor always looks cozy (and perfectly twee) in her oversized sweaters, and we guarantee you hers don't itch (sorry Nana). 
Find it at: French Connection
Your brother gives you an "I Heart New York" shot glass he bought for $3 at the bus station; trade it in for… An authentic Paddy's Irish Pub flask! The It's Always Sunny in Philadelphia gang sure knows how to have a good time. Be ready for a party anywhere at any time with this bad boy.
Find it at:
(Celebuzz)