Is Dakota Johnson Right for Anastasia Steele in the '50 Shades of Grey' Movie?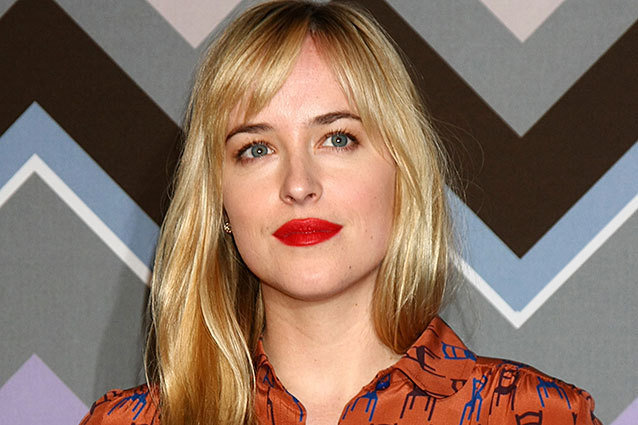 The question of who will play the roles of Anastasia Steele and Christian Grey in the film adaptation of 50 Shades of Grey has been plaguing fans for months. There have been countless rumors about which of Hollywood's leading actors and actresses will fill the role. It has become indiscernible who is actually in the running and who fans just want to see on screen. Already, Garrett Hedlund has rejected the part of Christian and apparently Ian Somerhalder is not even being considered (sigh). And now, according to The Wrap, the most recent name to be thrown in the hat is Dakota Johnson.
Johnson is likely best remembered for her romp with Justin Timberlake in The Social Network. But you might have missed her headlining spot on Fox's short-lived sitcom Ben and Kate. Johnson played a Kate, opposite Nat Faxton as Ben — a pair of siblings raising Kate's five-year-old daughter.  The show was canceled before finishing its 18 episode run due to pretty low ratings. However, it's important to note that despite Johnson only being 23, she has some age to her. Ratings notwithstanding, the actress can play the role of a more world-worn woman quite successfully. 
In comparison to the other women being considered for Anastasia, she may seem (not actually be, but seem) too old for the part. For example, Shailene Woodley is 21 years old, but can easily play the part of a young teenager, as demonstrated in her previous roles (like Secret Life of the American Teenager and The Spectacular Now). Lucy Hale is 24, though believable as her Pretty Little Liars character: a high school student who sleeps with her teacher. Felicity Jones is 29 and just recently played a student in the film Breathe In. Alexis Bledel is the oldest of the bunch, 31 years old, and a solid fan favorite as well. She is still playing the role of teenagers in her 30s. All of these facts are in important — even though the character of Anastasia is in her early 20s there is supposed to be a pure, childlike innocence to her. An innocence that Dakota Johnson doesn't possess. Though not necessarily a bad trait, it's one that might hinder her from nabbing this specific role.
More:
Writer of '50 Shades of Grey' Trying To Write 'The Little Mermaid' 
Gus Van Sant Directing '50 Shades of Grey' 
'50 Shades of Grey': First Look At Anastasia Steele
---
From Our Partners


Battle of the Bikini Bodies (Celebuzz)


Complete Guide to Strippers in Movies and TV (Vh1)