Michael Phelps and Megan Rossee Aren't the Only Olympic Lovebirds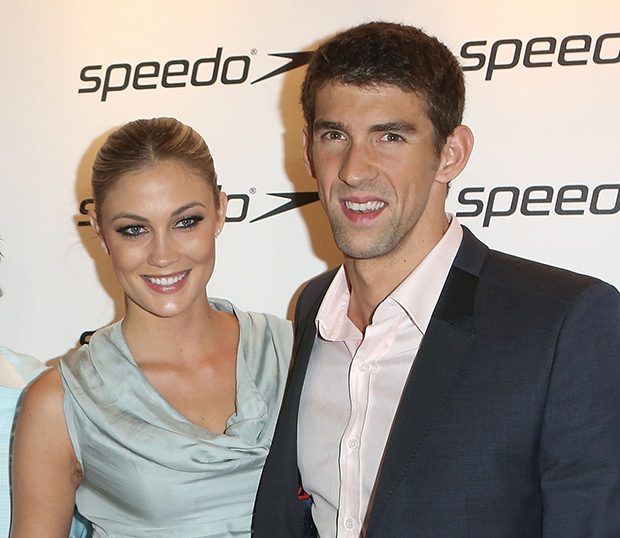 Medals, shmedals. Michael Phelps knows there's no better accessory than a gorgeous date on your arm. Phelps celebrated his record-breaking Olympics experience by stepping out with his blonde bombshell girlfriend, aspiring model Megan Rossee, on Monday night. The two, who posed together on the red carpet at reception hosted by Speedo, have been quietly dating for about five months, Us Weekly reports.
While the dashing duo made headlines following Monday's red carpet appearance, the competition for Cutest Olympic Couple is fierce. Whether they are competing in the games or supporting one another from the stands, here are seven couples who give Phelps and Rossee a run for their money.
Rebecca Soni and Ricky Berens: The Kids Next Door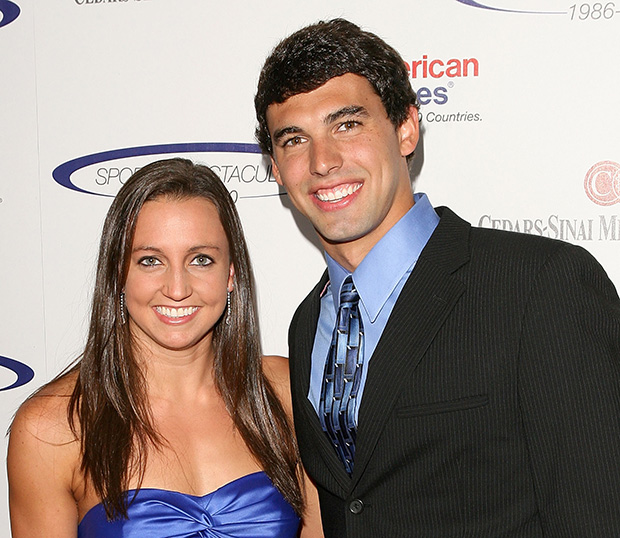 Aren't they just cute as a button? Soni, 25, and Berens, 24, have been dating since 2010 and are deeply in love (swimming pun!). The two have been able to cheer one another on as they compete for the gold in London as members of the US Olympic swim team, and will continue to support each other when they return to their shared condo in Manhattan Beach, Calif. 
Aaron Ross and Sanya Richards-Ross: The Power Couple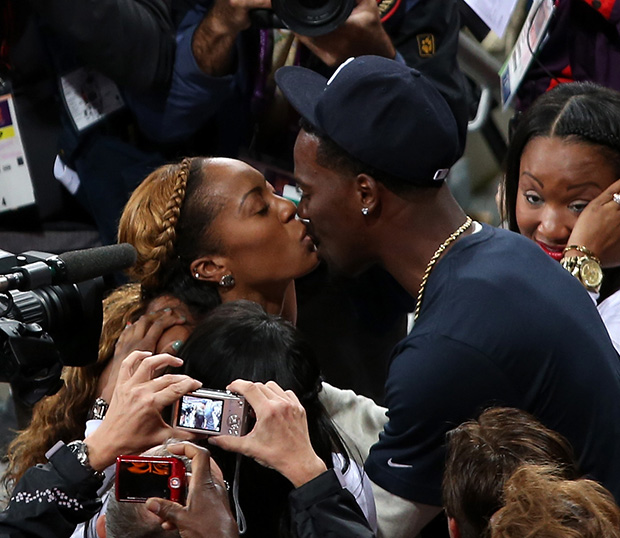 Sanya Richards-Ross made her Olympic dreams come true when she won the gold in the 400-meter sprint on Sunday. Having eluded her in Beijing (where Richards-Ross took home bronze in this event), the win was sweet. And the moment was made all the sweeter by having her husband, Aaron Ross, cheering her on from the stands. A defensive back for the Jacksonville Jaguars, Ross is quite the athlete himself. Between Ross' two Super Bowl rings and Richards-Ross' four medals, the two will soon rival Phelps in awards as well as cuteness. 
Alex Morgan and Servando Carrasco: The Heartbreaker (and her BF)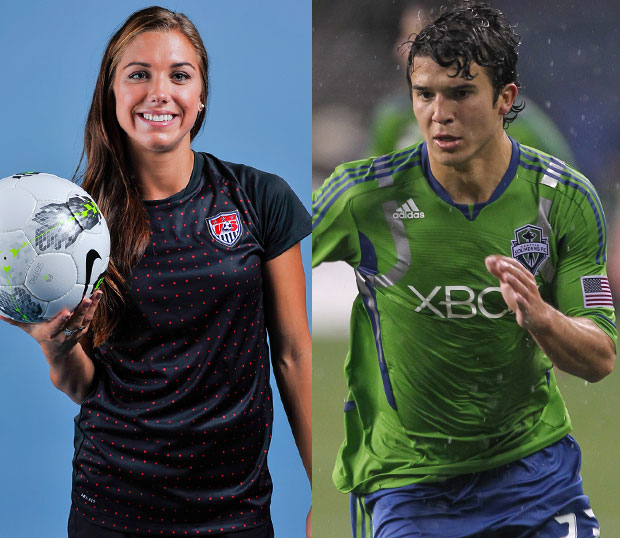 Alex Morgan. Just hearing her name is enough to make grown men sigh. She's young, she's hot, and she's a soccer superstar. She's not, however, single. America's soccer sweetheart has been dating fellow soccer player Servando Carrasco since they met in 2007 while attending the University of California. Carrasco currently plays for the Seattle Sounders. You can bet that Carrasco will be cheering on his girl during the US's gold medal match against Japan on Thursday. 
Andy Murray and Kim Sears: The Class Act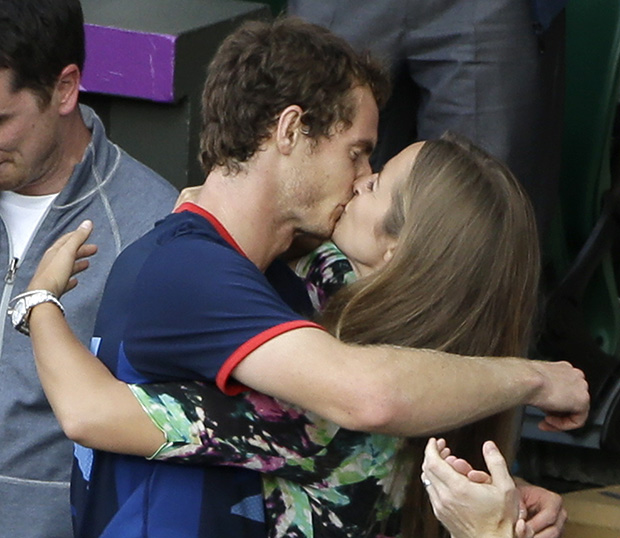 As soon as Scottish tennis player Andy Murray won his first ever major title, in the form of a gold medal against Roger Federer, he rushed into the crowd to give his gal a smooch. Murray and his Kate Middleton look-alike girlfriend, Kim Sears, have been dating since they were teenagers. After a brief breakup in 2009, which Sears attributed to Murray's addiction to video games, the two are back together and going strong. Sears has since been a staple in the stands for each of Murray's big games, including his devastating Wimbeldon loss to Federer last month. 
Matt and Katy Emmons: The Sharp Shooters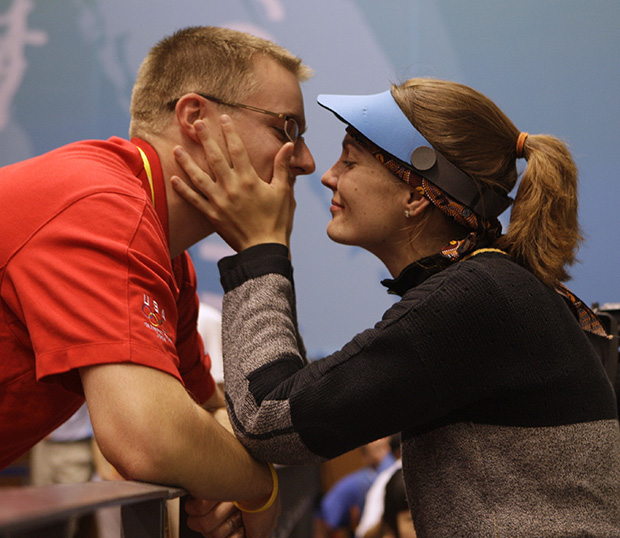 Who said love was a battlefield? Husband and wife Matt and Katy Emmons may be rivals on the field (she shoots for the Czech Republic, he for the USA), but in their personal lives they are totally in L-O-V-E. Matt and Katy met while competing in the 2004 Olympics in Athens. Like something out of a romantic comedy, Katy saw Matt from across a crowded beer garden, and wanted to comfort him for totally blowing his chance at winning earlier that day (he aimed for the wrong target). The rest, as they say, is history. 
Jared and Claire Tallent: The Awesome Aussies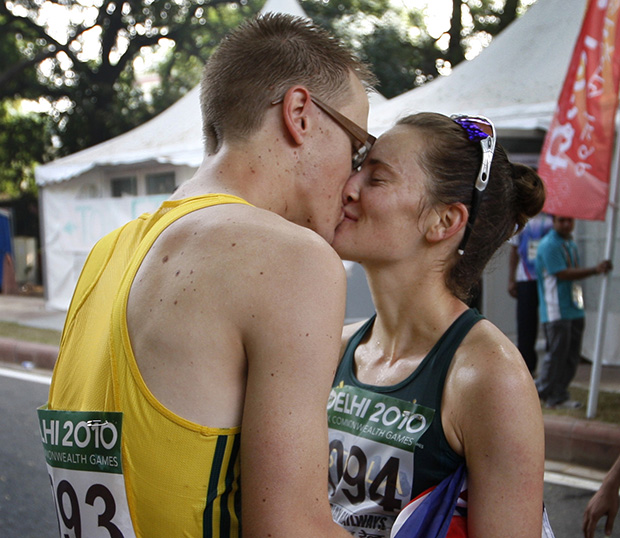 Just look at that picture. Look at it. How freaking adorable? 2008 was a big year for Australian race walkers Jared and Claire Tallent. Not only did they compete in the Beijing summer games, but they tied the knot in August. That must've been one speedy walk down the aisle!
Jessica Harrison and Carole Péon: The Fierce Competitors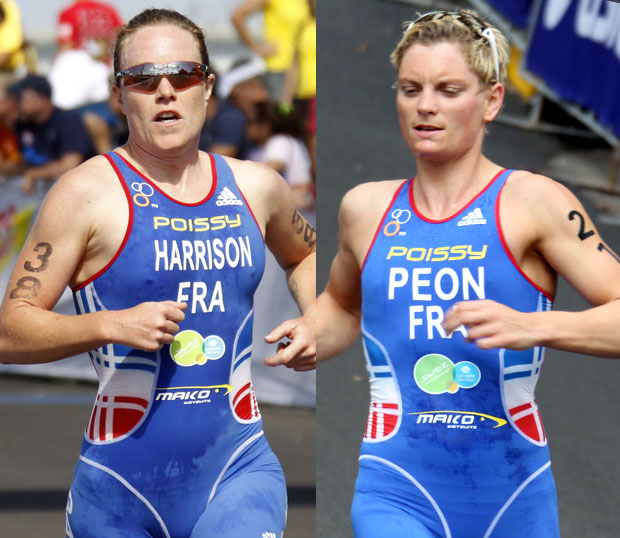 Harrison and Péon, who have been in a relationship for seven years, make up the only couple on our list that actually had to compete head-to-head in the London games. Harrison and Péon both ran the triathlon for France on August 4th. While neither woman earned a medal (Harrison finished ninth and Péon 29th), they shared a long hug at the finish line.
Follow Abbey Stone on Twitter @abbeystone
[Photo Credit: Getty (Soni/Berens, Ross, Morgan, Murray/Sears, Phelps/Rossee) and AP Images (Carrasco, Emmons, Tallent, Harrison, Péon)]
More:
Michael Phelps, the Most Decorated Olympian in History: What's Next?
Olympics Round-Up: Michael Phelps is a Golden God
Celebrate the One-Week Anniversary of the London Games With More LOLympics