Nicholas Hoult: 5 Reasons He's NOT the Next Robert Pattinson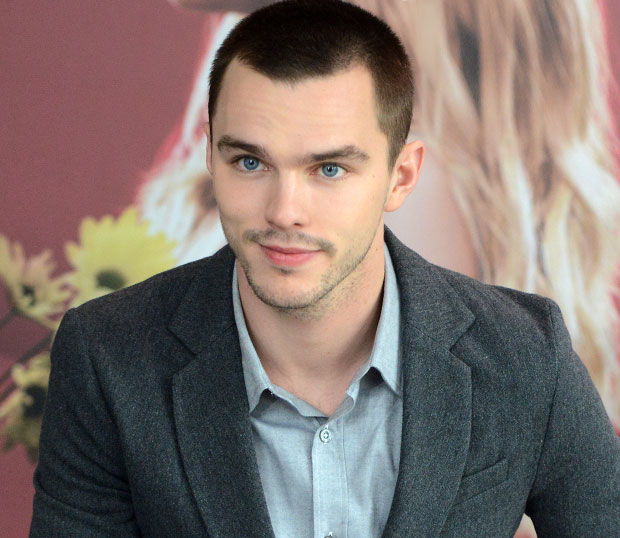 Here's the bottom line: Nicholas Hoult is better than Robert Pattinson.
Stay with me now — before you work yourself into a huff and unleash your super fandom death-stare, let me just clarify some things for you: I'm a full-fledged Twihard. Sigh. Yes, it's true. I may not walk around with fangs or wear an exact replica of Bella's engagement ring, but there was once a time when I would openly say to my college roommates, "Oh my God he is such an Edward!" and you could find me excitedly standing in line to see the midnight premiere of [insert Twilight movie here]. Let's just say it is was a dark time in my pop culture-centric life.
So you can imagine my skepticism when I originally saw the trailer for Summit Entertainment's next supernatural-filled romance flick Warm Bodies. To paraphrase Mean Girls: Stop trying to make zombie movies happen! It's not going to happen! A zombie is so not the same thing as a vampire — they're way more disgusting. And as far as leading men go, how could this dude in a dirty red hoodie even compare to the perfection that is Edward Cullen?
But then I saw the movie. And let's just say the hilarious, tongue-in-cheek teen rom-com sparked a change in my former vampire-loving heart.
Unlike the Twilight Sagas, Warm Bodies does not take itself too seriously. For one thing, all five Twilight vampire flicks are narrated by Bella Swan, the world's most melodramatic and monotone teenager, whereas Warm Bodies is verbally guided with the quick-witted and highly sarcastic thoughts of R — a zombie who is trying to deal with his love-struck feelings for a perfectly healthy human. And while Twilight was a romantic drama with a few chuckle-worthy lines thrown in, Warm Bodies is a romantic comedy with a ton of laughs, giggles, and gasps thrown in. It's definitely a movie that your boyfriend wouldn't mind being dragged to. And we have Nick Hoult to thank for that. 
True, Pattison and Hoult have some things in common: they're both British, sexy as hell, and portray undead yet overly romantic monsters. But in the race for who is the better heartthrob, sorry y'all but Hoult wins by a landslide. Here are just five reasons this is true:
1. He dated Jennifer Lawrence. Jennifer Freakin' Lawrence! Also known as Mystique, Katniss Everdeen, a Golden-Globe winning actress, and the world's most entertaining interviewee ever. She's pretty much the epitome of perfection: guys want her, girls want to be her best friend, and she just wants to be her honest, overly blunt, amazing self. And Hoult dated her for over two years! Although the two big-screen stars have recently split, they're said to still be on great terms. In other news, Pattison is still shacking up with the unfaithful and forever awkward lip-biter Kristen Stewart. Blegh! 
2. He's endearing. As someone who has seen About a Boy seven and a half times (you know, give or take), I was worried that interviewing Hoult would erase all the fond memories I have of him looking adorable while belting out "Killing me Softly" on an auditorium stage. However, in person Hoult is just as sweet, humble, and charming as one could hope. And of course his devastatingly handsome face, British accent, and electric blue eyes, don't hurt his appeal.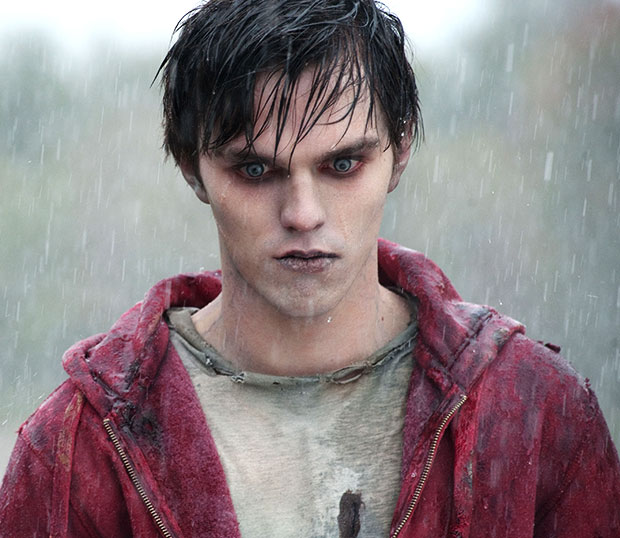 3. He's got TV cred. Hoult is not just another blockbuster babe; he's also spent his years building up his résumé as a small screen sweetheart. Most notably, Hoult unleashed his inner bad boy as Tony in the UK hit Skins.
4. Movies galore! Unlike R-Patz, Hoult is not going to be forever pigeon-holed as a guy who makes a good zombie (how's that for a compliment?). Hoult's acting roles stretch across all genres. He's put the fairytale fans under his spell with the upcoming action comedy Jack the Giant Slayer opposite the amazing Ewan McGregor, and in 2014, sci-fi nerds fans all across the world will camp out for days to watch Hoult revive his brilliant role of Beast at the midnight premiere of X-Men: Days of Future Past. Plus, thanks to Warm Bodies, it's just a matter of time before Hoult is cast as the handsome lead in some genuinely sweet romantic drama, a la The Notebook.
5. He's a great actor. Hoult's performance in Warm Bodies is believable, hilarious and unique. And all he really did was grunt! It's hard enough to give a swoon-worthy lead performance, but take away the dialogue and you've got a whole new set of phonetically-fueled problems. Needless to say, Hoult handled the extra challenge, like everything else, with aplomb. 
Follow Leanne on Twitter @LeanneAguilera
[Photo Credit: WENN; Summit Entertainment]
MORE:
Is 'Warm Bodies' the Zombie Answer to the End of 'Twilight'? — TRAILER
Hollywood.com Wants You to See 'Warm Bodies' Before Anyone Else
http://www.hollywood.com/news/movies/7836782/john-malkovich-will-kill-zombies-in-warm-bodies

100 Hottest Women of the Century: Do You Agree?