Unhappy Hour: Beyonce Lip-Synced the National Anthem & 7 Other Reasons to Drink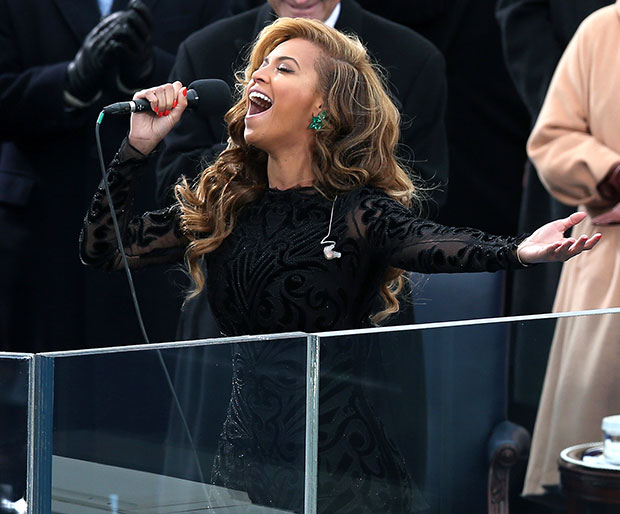 Each week, Hollywood gives us something to whine about, and the week of Jan. 21 was no different. We could make a drinking game out of this week, but that would be too dangerous. Instead, we'll stick to the usual formula: varying levels of alcoholic respite depending on how bothersome the week's issues are. Is your biggest complaint this week a flimsy one? How about a light cocktail to take the edge off? Got a real bone to pick with a celeb or entertainment entity this week? Go ahead, grab a drink that'll put hair on your chest. Here are the week's entertainment stories that are forcing us to seek a bubbly or boozy refuge. And maybe an idea or two about how you should wash them down.
Take the Edge Off with an Irish Coffee
Congrats on the baby-to-be, Michael Bublé! But next time, can you announce it in a way that doesn't make us want to barf?
Okay, okay. I admit, I'm being a bit harsh. But if there is one thing I vehemently believe, it's that the Internet is no place for your sonogram video — especially when set to "I Haven't Met You Yet."
The Necessary Death of Charlie Countrymen, starring Shia LaBeouf, premiered at Sundance. And it sucks.
Spoiler alert! Charlie Countryman (LaBeouf) doesn't even die.
The lineup for the 2013 Coachella Valley Music and Arts Festival was announced… and it's kind of a letdown.
Last year had Hologram Tupac, and this year we get the Red Hot Chili Peppers? What about the Rolling Stones and Smiths rumors we heard? Modest Mouse, I love you, but you're so 2006.
Drown Your Sorrows in a Bottle of Chianti
So long, Ben and Kate. Sayonara, Don't Trust the B in Apt. 23. You will be missed.
Fox and ABC (respectively), pulled the comedies from their schedules. While we mourn the admittedly low-rated shows, we can't help but wonder, what's to come of James Van Der Beek? Cheer up, James, remember the good times.
Lindsay Lohan still can't catch a break.
Poor Lindsay. She finally made a movie, but it looks like no one may see it. The Canyons has been rejected by SXSW for "quality issues." Womp womp.
James Franco continues his spiral into self-absorbed oblivion.
A word to the wise, when asked to write an unofficial inauguration poem, it's best to make it about the President, not yourself.
Oh F**k it, Time For a Round of Tequila Shots
The saga of Manti Te'o continues, and now it's making us get all philosophical and s**t.
No seriously. Are we so obsessed with sob stories that we're forced to make them up now? Does something have to be traumatic to be appealing? What is wrong with us?!?
Speaking of traumatic, Beyoncé may have probably lip-synced the national anthem at the inauguration.
But we are still in denial.
Follow Abbey Stone on Twitter @abbeystone
[Photo Credit: Alex Wong/Getty Images]
More Unhappy Hour:
Manti Te'o Hoax Consumes Our Lives and More
Kathryn Bigelow's Oscar Snub, Al Roker's Pants, and More
'Evil Dead' Red Band Trailer, Azealia Banks' Gay Slur and More

20 Hottest Celebrity Bikini Bodies