12 Reasons Why We Will Always Ship Fitz-Simmons On 'Agents of S.H.I.E.L.D.'
For a show filled with action and adventure, Marvel's Agents of S.H.I.E.L.D. never shies away from a good romance. The lovable duo of Leo Fitz (Iain De Caestecker) and Jemma Simmons (Elizabeth Henstridge) always add a touch of humor to the ABC series while tugging at our heart strings with the constant "will they/won't they." The writers may try to keep them apart but we will never stop shipping Fitz-Simmons!
1. They had a ship name since the pilot episode.
2. They're total nerds together.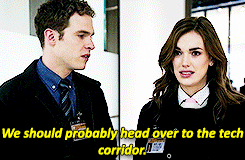 3. They can always rely on each other.
4. Fitz is not strong enough to live in a world without Simmons.
Right in the feels!
5. They both find joy in the simple things.
6. Simmons knows Fitz's favorite sandwich.
Does anyone else want prosciutto and buffalo mozzarella with Simmons's home-made pesto aioli now?
7. And Fitz knows how to tell a white lie about losing his sandwich.
Dammit Grant Ward! We knew you were evil when you threw that sandwich away.
8. When Simmons tried to sacrifice herself after getting infected with an alien virus, our hearts broke along with Fitz's.
Fitz's reaction kills us every time.
9. They can solve any problem together.
10. They know how to solve any issue quickly.
11. They know how to show their love.
12. And we are dying to see more moments like this!
Fitz-Simmons forever!