Cuba Gooding Jr. Alter Ego Story Is Almost Too Good To Be True. Almost.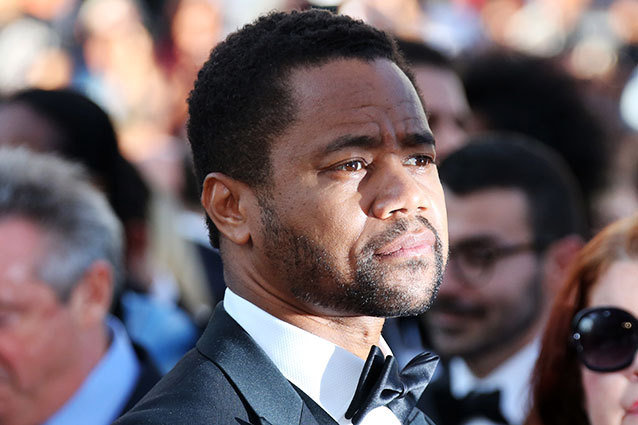 Reading the tabloids comes with a grain of salt. There are the things you know definitely aren't true, the things you really hope aren't true, and the things you so desperately hope are true because they are so outrageously off-the-wall ridiculous there's no way anyone could have even attempted to make it up. Case in point: the story the New York Post is running about Oscar-winner Cuba Gooding Jr. which claims that the Chill Factor/Radio/Snow Dogs/Boat Trip, and yeah, sure Jerry Maguire, star has taken on an alter ego persona named… Dick McWilly. (It's settled, as far as hidden identity names go, Dick McWilly > Dick Whitman). 
RELATED: Cuba Gooding Jr. 'Red Tails' Interview
According to the always-reliable Post —whose headline about this will presumably read tomorrow "Show Me the Loony!" — the 45-year-old actor was at a Cinema Society screening and "was overheard introducing himself to a woman as McWilly, who has a criminal past." Apparently Dick McWilly is a wily troublemaker who just got out of jail, drank "ant piss," had sex with both a leprechuan and an alligator, the latter of which he got pregnant. Just kidding, the alligator didn't get pregnant because that would be crazy. 
RELATED: Are Charlie Sheen and His Alter Ego Charles Swan III Actually the Same Person? 
The article also claims that he compared his Broadway show The Trip to Bountiful to… a sandwich. "If I was gonna make you a sandwich, you wouldn't want me to talk about me making you a sandwich. You just want the sandwich … and it's a good sandwich," he allegedly said. Now whether that was Cuba or Dick talking is uncertain, all we do know is that now we would like a sandwich. Thanks a lot, Cuba/Dick! 
In all seriousness, we hope that the clearly-troubled star isn't completely losing his marbles (the Post also claims he recently pulled a Tracy Jordan and took his shirt off at a bar, but not, unfortunately, while screaming "Show me the money," in turn making that a slightly less amusing anecdote) and that Dick McWilly will join forces with his brother Omar Gooding Jr. to bring back another season of Wild and Crazy Kids. 
[Photo credit: Loic Venance/AFP/GettyImages]
---
From Our Partners:


40 Most Revealing See-Through Red Carpet Looks (Vh1)


15 Stars Share Secrets of their Sex Lives (Celebuzz)