Charles Ramsey Is a Hero: 10 Funniest Pop Culture Tweets of the Week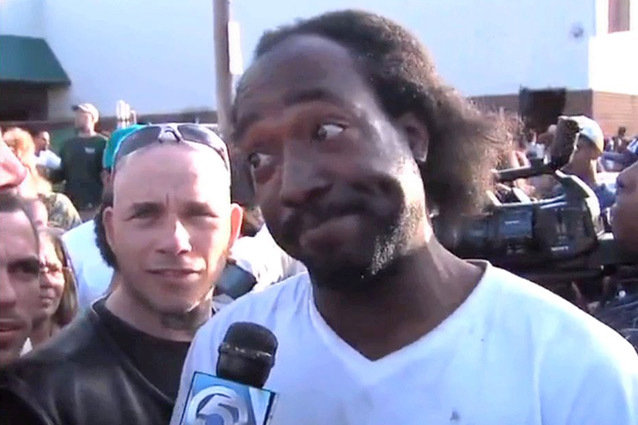 Besides the Metropolitan Museum of Art Costume Institute Gala on Monday night and The Great Gatsby heading to theaters Friday, this week in pop culture has been a lot less about Hollywood and more about current events like the sad story of Jodi Arias, who was found guilty of first degree murder in the killing of her ex-boyfriend Travis Alexander. Nancy Grace has been tirelessly covering Arias' trial and almost broke down into tears when she broadcast the guilty verdict. In much happier news, Charles Ramsey became an American hero when he rescued three women and a child who had been held captive in Cleveland.
See what Twitter's comedians had to say about this week's pop cultural events. 
10 Funniest Pop Culture Tweets of the Week:
1. Paula Pell: "'I just feel so bad that Gwyneth found the Met Ball 'un-fun'". -One of the kidnapped girls in Cleveland."
"I just feel so bad that Gwyneth found the Met Ball 'un-fun'". -One of the kidnapped girls in Cleveland.

— Paula Pell (@perlapell) May 10, 2013
2. Conan O'Brien: 'YouTube may start charging? I guess cats are sick of working for free.'
YouTube may start charging? I guess cats are sick of working for free.

— Conan O'Brien (@ConanOBrien) May 9, 2013
3. Damien Fahey: "With Jodi Arias being found guilty, I can't help but think how rock hard Nancy Grace's penis must be right now."
With Jodi Arias being found guilty, I can't help but think how rock hard Nancy Grace's penis must be right now.

— Damien Fahey (@DamienFahey) May 8, 2013
4. Mary Charlene: "at least Jodi Arias is making most of us look like decent girlfriends"
at least Jodi Arias is making most of us look like decent girlfriends

— Mary Charlene (@IamEnidColeslaw) May 8, 2013
5. Rob Delaney: ".@NancyGraceHLN Why does murder make you so #moist?"
.@nancygracehln Why does murder make you so #moist?

— rob delaney (@robdelaney) May 8, 2013
6. Mitch Fatel: "Charles Ramsey SHOULD have been our first black President. #hero"
Charles Ramsey SHOULD have been our first black President. #hero

— mitchfatel (@mitchfatel) May 8, 2013
7. Sammy Rhodes: "Do you think somewhere there's a lion named Lionardo DiCatrio please say yes."
Do you think somewhere there's a lion named Lionardo DiCatrio please say yes.

— sammy rhodes (@prodigalsam) May 7, 2013
8. Julia Segal: "To save $$ I'm just gonna watch the 1974 Redford/Farrow version of The Great Gatsby while listening to Jay-Z & throwing glitter in my eyes."
To save $$ I'm just gonna watch the 1974 Redford/Farrow version of The Great Gatsby while listening to Jay-Z & throwing glitter in my eyes.

— Julia Segal (@juliasegal) May 8, 2013
9. Neal Brennan: "Right now LeBron is like, 'I tried to tell ya'll Cleveland is crazy.'"
Right now LeBron is like, "I tried to tell ya'll Cleveland is crazy."

— Neal Brennan (@nealbrennan) May 8, 2013
10. Max Silvestri: "Much like Tony Stark struggles with inner demons, I struggle with not spilling the buffalo chicken wrap I just snuck into Iron Man 3, alone."
Much like Tony Stark struggles with inner demons, I struggle with not spilling the buffalo chicken wrap I just snuck into Iron Man 3, alone.

— Max Silvestri (@maxsilvestri) May 7, 2013
Follow Lindsey on Twitter @LDiMat
More:
Lindsay Lohan Heads to Rehab 
Reese Witherspoon Arrested 
Proposition 8 Goes to the Supreme Court
---
From Our Partners:


What Happened to 33 Child Stars (Celebuzz)


40 Most Revealing See-Through Red Carpet Looks (Vh1)