Gisele, Why Do You Keep Making Tom Brady Look Bad?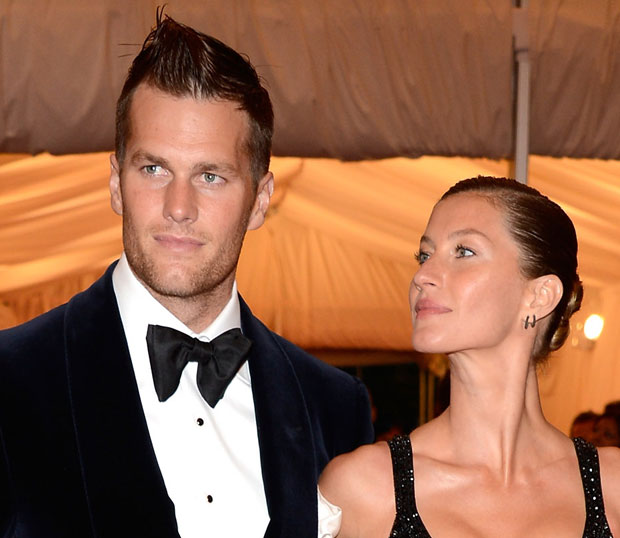 We can officially add Tom Brady's hair to the list of fashion disasters from Monday night's Metropolitan Museum of Art Costume Institute Gala including Leighton Meester's aggressive tan, Kristen Stewart's mismatched nightmare, and Elizabeth Bank's alien armor. What is he trying to do? Bring back Gumby chic?
Remember when Tom Brady used to be hot? Well, the offending offensive QB is still as swoon-worthy as any other Men's Health cover boy, but ever since he's gotten together with supermodel Gisele Bundchen, it's like she's turned him into some horrible fashion disaster. It's like they were getting dressed for the Met Ball last night and Gisele looked at him and said, "Oh no, honey, we need to do something about that hair." A dab of Dep hair gel, two minutes, and one bad decision later and her man is walking on the red carpet next to Cameron Diaz looking like he's reprising her role in There's Something about Mary.
RELATED: Watch Gisele Bundchen Blame Tom Brady's Teammates For Super Bowl Loss
And this isn't the first offense that's been perpetrated on her watch. Last football season she let she let him grow his stringy limp locks down to his shoulders. Come on, Gisele! Not a cute look for him.
RELATED: Gisele Bundchen Takes Tom Brady Home to Meet the Folks
At least when they attended last year's Met Ball, he made it look sleek and chic unlike this year's travesty. Also, she is letting him endorse Man Uggs. Personally I don't think anyone should wear Uggs and certainly not a man. Tom, you can't wear a uniform and helmet off the field, so it's time to snatch it together and hire a stylist of your own. It appears your wife is lousy at it.
Follow Brian Moylan on Twitter @BrianJMoylan