Happy Birthday, Justin Timberlake! Consider These 32 (Totally Selfish) Birthday Wishes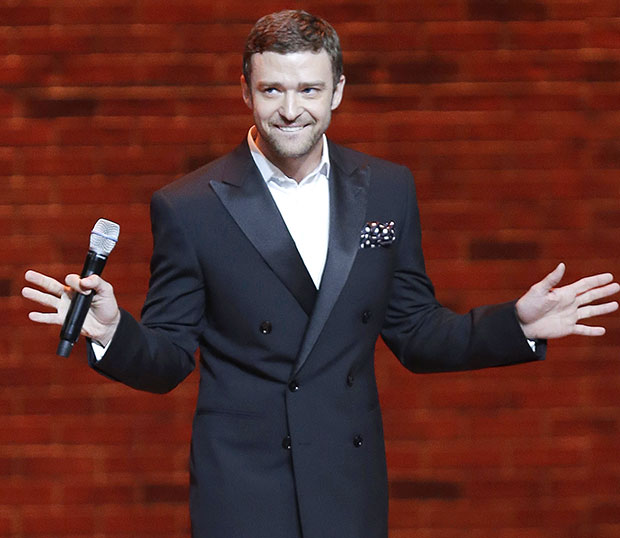 He's got a new album on the way, a new wifey, and a (re)new(ed) popularity, and today, Justin Timberlake is 32 years old. While we'd love to know what he wished for while blowing out his birthday candles, we've got a few Timberlake-facing wishes of our own. We're allowed to tell if it's not our birthday, right?
1. Another single off of The 20/20 Experience. We can't wait until March 19, JT.
2. More tiny hats, please.
3. A comedic appearance, planned or impromptu, on SNL this season. That show needs a little help this season.
4. Okay, sing a song on SNL, why dontcha.
5. Some shirtlessness wouldn't kill you.
6. How else are you going to get the Sexiest Man Alive title next year? (Yes, that wish came in the form of a question and yes, it still counts.)
7. Stay weird, my friend.
8. Really, really weird.
9. We all think Jessica Biel is swell, but keep on keeping to yourselves, it helps us live in a delusional bubble where you're single and we have a chance.
10. Stop making bland sci-fi movies about running and being hot. (Sorry, we really didn't enjoy In Time.)
11. Don't even think about going back to your ramen hair look.
12. But never forget.
13. And let things like this keep you humble:

12. Keep wearing these glasses. Or we'll cry. We mean it.
14. Be a gentleman. Janet Jackson can't be the only one with wardrobe malfunction notoriety, why don't you level the field next time you perform? (It's not weird, we're doing this for Janet, okay?)
15. If this laugh could make it into your next video, that would be fabulous.
16. When you perform at the Grammys, make sure you bring Jay-Z with you. The sheer joy of all that will give us happy little fits of giddiness.
17. While you're at it, do a song with Beyonce. She owes you one for that "Single Ladies" video anyway.
18. Facial hair > No facial hair
19. Try not to star in any Nicholas Sparks movies. Not everyone gets to be Ryan Gosling. 
20. But do star in anything that lets you show off this view:
21. Well never not enjoy seeing you behind a piano, so you know, more of that would be great.
22. The smolder is cute, but stick to the smile. It's disarming. Like, dangerously so.
23. Keep keeping it real on Twitter. We couldn't get Super Bowl tickets either.
24. Do a podcast. Please. We're dying to know what you think of this week's Girls episode.
25. More of this:
26. Can you get *NSYNC back together for like, 15 minutes? You're letting the Spice Girls, Destiny's Child, The Backstreet Boys, 98 Degrees, and even New Kids on the Block beat you to the reunion punch. Get it together.
27. Keep the hair as it is. The shaved head thing was cute, but this new 'do is dapper.
28. Bowties. More please.
29. Can I have a hug?
30. Or if it's easier, you could work my name into "Señorita."
31. Keep dancing like this. Never stop. Ever.
32. No really. I was serious. Where's my hug?
Follow Kelsea on Twitter @KelseaStahler
[Photo Credit: MediaPunch Inc/Rex USA]
More:
The Billboard Beats: Justin Timberlake's 'Suit & Tie' Knocked Out of Top 10
Justin Timberlake to Perform at the Grammys: Will He Wow Us?
Beyonce Heats Up Super Bowl Rehearsal — PICS

'Hunger Games: Catching Fire': Spoilery Pics From Google Maps