'Bad Fashion' Is Not an Excuse to Fat-Shame Kim Kardashian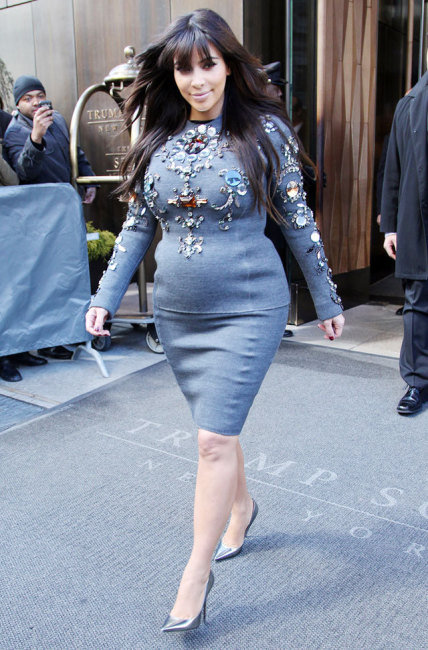 Kim Kardashian is opportunistic. Audacious. Shameless. The wee bit of Jane Austen in us all might even say she's wanton. As the poster child for living without consequences — a reputation earned by the surge of popularity that followed her Ray J sextape — Kardashian's long been used as a symbol for the problems with American society. It's largely because of her that some impressionable young people seem to think the "American Dream" is having your daily life featured on an E! reality show. Her populartity even soared after her sham of a marriage while her allegedly duped, soon-to-be ex-husband Kris Humphries was branded a "sad sap" or "sucker." But now, it's not Kardashian who's the problem. It's us.
Exboritant levels of criticism are being cast at Kardashian every time she dares to parade her pregnant belly before the paparazzi, and much of it is sneaking by under the guise of "fashion critique." But poor wardrobe or not, Kim's situation is proof that it's far too normal for the fat pregnant woman discussion to gain traction. It's gotten so bad for Kardashian that she's swiftly gone from shameless to sympathetic in the eyes of those whose hearts are still shut to the practice of fat-shaming.
RELATED: Kardashians Are Fuming Over Ford Ad
As soon as she became pregnant with Kanye West's child, the reality star became a punching bag for the most ruthless voices on the Internet and in the tabloids — even the ones who hide their criticisms behind claims about her poor style choices. And while her lifestyle and her wardobe may be abhorrent to some, the cavalier manner in which Kardashian has been shamed by some segments of the media and legions of fans is worse than anything she could have done in front of a camera (even that sex tape).
Tabloid headlines boast Karshashian's status as "Pregnant and Alone!" while others estimate her weight at 200 (plus) pounds or claim she "can't stop eating." Rumors about West's recent sexual disinterest in the star claim that she's too rotund to be attractive. A quick turn on Twitter reveals attacks like "$20 Kim kardashian stays fat after her baby" and "Kim kardashian looks pretty damn fat! I think the worlds prayers have been answered." Every interview she does for her upcoming role in Tyler Perry's Temptation eventually dives into discussion of her pregnancy and a call for her to deny the amount of her weight gain. And as some sort of sinister pièce de résistance, TMZ recently posted a video titled "Who's Fatter: Pregnant Kim Kardashian or Pregnant Jessica Simpson?" in which the narrator says pregnant women aren't fat "they're just glowing (with chicken grease)."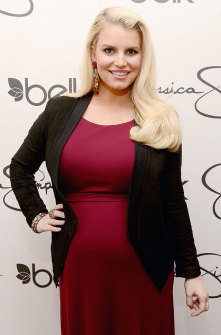 RELATED: Kim and Kanye May Name Their Baby North West
Society loves to bash the Kardashians. They're easy targets, especially Kim. But justifiable disgust with Kardashian's glamorous, frivolous lifestyle is only the excuse, and a flimsy one at that, for a torrent of bad behavior. The real issue is that the act of fat-shaming a pregnant starlet, whose only actual "crime" is bringing another life into this world, has become a normalized behavior.
We were shown the way with Jessica Simpson, who was already struggling with her weight and the antagonistic comments it inspired when she became pregnant in late 2011. She endured countless Photoshopped images of her body bloated far beyond its pregnant shape and had to verify that her "oversized" baby bump "Isn't Twins!" Similarly, Hilary Duff was greeted with headlines about her "waddling" to yoga, claims that she was "still fat" after giving birth, and even one article pitting her in a race to the bigger belly with Simpson.
In November of 2012, Adele, who's often praised for embracing her voluptuous figure in an industry that prizes slim frames, was greeted with despicable comments when she announced the secret birth of her son. Even famed comedian and Fashion Police host Joan Rivers (who, granted, isn't know for her tact) got in on the conversation, saying, "Congratulations to Adele on the birth of her 68 pound 8 ounces bouncing baby boy."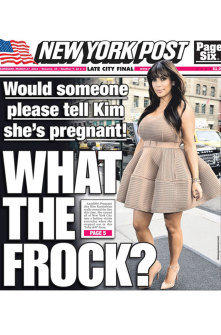 Still, some writers have tried to legitimize this discussion by shifting the focus to Kardashian's questionable pregnancy wardrobe instead of just her shape. The most recent offender being the New York Post, whose Tuesday cover ran with the headline "What the Frock?" as a way of calling out Kardashian for attempting to hide her baby bump with a voluminous dress and high heels, the subtext being that she should embrace her pregnancy with comfortable clothes. While others have waged milder attacks — calling her looks "unflattering" or "too form fitting" and suggesting that she perhaps tone down the glam while she's carrying around Baby Kimye in her belly — the criticisim as a whole reeks of disgust with Kardashian's body and not the clothes she decides to wrap it in.
RELATED: Kimye Naked on Magazine Cover – PIC
Simpson rode out her pregnancy in caftans, leggings, and Ugg boots, but that didn't stop claims that she was so large that she was "unrecognizable." Adele went into hiding while she enjoyed her pregnancy in the privacy of her own home, and even she couldn't escape the "So Adele was pregnant all along. I thought she was just … fat" commentary. No ammount of "just embrace it" mentality spared these women, why would it spare Kardashian?
The truth is that the problem is not Kim's attitude, her way of life, her boyfriend, and it's definitely not her wardrobe. We — as a society of people ever-ready to give our two cents, no matter how crass or cruel, and to bring larger-than-life celebs down to our level at all costs — are the problem. No amount of sweatpants or ballerina flats (which she wore the other day, by the way) is going to stop the barrage of criticism, and every time we look for an excuse to bash Kardashian, we get further away from the real solution: a complete and total ceasefire on Kim and any other pregnant celeb who follows in her stilettoed footsteps.
Follow Kelsea on Twitter @KelseaStahler
[Photo Credit: Pacific Coast News; Jamie McCarthy/Getty Images; NY Post]
---
You Might Also Like:


15 Oscar-Winning Nude Scenes


10 Insane 'Star Wars' Moments You Didn't Notice