Miley Cyrus Doesn't 'Pay Attention to the Negative'… But Maybe She Should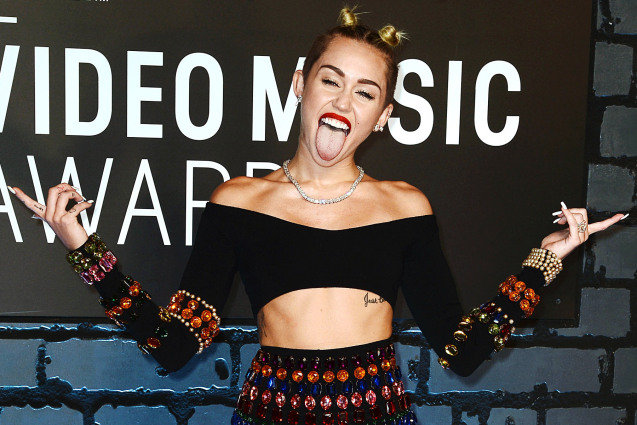 Ryan/WENN
Notorious twerker Miley Cyrus has broken her silence on her now-infamous VMAs performance — and the gist of it is "eff the haters." I'm paraphrasing. Cyrus tells MTV, "I don't pay attention to the negative because we've seen this played out so many times — how many times have we seen this play out in pop music?"
The "this" Cyrus is referring to is causing controversy with a performance. "You know now, you know what happens — Madonna's done it, Britney's done it, every VMA performance, anyone that performs, that's what you're looking for: you're wanting to make history," she continues. "Me and Robin [Thicke] the whole time said, 'You know we're about to make history right now.'" 
While what Cyrus says is true — that we should be more immue to shock value (especially concerning the VMAs) — she fails to take into account the fundamental reason her performance caused quite a stir. It wasn't because it was racy (like Britney Spears' "Oops… I Did It Again" in 2000) or groundbreaking (like that Madonna/Christina/Britney kiss), but that it was lazy and — I'm preparing for the influx of negative comments about this one — just plain bad. Going beyond bizarre costumes that ranged from giant teddy bear suits to a flesh-toned laytex bikini and questionably suggestive moves with a much older man, Cyrus' performance of "We Can't Stop" and "Blurred Lines" looked unrehearsed. She seemed confused on the stage rather than in control, and it was this apparent apathy that left viewers less than impressed. 
In her interview with MTV, Cyrus goes on to say, "It's amazing that now, three days later, people are still talking about it. They're overthinking it. You're thinking about it more than I thought about it when I did it. Like, I didn't even think about it because that's just me." And therein lies the heart of the issue. Cyrus didn't think about her performance — and you can tell.
Fans want to feel like their idols care about them — that their adoration is symbiotic, if not mutual. And so, when a musician turns out a lackluster performance, his or her fans feel disappointed. In the case of Cyrus at the VMAs, I believe fans were mostly outraged because it looked like Miley put little to no effort or thought (which, it turns out, is true) into her act. Miley Cyrus fans know by now that she "can't be tamed" and "won't stop" being herself — a sexual, sensuous, playful woman — and so it couldn't have been the risqué costume or suggestive dancing (even with a much older man) that turned them off.
Cyrus says that she "doesn't pay attention to the negative," but maybe she should. Of course she's right to stay away from Internet trolls and threats, and there can be a reason for avoiding a less than stellar critical review, but the backlash to this particular performance could be a learning experience for Miley. In this case, a little bit of constructive criticism could help her to advance her career. We of course want Cyrus to continue to feel comfortable in her skin and to always be herself, but it would behoove her to think a little more about the effect her performance will have on her fans. She should have prepared enough, given it enough thought, to know going into a performance if it will shock, awe, or confound. Whatever her goal, her actions should be deliberate. Cyrus' fans pay much attention and consideration to her work, she should return the favor. 
More:
Miley Cyrus Pioneers the Movement to Sexualize Teddy Bears 
Miley Cyrus Embarrasses Herself on 'Jimmy Kimmel Live' 
In Defense of Miley Cyrus: Stop the Slut-Shaming 
Follow @hollywood_com
Follow @abbeystone
---
From Our Partners:


A Complete History Of Twerking (1993-2013) (Vh1)


15 Stars Share Secrets of their Sex Lives (Celebuzz)