Ouch! Gabriel Aubry's Injuries from Halle Berry's Fiance Look Rough — EXPLICIT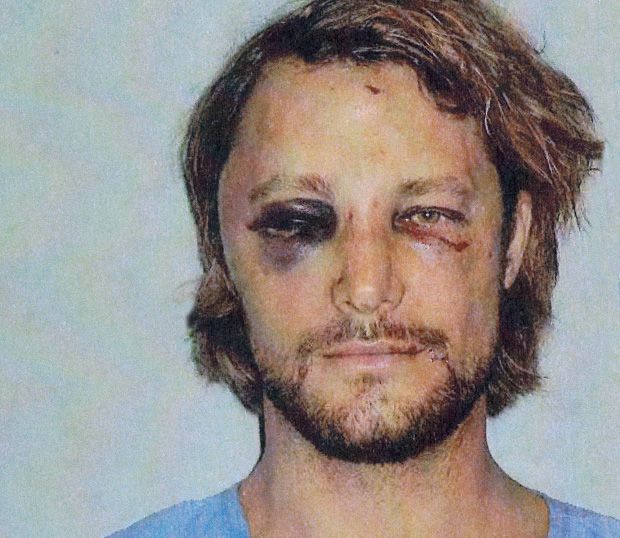 Well, yikes. That's one way to settle a fight: looks like Gabriel Aubry (father to Halle Berry's daughter Nahla) went and got himself good and bloodied after an alleged altercation with Berry's fiance, Olivier Martinez. Word is that Aubry has also obtained a restraining order against Martinez, and claims it was him who busted Gabriel's face in during an alleged brutal brawl on Thanksgiving day.
According to Gabriel's declaration to police, on Wednesday, November 21, Gabriel took Nahla to her school play (seems like a harmless enough activity). What happened next seems to be a classic tale of he-said, she-said, only it's really more of a he-said, he-said in this instance. Upon arriving to the play with Berry, Martinez walked up to Aubry and whispered in his ear (in French, because he's dignified like that), "I wish I could beat the s**t out of you right now. You're lucky we're in a school right now. We're going to take Nahla right now and you're not going to follow us." Uh, yikes?
PHOTO: Halle Berry's Walk of Fame Ceremony
Seems as though Nahla did not get taken right away, though, as the declaration goes on to say that Aubry took the young girl to Berry's abode around 10AM Thanksgiving morning. It was then alleged that Martinez took Aubry aside to talk, and that's when the brouhaha began. The declaration went on to say that as Martinez assaulted Aubry, he said the family was just going to move to Paris (something forbidden by the recent custody battle woes between Berry and Aubry) and that Aubry should follow suit.
Hollywood.com has reached out for comment, but did not hear back at the time of publication.
What do you think of the altercation? Sound off in the comments.
[Photo Credit: Splash News]
Follow Alicia on Twitter @alicialutes
More:
Gabriel Aubry Arrested at Halle Berry's Home Following Thanksgiving Brawl
Denied! Why 'Frightened' Halle Berry Can't Flee to France With Daughter
Halle Berry In Fierce Custody Battle With Ex

Chris Brown Makes NSFW Poop-Related Insults, Deletes Twitter Account

'Liz & Dick' Is Bad in the Worst Possible Way: Review