Lt. Commander Data's Tricorder Analysis of the Vatican's White Smoke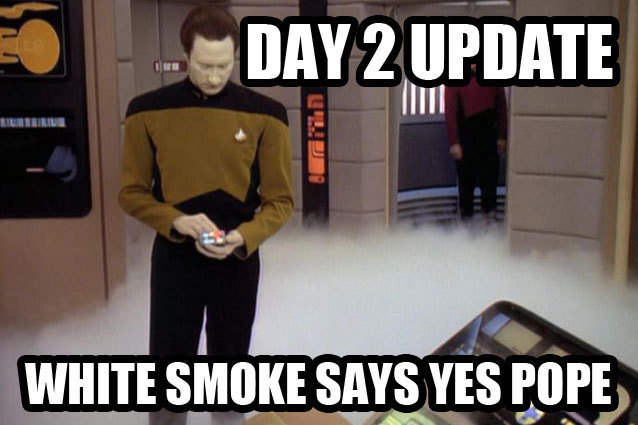 "Curious. Captain, these tricorder readings of the white smoke are displaying in an archaic Earth language: Latin. It says, 'Habemus Papam.' I believe that translates to 'We have a pope.' However, I am unable to determine the identity of the new pope at this time, nor why the Vatican conclave's white smoke has filled the Enterprise bridge."
UPDATE: "Captain, I have just executed a new decryption algorithm, and I believe I do have the name of the Pope in question. It is Cardinal Jorge Mario Bergoglio, the 76-year-old Archbishop of Buenos Aires. He is the first Jesuit to hold the office, and his Papal designation will be Francis, after St. Francis of Assisi. On the one hand, his Latin American roots make him a logical choice. The Spanish-speaking world consists of humanity's most ardent Catholics. His selection will energize the Church and inspire even greater fervor from its most devoted followers. However, the fact that they have selected a Pontiff of advanced age, one who will likely be the face of the Church for only a decade, is surprising. Apparently, the Papacy is not a young man's game…that was a joke, captain." —Lt. Commander Data, U.S.S. Enterprise, Stardate 47488.2.
Follow Christian Blauvelt on Twitter @Ctblauvelt
[Photo Credit: Paramount Pictures/Hollywood.com Illustration] 
---
You Might Also Like:


Topanga's Revealing Lingerie Shoot: Hello '90s!


Stars Who Have Lost Roles For Being Too Hot (Celebuzz)