Which Starlet did James Franco Smack Talk?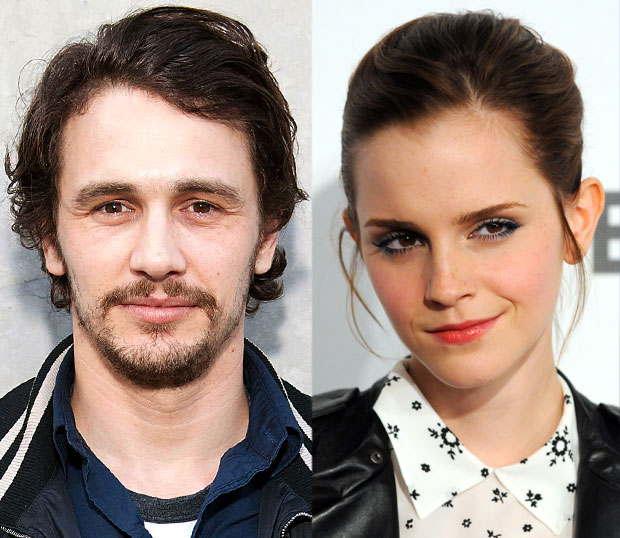 Say it ain't so! In a recent interview with Interview magazine, James Franco tells the story of an actress who stormed off the set of the Seth Rogen and Evan Goldberg-helmed comedy The End of the World in the middle of shooting a scene. While Franco doesn't name the actress, a visit to IMDb and the use of a little deductive reasoning tells us that the most likely choice is Emma Watson.
Maybe it's a personality flaw, but when we hear bad things about Watson we just want to cover our ears and go, "Na na na na." But, according to Franco, Watson's delicate sensibility was offended by the raunchy comedy, causing her to leave the set mid-shoot. Which is kind of an actor etiquette no-no.
Franco, while interviewing Mila Kunis for Interview, said, "So a funny thing happened on this movie I'm doing down here in New Orleans that made me think of you. The movie is a comedy, but it's kind of an outrageous one, and this actress — I won't say who, but she had a smaller role in the film — walked off the movie in the middle of a scene."
He continues:
"I'll admit that the scene we were doing was pretty crazy. There's not any nudity, but it is pretty outrageous. It's not as if the scene wasn't in the script, though. In any case, I didn't see any of this go down, but I guess she basically went up to the directors, Seth and Evan, and said, 'I don't think I can do this.' She, by the way, didn't have to do anything crazy in the scene. But what was going on around her was, I guess, too extreme for her. So Seth was like, 'Well, what can we do to fix it?' And she said, 'There's nothing you can do to fix it. It's just everything.' And he said, 'Well, let's just shoot it and I promise you can come to the editing room, and, if you don't like what we've cut together, then we will not put it in the movie.' And she said, 'No, that's still not good. I just can't do this. I can't be here." And he said, 'Do you want to leave?' And she said, 'Yeah, I've got to leave.'"
Now, we don't know for certain that Franco is talking about Watson here, but the IMDb page for The End of the World only lists three big-name actresses: Watson, Rihanna, and Mindy Kaling. After seeing Rihanna's "We Found Love" music video and knowing Kaling's tendency towards bawdy humor, Watson seems the most logical choice to be overwhelmed by an outrageous comedy.
This is the first we've heard of Watson being difficult on set (her fellow Perks of Being a Wallflower cast members did nothing but rave about her, for example), so we'd like to give her the benefit of the doubt. She probably just needs to rack up a few more hours on an R-rated movie set before she's ready to work with the likes of these crazy kids. OR — now here's a hypothesis — Watson is secretly a mega b***h and is blackmailing every cast and crew member she's ever worked with into saying she's ah-maze-ing. That seems likely, no? 
Follow Abbey Stone on Twitter @abbeystone
[Photo Credit: WENN.com]
More:
Emma Watson on Her Favorite 'Perks' Scene & Learning to Speak American
'Perks of Being a Wallflower': What We Learned on Set
James Franco Is Making a Movie About Himself and Lindsay Lohan