Susan Sarandon and Maybe-Boyfriend Jonathan Bricklin Step Out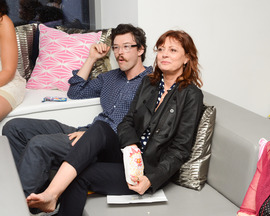 You've gotta love Susan Sarandon. The sexy 65-year-old actress has danced around rumors she's dating her 34-year-old ping pong aficionado business partner Jonathan Bricklin (although she did finally halfway confirm it several months ago). 
But the actress proudly stepped out with her young friend Thursday night at the New York in Film Summer Screening of Midnight Cowboy, hosted by director Spike Lee. 
Big names in fashion and film like Amy Heckerling of Clueless fame, snacked on spiced popcorn and a 1960s-themed candy and cocktail bar at the W New York Downtown. 
100 percent of proceeds from the screenings will support Lee's charity of choice, the NYU Film School, an intensive three-year conservatory which trains students in the art of cinematic storytelling. 
The intimate invitation-only reception will be followed by a public screening on July 31. Tickets for the screening can be purchased at http://www.whotelsnewyork.com/summerclassics.
More:
Susan Sarandon Joining 'The Big C'
'Wanderlust': Best (or Worst) Movie Starring a Real-Life Couple?