'Toy Story 3' is Disney's billion dollar baby!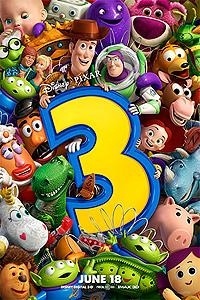 Disney/Pixar's "Toy Story 3" creates a worldwide buzz as it crosses the fabled $1 billion mark in global revenue.  The film added $80 million in the two weeks since it topped $920 million, having at that time surpassed the former animated record holder "Shrek 2" and its $919.8 million worldwide total.
In a statement released by The Walt Disney Studios today, 'Toy Story 3' will reportedly cross the $1 billion mark at the global box office on Friday and joins 'Alice in Wonderland' as the second $1 billion film this year from The Walt Disney Studios – the first studio in history to accomplish this feat.  Disney first crossed the $1 billion threshold with 'Pirates of the Caribbean: Dead Man's Chest' in 2006.  'Toy Story 3' becomes the only animated film to reach this milestone and the seventh title in industry history.
"It's been an incredible year as we saw the Pixar team bring Buzz and Woody back to the big screen and watched Tim Burton's vision for Alice in Wonderland take the world by storm," said Rich Ross, Chairman, The Walt Disney Studios.  "These box office triumphs prove that creative storytelling brought to life by imaginative, inspired and talented professionals is something audiences respond to the world over." 
The statement went on to elaborate that as of Thursday (8/26/10), 'Toy Story 3' tallied more than $592.9 million internationally, Disney's largest international animated release. Latin American audiences have contributed $138 million making 'TS3' the highest grossing Disney film ever released in the region.  The film is the most successful UK release in Disney history and currently stands as the fourth biggest title in territory history with $102.4 million in box office receipts so far.  In Japan, the film has taken in $111.2 million and spent five consecutive weeks as the #1 movie.  'Toy Story 3' currently ranks as the #7 film in global box office history and domestically ranks #9 with $404.6 million in receipts to date.
Fun Box Office Fact: 'Shrek 2' is still the highest grossing animated film in North America with $436.7 million and is currently the fifth biggest domestic grossing film of all-time.
This latest box office milestone proves that the "Toy Story" franchise continues to resonate with audiences around the world and has the box office muscle to back it up.
See related stories – 'Toy Story 3' biggest animated film ever!