6 Reasons We Love Netflix's 'The Crown'
Downton Abbey lovers can weep with joy at Netflix's latest original series. The Crown centers around Her Majesty Queen Elizabeth II, during her earliest years as England's reigning monarch. Here are six reasons to royally binge-watch starting now!
1. There's a star-studded cast.
Viewers might recognize Doctor Who alum Matt Smith, the legendary John Lithgow, and Mad Men alum Jared Harris (to name a few). Known British actors from both TV and film grace this Netflix newbie. We think the acting is, in a word, superb.
2. Claire Foy, Claire Foy, Claire Foy.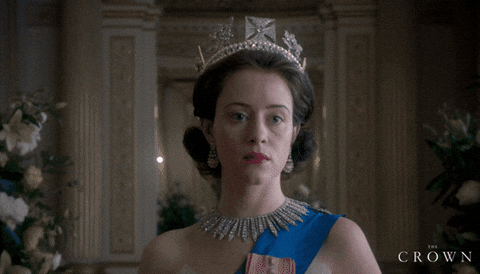 Another familiar face comes in the form of Queen Elizabeth II herself. It's no easy task taking on England's ruling royal, but Claire Foy (also seen as Anne Boleyn in Wolf Hall) is pretty much flawless. From her mannerisms to her voice, her performance in The Crown is spot on — and certainly one to remember.
3. It's a new genre of Netflix original.
This year, Netflix has given us superheroes, documentaries, and even aliens. The Crown reaches a whole new audience (see Downton Abbey reference above) and appeals to fans who like their TV dramas with just a splash of class.
4. It's based on true events.
We open on a young, newlywed version of the Queen. From her marriage to Prince Philip to the pressures of spearheading an empire in the 1950's, we get tidbits of history thrown into this fictionalized tale. History nerds and royal family-buffs will love getting the inside scoop on Her Majesty's early years on the throne. (#LongLiveTheQueen)
5. The costumes, scenery, and music are beautiful.
Um, need we say more?
6. It's the perfect TV drama.
The royals may seem prim and proper (and they kind of are), but plenty of drama still goes down in this series' premiere season. Sip your cup of tea and soak in a whole 10 episodes of this masterful period piece. It's worth it.