John C. Reilly Is Ready to 'Check It Out!' Again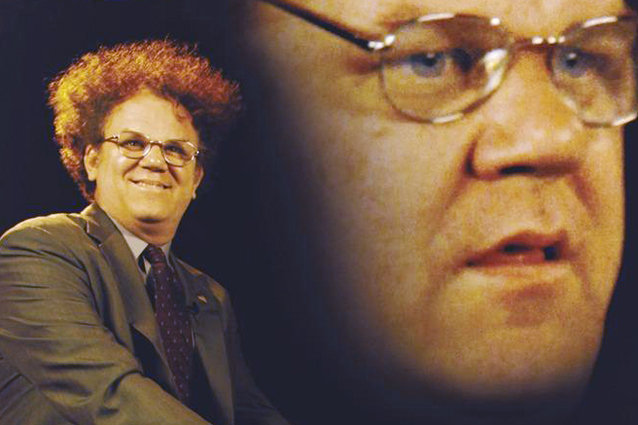 Cartoon Network/Adult Swim
The doctor is back in! John C. Reilly's Check It Out! with Dr. Steve Brule is returning to Cartoon Network's Adult Swim with new episodes beginning on February 27 at 12:30 a.m.
The show, which originally began as a segment of Tim and Eric Awesome Show, Great Job! and has already completed two six-episode seasons, follows Reilly's clueless doctor as he examines "slice of life" topics as a local news contributor. As fans of the show know, it runs on a fictitious Channel 5 at 4:30 a.m. just before Mass for Shut-Ins. Reilly's character rarely understands what's happening and mispronounces everything from guests' names to words like "spa," all while dressed in a tattered tweed jacket and sporting a haircut somewhere between Eraserhead and the Three Stooges' Larry Fine.
The brilliance comes from the show's look. Trying to recapture the feel of tacky local programming before the digital age, the show's footage is run back through a VCR so that touches like glitches with the vertical hold can be added. With its Chyron graphics, it has the look of something produced in the late '70s or early '80s at a small, middle-of-nowhere station, without ever mentioning a time period or geographic area.
Reilly, who has never had a problem swinging between prestige projects and goofing around with friends like Will Ferrell, is intentionally vague about the character. In an Esquire interview, he told the magazine that it was "just better left mysterious." That said, over the course of the shows, there has been backstory elements revealed, usually adding up to a disturbing image. For example, in the episode above, Brule interviews his own mother, who admits that she wanted to have him stuffed and mounted.
In keeping with the spirit of the show, Cartoon Network has been evasive about what we should expect from Season 3, releasing just a short exclusive promo clip to Entertainment Weekly to announce the season premiere. No matter where Reilly takes the good doctor, however, it's sure to be an interesting ride… one well worth checking out.