Meet 'The Americans' — The Swellest KGB Spies in Town. Should You Be Watching?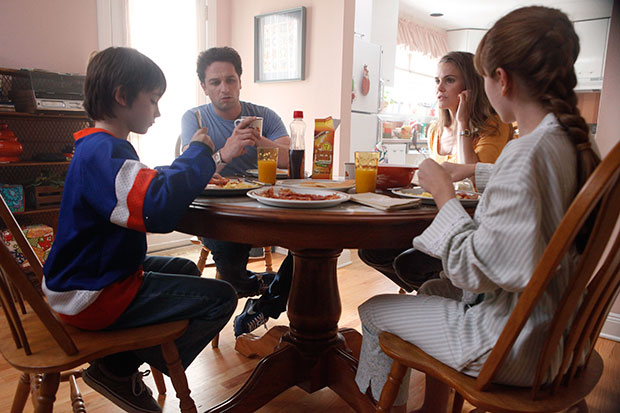 America, meet the Jennings family. Jennings family, meet — oh wait, no. Don't. Because the Jennings family (minus the two kiddos, who have no idea) are Cold War KGB agents with a burning hatred of everything, well, American. Their work lives are brutal — in just two episodes we've witnessed rape, stabbing, and poison, as well as enough deception to make Emily from Revenge's head spin. Their home lives, however, are anything but: though the marriage is arranged, the love is growing, and the two kids plus the white picked fence and cover jobs (travel agents) make them seem like the most boring bunch on the block. This is the basis of FX's new drama The Americans, a thrilling and thought-provoking ride that happens to premiere tonight. Here's the 101:
Actors You'll Know: Ms. Felicity herself, Keri Russell, stars as the tormented matriarch Elizabeth. She's fantastic. Matthew Rhys of Brothers & Sisters is her slightly more pro-American husband Philip, and Noah Emmerich from everything ever (most recently Super 8 and The Walking Dead) is their new CIA analyst neighbor. Ruh-roh.
You'll Like It If: You wish Alias was more realistic, and set in a time when spy drama was a real prevalent thing. Also, if you cried during Good Night, and Good Luck.
Top 5 Reasons You Might Want to Watch: You wish Emily's Revenge schemes had more blow jobs (you heard me). You like strong female leads with inwardly tortured souls. You like shows with non-stop dramatic tension (again: CIA agent next door), and fake Russian accents. You're a Breaking Bad fan, and miss having a show on the air where the parents keep a double life hidden from their children. You're a Communist.
5 Reasons You Might NOT Want to Watch: You're still not over the hair incident… you know the one. You don't like to think and watch TV at the same time. You don't like to hear the name Ronald Reagan. You're skeezed out by work-related blow jobs. You hate Communists. 
Love it, or Leave it?: Love it if you're looking for quality, thought-provoking content to spruce up your Hump Day. Leave it if you watch Two and a Half Men, just because. I mean, you won't get it.
Follow Shaunna on Twitter @HWShaunna
[PHOTO CREDIT: FX]
MORE:
TCA: 'Justified' Spoilers and Scoop on Cold War Spy Drama 'The Americans'
Keri Russell Nabs Pilot Lead: Are 'Felicity' Alums Taking Over TV?
'Justified' Recap: Don't Shoot the Nice Lady

Miley Cyrus Teaches Us Yoga on the Beach — INFOGRAPHIC