TV Characters Who Just Ruin Everything: Poochies of the 21st Century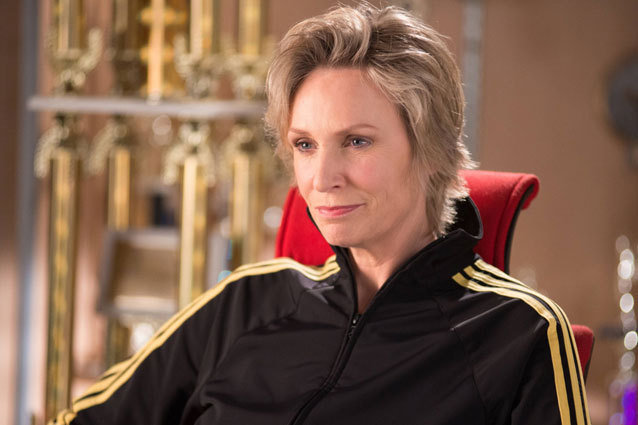 Eddy Chen/FOX
Every hero needs a villain, but sometimes a TV show creates a character that just becomes so irritating that you just want to stop watching the show altogether. This is also known as The Poochie Effect, from that episode of The Simpsons where Homer's new rad-surfer-dog character ruins The Itchy and Scratchy Show. Here's a handful of current and recent examples.
Sue Sylvester, Glee
We have nothing but love for Jane Lynch, and certainly Sue is not the only problem this maddeningly uneven show has had over the years. But Sue Sylvester is such a smug, preening irritant that she's best enjoyed in small doses. Instead, she became the show's breakout star in the first season and the writers responded by giving her tracksuited self more and more screen time.
Sophie Kerchinsky, 2 Broke Girls
Again, it's a stretch to say that 2 Broke Girls would actually be a good show without the presence of Jennifer Coolidge's broad, one-note portrayal of a blowsy Polish housekeeper. But like Lynch — who Coolidge was so good playing against in Christopher Guest's fantastic Best in Show way back when — Coolidge has had what should have been a small guest role expanded far too much. It's taking away from the show's primary charms. Which, admittedly, mostly involve staring at Kat Dennings' chest and Beth Behrs' legs. But still.
Christopher Pelant, Bones
Bones has never done well with the season-long villain arcs, because they detract from the show's essentially light and frothy tone. (For a series that regularly features corpses in varying states of decay, Bones has a surprisingly His Girl Friday kinda feel.) But Christopher Pelant is just annoying. For one thing, his supposed ability as a super-hacker to use basically any item more complicated than a toaster as a surveillance device strains credulity and turns him into a cartoon super-villain who doesn't seem to have any motives for his actions other than being a pest. The whiny, juvenile feel of Andrew Leeds' portrayal of the character just makes him come off as an obnoxious little brat, and the sooner he's gone, the better.
Scarlett O'Connor, Nashville
Clare Bowen is a perfectly capable singer and actress, and I sort of get why showrunner Callie Khouri wanted to have the character of Scarlett in her show, to be able to show a third singer at a different level of her career. The thing is, the glammy soap that is the entire Rayna and Juliette show is more than enough show in and of itself, and shoehorning in Scarlett's comparatively drab storylines just stops the show dead. The frustrating thing is, Bowen's clearly a better singer than either Connie Britton or Hayden Panettiere, so it's a shame she can't be better integrated into the series.
Mark Brendanawicz, Parks and Recreation
Finally, here's an example of how much a show can improve when it cuts out the dead weight. Mark Brandanawicz, whose sole character trait was that he was fed up with both his job and his life, literally did not fit in the Parks and Recreation world. As a love interest for Amy Poehler's Leslie Knope, Paul Schneider came off as a cold fish, and his dead-eyed ennui wasn't anywhere near as funny as Aubrey Plaza as April Ludgate, who was both funnier and more cynical. Although the producers later claimed that they had planned to write Mark off the show all along and that they also planned to bring him back, the brilliant double-team of Rob Lowe and Adam Scott made Schneider surplus to requirements. The show became 100% better as soon as their characters appeared.
More:
TV Actresses Get Naked For Allure Photo Shoot
Hollywood's Most Famous Siblings
Who the F?: Marc Maron's Best WTF Interviews With Lesser Stars
---
From Our Partners


Stars Pose Naked for 'Allure' (Celebuzz)


20 Grisliest TV Deaths of 2012-2013 (Vulture)