'American Idol' Top 10 Dream Themes: Country, Motown, Musicals, and More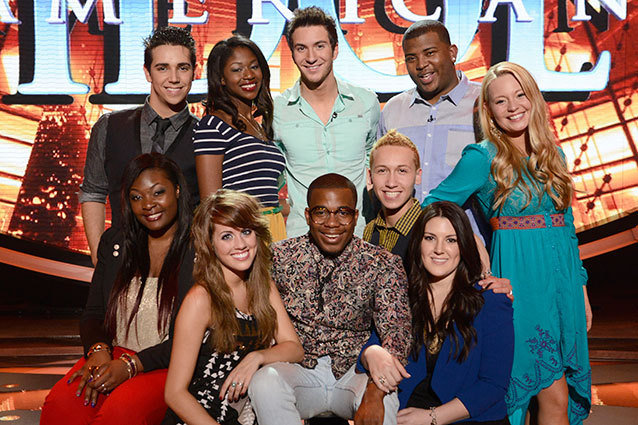 You know what you're getting when it comes to American Idol's theme weeks, considering this is the twelfth time we're going through the process. So the Top 10 singers of Season 12 know what's ahead for them.
Kree Harrison tells Hollywood.com after the Top 10 selection show that there are two themes she'd love to tackle during her run on the Fox reality competition this year. "It's between two things — Motown, which they usually do, and '90s country." How specific! But not really, Harrison says. "Patty Loveless — there are so many [options]!"
Another vote for country comes from Paul Jolley, which is unsurprising considering his goal is to become a country pop artist a la Taylor Swift. "I would probably say country, because that's my home," Jolley says of his dream theme. "I would also love to do a duets show. I would like for it to be someone who doesn't sing country as well just so we could both put our spin on it."
RELATED: 'American Idol' Top 10 on their First Results Show
Devin Velez, on the other hand, knows that won't be his best week. "I don't do country at all. I love the lyrics but country music is madness," he says. "It's weird, I can't do it. I'm going to have to learn."
Candice Glover votes for a different type of country. "My dream theme week would be songs that are by artists from another country," she says. "I listen to a lot of people who are not from here that a lot of people don't really know. Like Lianne La Havas, from England, and Kimbra, who was on the song with Gotye. Her own stuff, though — her music is so creative. Even some of my things that I do on stage when I'm moving, I get from her. I really look up to her."
Amber Holcomb is pulling for a Beatles week, while Burnell Taylor would be happy with a '90s theme, and Velez wants to slow it down with a ballad night. Janelle Arthur would likely be comfortable with country, but she says her ideal theme is Disney soundtracks. "I'm a big Disney movie fan," she reveals.
RELATED: Keith Urban Cops to Crying During 'Idol' Results
Angie Miller would love to perform more of her original songs, but she knows she'll more than likely have to sing songs by other artists throughout her Idol run. "I've grown up doing musicals so it would be really cool to do Broadway, but put our own spin on it — make it, like, contemporary," she says. "I did the musical Thoroughly Modern Millie and had a lead role in that when I was in high school, so I love the songs from there."
Curtis Finch, Jr. wants to step outside his comfort zone. "My ideal theme? Anything I haven't done already. So, not inspirational, not gospel," he shares. "Something that can make America can feel that I can cross over. Let's do some country! Some Carrie Underwood — I love her. On the Grammys, she was phenomenal. I want to make America think that I'm complex and know that I can do anything."
Follow Jean on Twitter @hijean
[PHOTO CREDIT: Michael Becker/FOX]
---
You Might Also Like:


Topanga's Revealing Lingerie Shoot: Hello '90s!


15 Stars Share Secrets of their Sex Lives (Celebuzz)