'DWTS' Feud:  Kate Gosselin Fires Back at Ex-Partner Tony Dovolani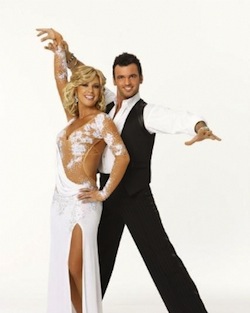 Kate Gosselin supplied plenty of drama when she was on Dancing With the Stars and it hasn't died down, even though she's no longer a contestant. In a recent appearance on Anderson, her former partner Tony Dovolani mocked Gosselin's dancing skills and joked that he needed "a lot of therapy" after their time was through. Now the mother of eight has responded on her CouponCabin.com blog, and she says she's hurt by Dovolani's comments.
"I think it is a shame that Tony has been left only with a negative impression of our time together, especially after we spent SO many hours, days, nights and weeks working hard together doing our best in the competition," she writes. While she admits that her dancing skills weren't really up to par, she says, "I very much enjoyed the challenge and the [camaraderie]. I made many lifelong friends, have tons of great memories, and learned a lot about myself, so I don't regret a single moment! I wish nothing but the best in future seasons for Tony and his prospective dance partners."
Gosselin wasn't so generous with host Anderson Cooper. "I'd love the opportunity to be a front row spectator for your first dance as a competitor on the next season of Dancing With The Stars," she writes. "I can only imagine how your view of the subject may change 180 degrees, not 360 degrees, if you are given the opportunity to cha cha cha!" We have to agree with Gosselin there — seeing the silver fox on DWTS would be a reality TV gold, but considering that he's refused Kelly Ripa's many requests that he dance on Live! with Kelly it seems unlikely. And yes, hopefully Anderson's view would only change 180 degrees, not 360 degrees, because that would bring him right back to where he started from!
[E!]