Ousted 'Idol' Contestant: Swan Song 'Between Me And My Lord Savior Jesus Christ.'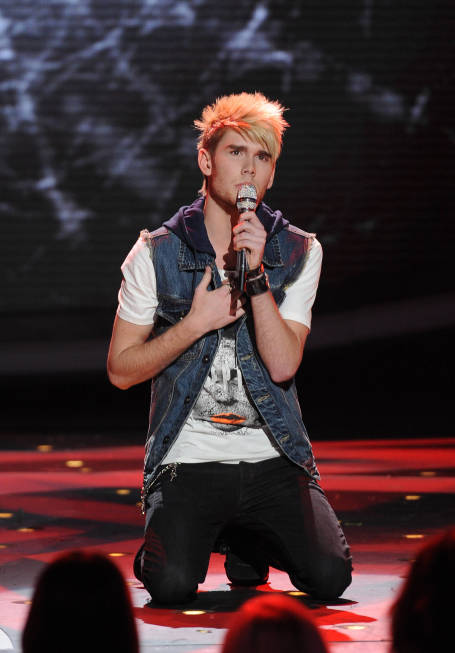 Thursday night's American Idol left many fans in the audience wondering if the judges used their save too soon when fan favorite Colton Dixon was eliminated from the competition. Inside the theater, there was no doubt that this — and not last week's almost-sort-of-not-really-at-all-surprising results — was the most shocking elimination yet.
Unlike past elimination nights, there were no boos for the crowd when Ryan Seacrest announced that Colton would not be returning to Idol next week. Instead, there was a single audible "No," followed by stunned silence and a few tears (and not just from Colton himself). The mother seated in front of me wiped away her own tears before hugging her young daughter. But Colton's only silver lining may have been that he finally received that elusive standing ovation when he performed his final number on the show. A small gesture from the judges, but, backstage, Colton told me it was a huge moment for him. "I've been trying too hard to get a standing ovation from the judges that I didn't need," he said. "During [my final performance], I wasn't singing for them, or my family, anyone in the audience or anyone at home. That song was between me and my Lord Savior Jesus Christ. We had a cool moment onstage for sure."
It wasn't just the audience that was shocked by Colton's elimination. Jennifer Lopez could be seen shaking her head in dismay when his name was announced. The other Idol contestants also appeared stunned, then rushed to hug Colton, even trying to make their way to him before he sang. Ryan, however, was the only one able to grab his shoulder before he took the stage.
The contestant most affected by the shocking results? Phillip Phillips, who remained seated for a portion of Colton's swan song, hanging his head as he listened. Good pal (and rumored paramour) Skylar Laine, however, stayed strong for Colton, singing every word alongside him. Hollie Cavanagh — who many thought should have been sent packing — cried throughout the song. Following his emotional performance, all the contestants come over to (finally) give Colton a hug. And the judges weren't far behind — Steven Tyler and Randy Jackson embraced the contestant as well. But, it was Jennifer who had the longest conversation with him, hugging him at least three times before leaving the stage. Looks like fans weren't the only ones who hoped Colton would stick around as long as possible. "Jennifer was a sweetheart. She didn't want to leave the stage," Colton explained backstage. "It was so cute. I loved it!"
Beyond the judges and his fellow contestants, it was clear that Colton boasted a second family in American Idol executive producer Nigel Lythgoe, stage manager Debbie Williams, and Ryan — the trio also comforted him after the final credits rolled.
Seems Colton, however, might have seen the elimination coming. Prior to Ryan calling his name, the contestant seemed to be bracing for bad news, nervously turning away from the audience during the final commercial break. Backstage, he admitted that he only had one regret in the competition: His choice to sing Lady Gaga's "Bad Romance." "I regret my first song last night," Colton revealed. "My take on it was me and I didn't veer stylistically from me at all. I think I could have chosen a better song that I could connect with that had a better message for me and for my audience. And I think that is what turned a lot of people off last night."
Of course, there was more action during the evening than Colton's elimination. In the most expected moment of the episode, Ryan announced that Hollie was the first contestant in the bottom three. (Though Hollie was bound for a bottom three finish, Skylar still looked on, sad expression on her face.) Meanwhile, Joshua, who gave two stellar performances last night, learned he would stay in the competition. Clearly, the judges were pleased — Jennifer could be seen clapping ecstatically while he received hugs from Phillip and Skylar and a fist bump from Colton.
There was no hiding that Skylar and Elise Testone, the next pairing, are friends — the duo chatted while the package about their performances played. While the audience cheered for Skylar, Elise still had trouble hearing the judges' and Jimmy Iovine's harsh criticism of her performances. Neither the judges, nor the audience, appeared shocked by Elise's placement in bottom three, as there were hardly any boos or screams. During the commercial break, Ryan and Hollie made the effort to comfort Elise with hugs and conversation.
The final contestants to find out their fate were Phillip, Colton, and Jessica Sanchez… and we all know how that ended. But regardless of his inevitable safety, Phillip looked a little embarrassed as they played back J. Lo calling him sexy and then laughed as they showed him coyly asking for her number in a backstage interview. Colton, on the other hand, looked less than confident, crossing his arms while watching the feedback from Wednesday night. Lastly, when Jessica was told she was safe, there may not have been anyone more relieved than Jennifer, who appeared nearly giddy.
Let's not forget the night's many musical performances, beginning with the Idol Top 7 taking the stage to sing "Dancing in the Street," a song that had the judges and audience bouncing along to the music. (What did the Idol staff do with all those balloons? During the commercial break, the crew rushed to pop them all with a little help from Ryan and the contestants themselves.) Former American Idol Kris Allen also took the stage to perform his new song, "The Vision of Love." Finally, LMFAO performed their hit, "Sorry for Party Rocking," which encouraged Mr. Seacrest himself party rock on the sidelines, dancing with the contestants.
They couldn't finish this week of American Idol without a video tribute to recently deceased Dick Clark. The icon was so much of an influence for Ryan, the host appeared almost memorized watching the packaged tribute to Clark playing on Idol's TV screens. But what American Idol action will we see on our TV screens next week? Tune in Wednesday to see — then come back here Thursday for the lowdown of what went on behind the scenes at Idol!