A Few Thoughts on 'Nurse Jackie' Using Drugs Again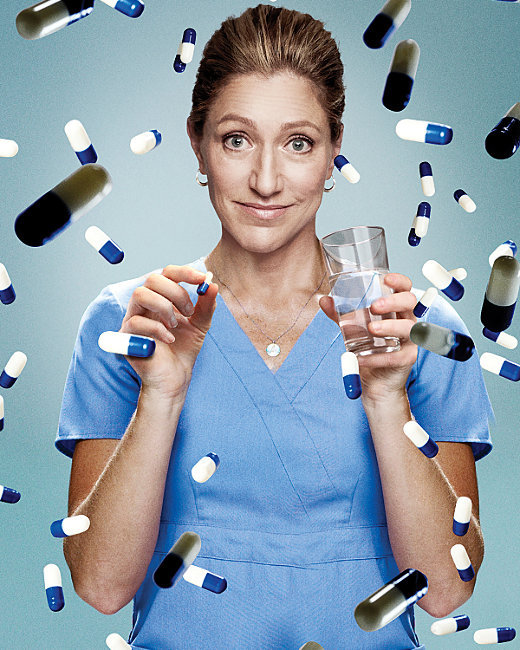 Showtime
Part of the appeal of Nurse Jackie is that the show is its moral ambiguity. For the first couple of seasons, antihero Jackie Peyton (Edie Falco) pops pills, breaks rules, neglects her family, but does whatever she can to save lives. However, the series has had a reckoning with Jackie hitting rock bottom multiple times. Was it when a guy she was using with almost died? Was it when she stole a bunch of pills and had a drug dealer after her? How about when her friend from rehab died? Or when she almost lost her kids? Try all of the above. But now she's back to using. Not only is it sort of out of nowhere but it presents a confusing tone for the show.
When Nurse Jackie first started, the show was sort of a game of moral chicken. Jackie would get into all sort of illegal hijinks with audiences wondering if she'd get caught. But then the show forced her to 'fess up to all she'd done and atone for it. And this is the season that won Falco an Emmy. We have to wonder: is Jackie using again an attempt to get Falco another Emmy?
Last season ended with Jackie relapsing with her first pill in ages. Sure, it's realistic that a drug addict would start using again. However, it's a shocking choice to show Jackie, who was getting her life together, aggressively starting to use again without letting the audience get a feel for why. But she has always been an enigmatic character. It is challenging that we don't really get to know why Jackie does what she does, but that's probably some sort of huge subversive metaphor for drug addiction in general.
This season has woven some interesting twists into its characters. Jackie may be in the throes of drug use but at least she's still going to meetings and found a sponsor, Antoinette (Julie White). White is a great no-nonsense voice and positive replacement for Jackie's enabling friend Dr. O'Hara (Eve Best). Her daugher Grace (Ruby Jerins) is an addict as well, hooked on Aderall. The most interesting twist is having Dr. Cooper (Peter Facinelli) being more serious and mindful since turning 40. These changes are really upping the caliber of the characters on the show.
It's a little disappointing that Jackie is using again because she didn't get a chance to really explore sobriety. But it is great that everyone on the show is getting more serious while still retaining the sense of dark humor fans love. Here's hoping we do get some insight into Jackie's mind now that she has people like a sponsor to talk to and has a daughter that is using as well. Only time will tell but this season is definitely way more nail-biting than last.