'Bachelor' Ben's Pre-Finale Meltdown: Fed Up and Cursing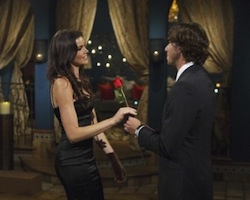 Obviously, finding your true love among about two dozen reality show contestants can be stressful, and while taping the Women Tell All special, Bachelor Ben Flajnik and his rumored pick Courtney Robertson couldn't hold their frustrations in any longer. While theoretically everything we saw in the episode was 100% real, the pair were a bit more forthcoming once the cameras stopped rolling.
The 
L.A. Times
 reports that Ben was caught letting off some steam behind the scenes. He was overheard telling a group of show employees, "One more of these [expletive] things and I'm done," he said, possibly referring to the 
After the Final Rose
 special. "I have so many better things to do with my life." (Like 
flirting with other women
 in San Francisco, perhaps?
Before that, Courtney was caught appearing shocked that the other girls didn't accept her apology, despite the fact that she staged a very convincing teary breakdown. When filming stopped, a conversation between a producer and the show's resident bad girl was caught on tape. "I'm not feeling very emotional anymore," she said. "You made me feel better. I appreciate it." Then she worried that she came off as too cold, saying, "I don't know if I can show that emotion again." The producer responded, "You have to … This is for you. This is for you and Ben."
Don't feel too sorry for Courtney and Ben. The real victim here was Chris Harrison. The host nearly fainted and had to be given an IV drip before returning to the set. The excessive amounts of cattiness didn't cause his condition, as he was suffering from flu-like symptoms before the taping started. However, it certainly didn't help!
Remember to follow @Hollywood_com on Twitter all night. We'll be live-tweeting the finale and After the Rose show!
Source: USA Today