'Boardwalk Empire' Season 3 Premiere: Jimmy, We Miss You Already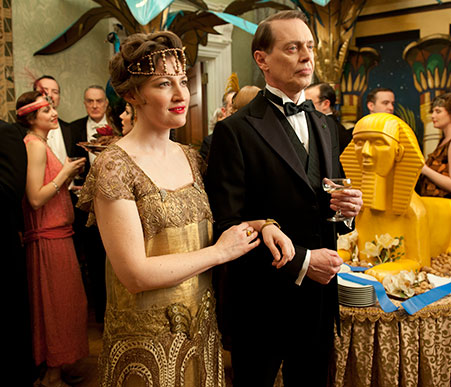 That Bobby Cannavale was so much nicer on Will & Grace.
When the last season of Boardwalk Empire closed out with a bullet to the head of Jimmy Darmody — the character whom many considered to be the backbone of the HBO series — fans felt more or less unconvinced that the show could carry on with the same weight or emotional investment it had managed through its first two years on air. Season 2 especially lent its primary focus to Jimmy, shifting away from Nucky for entire episodes to lend development and examination to Michael Pitt's tortured war veteran, absent father and husband, criminal protégée to the Atlantic County treasurer, and incestuous son to Gretchen Mol's Gillian Darmody. Boardwalk seemed like Jimmy's show, where it had begun under the premise that it was Nucky's alone. The mentality behind this strategy — shifting gears only to drop Jimmy in the end of the season, thus reverting back to Nucky as the central antihero — was perplexing. The aftermath does seem to bear evidence to its birth from this confusion.
Nucky's story kicks off, on the eve of 1923, with Steve Buscemi's master crook conducting business — with partners Munya "Manny" Horvitz (William Forsythe), Mickey Doyle (Paul Sparks), and right-hand-man Owen Sleater (Charlie Cox, now a cast regular — and instituting a new procedure for the distribution of alcohol. Nucky will sell exclusively to Arnold Rothstein (Michael Stuhlbarg), a fact that disappoints the likes of George Remus (Glenn Fleshler), et al, but particularly enrages season newcomer Gyp Rosetti (Cannavale).
We meet Rosetti in the episode's introductory scene. Automotive complications land him roadside, taking a favor from a passing dog owner with a case of oil in his car. An innocuous remark from the good Samaritan sends Rosetti into enough of a rage to bash the man's head in with a crowbar; later on, this rage (albeit not exacted) is apparent in Rosetti's conversation with Nucky about the latter's decision to cut off his distribution of alcohol. Nucky's decision is sparked by the advice of his politician "friend" Harry Daugherty (Christopher McDonald), who wants Nucky to be more careful lest he find himself (and his allies — Daugherty included) the subject of a news story for illicit business. Thus, Nucky tidies up his act to the point of dealing only with Rothstein. But obviously, Rosetti was not introduced into this series to be the kind of guy who takes news like this calmly.
So what's the angle here? A rougher, more unpredictable enemy? That seems to be the sell: Rosetti's actions are meant to shock us, to suggest that he's the exception to this organized game. As if most of Nucky's would-be assailants so far have maintained spotless records of calculation or professionalism. Detective Van Alden (Michael Shannon) is a venerable psychopath. Al Capone (Stephen Graham) is a childlike hothead. We're reminded of the latter in this very episode. This show has never had its deficit of unbalanced foes, so what makes Rosetti so compelling or unique that he should be able to lead the peril (for Nucky) in Season 3? And if he isn't meant to do so, then who or what is?
I suppose Margaret (Kelly Macdonald) might provide Nucky with a fair share of enmity, although of a different sort. In the premiere, we see a refresh of her feministic values — she celebrates female pilot Carrie Duncan's pioneering of the breakdown of gender barriers, and looks toward the institution of a program for the hospital (of which she and Nucky are benefactors) that would help teach pregnant women about prenatal care. Her ambitions get in the way of Nucky's business; this disparity in interests will undoubtedly escalate toward the crumbling of their marriage this season. Nucky is already seen enjoying extramarital encounters. The question is, how significant will the destruction of Nucky's and Margaret's relationship become? Will she also pose a threat to his career? Will his love for and investment in her children become the real issue for Buscemi's character? Or will he prove entirely heartless and risk or discard everything in the name of success and glory?
The memory of the fallen Darmodys is more present over in an Atlantic City brothel run by Gillian, although it is not Jimmy's mother who is holding onto the spirit of her son or his wife Angela (Aleksa Palladino, who was murdered by Horvitz last season) — it's Richard Harrow (Jack Huston), the series' breakout character with a hopeless devotion to both deceased parties (Angela especially). While Gillian is bent on erasing all recollection of Jimmy and Angela in the mind of their son Tommy — her son now, as far as she's concerned — Richard makes it a point to teach young Tommy about his beautiful, golden-hearted mother… until Gillian catches an earful and demands ever-so-manipulatively that he keep his mouth shut. "Look to the future," she suggests. He's not really into that. Instead, he heads out for the night and shoots Manny Horvitz dead right in the man's doorway.
As interesting a character as Richard is, it seems unpromising to think that Huston will be shafted alongside young Tommy this season. The murder of Manny might suggest that Richard will be out on the warpath of revenge, maybe hunting down the likes of Eli Thompson (Shea Whigham), Mickey, and Nucky himself. Of course, then the show would really be over, so we shouldn't actually expect that.
Meanwhile, over in Illinois, Al Capone is still a hot-blooded gangster, but another old friend has turned over a new leaf: Van Alden, who is now going by alter ego George Mueller, working as a door-to-door salesman, and living in a cramped apartment with an unhappy Sigrid (Christiane Seideil) and his daughter Abigail. But Van Alden is pulled back into the game by chance, when he happens upon a run-in between Capone and Irish gangster Dean O'Banion (Arron Shiver). Helping O'Banion out of a jam with an improvised performance as the man's hired gun, Van Alden earns the crook's favor and a job offer. He might be getting his first full-fledged step onto the criminal side of the prohibition deal… and perhaps might see his first shine of financial fortune since we met him.
Of the stories introduced in the premiere, Van Alden's is the most interesting, if only to see where the depths of his psycho character will fall next. The man has no discernible sense of reality. His staunch appreciation of right and wrong cannot be defined, as he is so far gone from a sane mind that any viewer would be hard pressed to identify what he deems appropriate. All this, delivered expertly by Shannon, makes for an undoubtedly exciting story to come this year.
Unfortunately, Nucky's case does not hold the same luster. Sure, Cannavale might be a fun addition to the series. But is he really anything new? Just another egomaniacal crook with his finger perpetually on the trigger? Jimmy's absence is palpable in this premiere, as you can't forge the kind of relationship that he and Nucky had between any other two characters on this show. Their mutual broken-hearted hatred, sorrow, distrust, sense of betrayal, it was the show's lifeblood. And now all we have is another angry mobster who wants his rum. Hopefully, Van Alden's adventures to come are strong enough to carry both stories. Maybe with a little help from Richard?
Episode Body Count: 4
Season Body Count: 4
[Photo Credit: HBO]
More:
'Boardwalk Empire': A Deep Dive
'Saturday Night Live' Recap: Seth MacFarlane Gets Laughs, and the Boys Take Over
'The X Factor' Premiere Part 2: You Can't Be Pretty And Talented