'Downton Abbey' Recap: The Importance of Being Snarky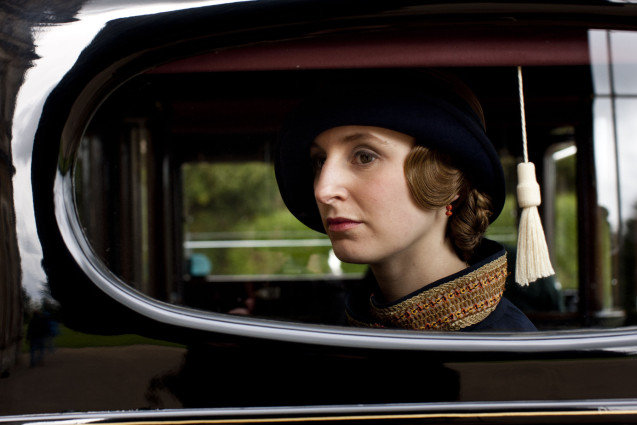 PBS
This episode is channeling Season 1 but bringing way more drama. It's great to see the return of the snarky, passive-aggressive Lady Mary Crawley (Michelle Dockery) we love to hate. She's back to becoming stone faced and staring into space, viciously insulting her sister, and getting the best suitors. She's not the only one back to their Season 1 personas. Thomas Barrow (Rob James-Collier) is back to scheming and has enlisted some help. Plus, the moment you have been waiting for … the peace between the Dowager Countess (Maggie Smith) and Isobel Crawley (Penelope Wilton) is over. Full shade ahead!
Upstairs
Evelyn Napier (Brendan Patricks) stops by the Abbey. If you've forgotten him, he is the suitor that introduced Mary to Mr. Pamuk (Theo James). Mr. Pamuk was the guy that de-virginized her and died in her bed. Napier is working on a survey of how the war has affected Aristocratic manors. Speaking of manors, Lord Grantham (Hugh Bonneville) is dealing with the death of one of the estate's farmers. Mr. Drewe (Andrew Scarborough), the farmer's son, has inherited a significant amount of debt. Lord Grantham kindly pays the debt in exchange for Mr. Drewe working it off. The Lord is back to keeping secrets from fellow estate runners, Mary and Tom Branson (Allen Leech). Branson is threatening to move to the U.S. to escape the stuffy life of an aristocrat and spare his daughter any embarrassment.
Edith Crawley (Laura Carmichael) is lurking by the metaphorical mailbox waiting to hear back from Michael Gregson (Charles Edwards). It doesn't look promising for him since he just moved to a pre-Nazi Germany. Drunk Liza Minnelli Cora Crawley (Elizabeth McGovern) adjusts to her new lady's maid and tries to convince Mrs. Patmore (Lesley Nicol) that they need to buy a refrigerator.
Isobel takes an interest in a young neighborhood boy, Peg. She convinces the Dowager Countess to hire him. However, when an antique letter-opener goes missing, the Golden Girls clash over the boy's guilt. It's witty barbs and loud sighs. Here's hoping they have a fight in a fountain like on Dynasty.
Downstairs
Alfred (Matt Milne) seems adept at cooking. He's selected to apply for the apprenticeship at The Ritz. Everyone in the kitchen is excited but he's nervous. Meanwhile, with the prospect of Alfred leaving, Carson (Jim Carter) offers the footman position to Mr. Molesley (Kevin Doyle). Despite willing to take any odd job in the village, do with that what you will, Molesley's pride is hurt at the prospect of being demoted to footman. Alfred ends up not winning the internship so Molesley ends up red-faced when he returns for the job. Looks like Molesley is one step closer to suicide.
The disturbing Anna Rape storyline continues to get more depressing. Anna Bates (Joanne Froggatt) has been super icy to Bates (Brendan Coyle). Bates overhears Anna talking to Mrs. Hughes (Phyllis Logan) and he devises a plan to find out what happened. He threatens to leave unless Mrs. Hughes comes clean. Thinking on her feet, she invents an assailant that raped Anna during the concert. However, Bates is convinced it's Mr. Green (Nigel Harman). This is where things get dark. To this point, Anna has not known his name was even Mr. Green. Also, Bates is getting very scary and murdery. His violent inclinations and Anna's fear make it seem like he could be abusive. Here's hoping the writers don't go in that direction. 
Style & Sass: Best Lines of the Night
Not the first time you have had the wrong end of the stick. –Mary to Edith
I wonder how your halo doesn't grow heavy. It must be like wearing a tiara 'round the clock. –The Dowager Countess to Isobel Round I
Mrs. Patmore, is there any aspect of the present day that you can accept without resistence? –Cora 
Well M'lady I wouldn't mind getting rid of my corset. –Mrs. Patmore's response
What would you prefer that I invite the local criminals to drop in strip the house bare? –The Dowager Countess to Isobel Round II