Grading Tina Fey and Amy Poehler on their 2014 Golden Globes Hosting Duties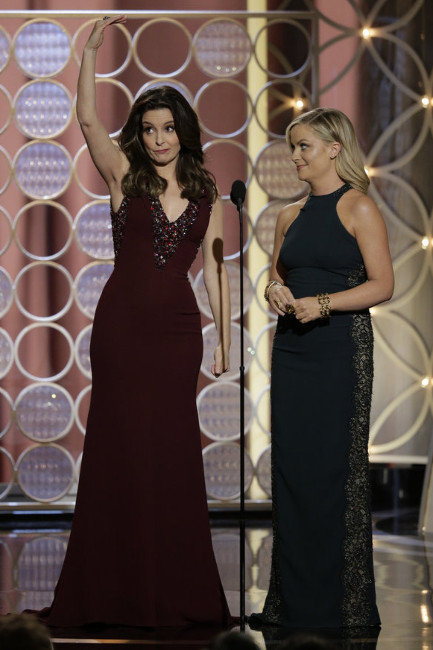 NBC
Last night's Golden Globes were full of surprise wins, strange moments, and bleeped-out speeches, but the real stars of the night weren't the films or shows that took home awards, they were the hosts. Tina Fey and Amy Poehler returned for a second year to drink wine, heckle celebrities, and make all of us wish that we could be their friend. This year, the Golden Globes were the award show everyone was most looking forward to, which meant that they had the difficult task of coming up with a show that topped everything they did last year. After all, last year had "drunk" Glenn Close, the stars of Dog President, and a James Cameron joke that still makes people laugh. 
So, just how well did our favorite funny ladies do this time around? We've graded them on their jokes, sketches and props to determine whether or not Fey and Poehler managed to make this Golden Globes even funnier than the last. And considering how stunning they both looked last night, we think they're off to a pretty good start. 
The Monologue: A-
Fey and Poehler had a lot to live up to this year, as their 2013 monologue has been passed around the internet more times than any other awards show opening. But despite a shaky start – we were amused by the Tom Hanks/Tam Honks joke, but nobody in the room seemed to be –  and some hilarious but surprisingly racy jokes, they delivered a solid monologue and proved why they're the best awards hosts around, and the opening was once again the best part of the night. The biggest laugh and biggest burn went to a joke about Gravity, "the story of how George Clooney would rather float off into space and die than spend one more minute with a woman his own age." Their other major burn? "Matthew McConaughey did amazing work this year. For his role in Dallas Buyers Club he lost forty-five pounds. Or, what actresses call 'being in a movie.'" They made a few callbacks to last year's awards, which included Poehler's goofy bit with Martin Scorsese, where she listed all of the Bobby's and Danny's who wanted to say hi to him in her Boston accent, and earning a high-five with a quip about Masters of Sex being the degree she earned in college. 
One of their funniest jokes came at the expense of a slightly unexpected target, when Fey said that the movie Her "takes place in a not-so-distant future, which is perfect, because so does Joaquin Phoenix." Phoenix looked slightly confused, but seemed to be a good sport about it. Their other surprising target was Captain Phillips star Barkhad Abdi, who earned two separate jokes, including one from Fey about how The Blacklist is the list of people invited to her room later, which she punctuated with a Somali Pirate shout-out and by telling Abdi "I am the captain now." it probably shouldn't have worked, but for some reason it did, and Abdi's willingness to play along helped it land. It was just the start of some slightly more risque material, including the first of many genitalia jokes, with a reference to the prosthetic that Jonah Hill used in The Wolf of Wall Street "so you have that to look forward to the next time you eat at Planet Hollywood." 
By far, the best part of their monologue was their shout out to Julia Louis-Dreyfus, who was nominated in both the film and television categories. Fey and Poehler made reference to her "changing" and sitting with the film actors, and the cameras cut to Louis-Dreyfus, wearing sunglasses, smoking a e-cigarette and pretending not to remember her friends. She then upped the ante by waving off an excited Reese Witherspoon, who tried to take a picture with her, and together, she, Fey and Poehler stole the show. 
Randy Fey: A
As part of Kevin Bacon and Kyra Sedgqick's introduction of their daughter, Miss Golden Globe, Sosie Bacon, Fey rushed out onstage to introduce Mr. Golden Globe, her adult son from a previous relationship, Randy aka Poehler in a tux and a ridiculous Bieber-inspired wig. After trading a few jokes about Randy's unwillingness to participate, Fey chided Randy to introduce himself to Sosie, which prompted Poehler to ask, "What are you, the Olympics?" It was a quick, amusing bit that they then took to the next level when Fey declared that Randy's estranged father was somewhere in the room, leading Poehler to march over to Idris Elba and ask if he was the father. Elba seemed completely game to have fathered Fey's child, and even a little disappointed when Fey dismissed the idea with a curt, "Think about it!" Poehler then went with the next best option, Harvey Weinstein, and judging by Fey's awkward silence, it seems like whatever Mandela: Long Walk to Freedom brings in at the box office will have to go towards Randy's college fund. Unfortunately, the cameras cut away from a hilarious shot of Poehler caressing Weinstein's face, but it was a great bit, and helped keep the show as weird as ever. 
The Swift Joke: B+
Remember when Fey and Poehler made a joke about Taylor Swift dating Michael J. Fox's son at last year's ceremony, and Swift didn't seem to think it was funny at all? Well, the hosts remembered, and Fey made reference to the most surprising celebrity feud of all time when she celebrated Poehler's Best Actress in a Comedy win with this statement: "I just want to say congratulations again to my friend Amy Poehler, I love you and there's a special place in hell for you." The joke is a call-back to the quote by Katie Couric that Swift used in a Vanity Fair article to express her dislike of Fey and Poehler's comments last year, "There's a special place in hell for women who don't support other women."  And with that, let's hope the score between these three has finally been settled. 
The Leo Joke: A
One of the funniest and most shocking jokes of the night came towards the end, after everyone had apparently hit the open bar a little too hard. When introducing presenter Leonard DiCaprio, Fey decided to go with this zinger: "Like a supermodel's vagina, let's all give a warm welcome to Leonard DiCaprio." Like the rest of us, DiCaprio found it funny, and was still laughing to himself when he arrived onstage to present. It might not be the kind of joke that anyone expected to hear at the Golden Globes, but it's definitely unforgettable. 
The Lack of Fey and Poehler: C
If you've missed the show and are catching up through this recap, it might sound hard to believe, but there was actually a surprising lack of screen time for our favorite hosts. Sure, they had the monologue at the beginning and the Randy skit halfway through, but other than that, they only appeared periodically to introduce presenters, only to disappear backstage for about a half an hour at a time. We don't begrudge the ladies for wanting to take a quick break and share a martini with Emma Thompson, because we know that hosting can be very stressful, but we wish that Fey and Poehler had gotten a little more to do between awards. Think of the jokes they could've come up with after Jacqueline Bisset's disjointed and overly-censored acceptance speech. Or the delight that would've resulted from them sharing the stage with Diddy. Hopefully, they will celebrate the end of their hosting run next year by spending a lot more time onstage, drinking wine and making jokes. At the very least, someone should hand them some popcorn and let them heckle everyone's speeches next year. It'll certainly go over better than the awkward play-off music does. 
Golden Globe Winner Amy Poehler: A+
Setting aside the jokes, the monologue, and the Bieber wig, the best moment of the night had to be when Poehler finally won her first major award for her role as Leslie Knope on Parks and Recreation. After celebrating in true Poehler fashion (making out with Bono, of course), she appeared to be genuinely surprised and delighted and delivered a speech that was both funny and heartwarming. And because she's the nicest woman in Hollywood, she took a moment to share her joy and her award with her thrilled cast members, by shouting out "Whoo, Parks!" while they all cheered and clapped. It may have taken a lot longer than we all would have liked, but Poehler is finally a Golden Globe winning actress. Looks like Jon Hamm will have to host that Loser's Party alone next year. 
Final Grade: A
It might not have been as polished as last year's awards, but in the end, Fey and Poehler delivered their second time around, and helped continue the Golden Globes' tradition of being the funniest and most outrageous award show of all. Only one whole year to go until we get to see them hosting again.