'SNL' Recap: Jimmy Fallon hosts with Justin Timberlake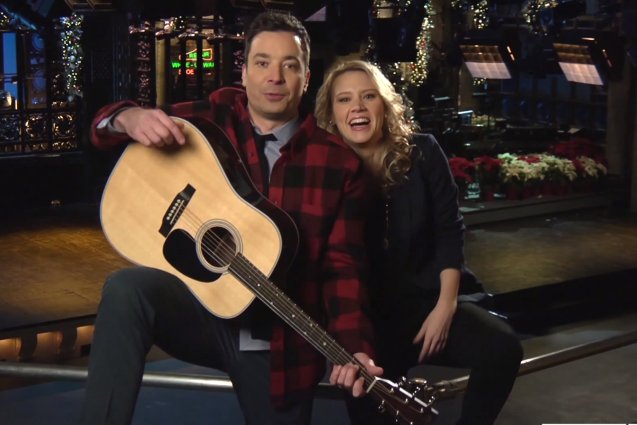 NBC/YouTube
It's Christmas and the only thing shining brighter than the tree at 30 Rock is SNL alum Jimmy Fallon. He didn't waste any time, appearing with Justin Timberlake in the cold open. It's like the show knew that the audience couldn't wait to see these two together. Before the monologue, Timberlake appears alongside Fallon as rapping and dancing presents alongside Aidy Bryant in Timberlake's signature "Bring it on down to _________-ville!" sketch. This high-energy opener set up expectations for Fallon and Timberlake to collaborate and SNL more than delivered. Unbelievably Fallon sang more than his musical guest, meriting consistent squeals of delight from the audience he got his start in front of.
This music-heavy episode, though centered around giving the crowd what they want (Fallon and Timberlake) also allowed the women of the cast to show off. The catchy and hilarious song "(Do It On My) Twin Bed" features the female cast killing it as they attempt to get laid in their childhood rooms, an all too familiar scenario during the holiday season. The sketch features expert rapping from Fallon, who "can't fully undress in case your parents come through. Just shirt, no pants like Winnie the Pooh."
Not to be outdone by last week's cameos from Sylvester Stallone and Robert De Niro, Fallon and Timberlake reprised their best Bee Gees impressions for "The Barry Gibb Talk Show," featuring appearances from Madonna and Barry Gibb himself. The singing, outfits, and Gibb fits are endlessly amusing, but unfortunately Madonna and Gibb's cameos did not add as much comedy as excitement from just seeing them. Fallon and Timberlake continued to commit but because the content had little to do with Christmas, revisiting this recurring sketch felt forced. (Not to mention that reprising the sketch after Robin Gibb's death seems a bit tacky.)
Weekend Update as usual showcased expert topical joke writing, going after Duck Dynasty, Kathie Lee and Hoda, and Kate McKinnon as tennis champion Billie Jean King, the newly-announced official U.S. delegate to the Sochi Olympics, . McKinnon's earnest intensity is what comedy is made of, especially lines like "There's no demographic in this world that gives less of a flip than 70 year-old lesbians. All I need to survive is a clean canteen and a sweater." Her air tennis swings don't hurt the hilarity either.
Prior to the episode, Late Night heir apparent Seth Meyers tweeted that this would not be his last SNL. Weekend Update still confirmed that there would be constant reminders of his departure, this week with Fallon and Mayor Bloomberg. The men in transition spoke of what's next, while there were few hints as to what is ahead for the Update desk. Having served as SNL's head-writer since 2006, Meyers has contributed to the show in ways the audience doesn't always see. Tina Fey credited him with writing the hit Palin sketches she starred in during the 2008 election. His success moving on from the show is no surprise, but his sharp news and political writing will be missed. 
The show returned its focus to the holiday spirit with a Christmas-themed "Waking Up with Kimye," complete with a "Bound 2" parody. Fallon later appeared as a gay Ebenezer Scrooge who discovers his sexuality with the Ghost of Christmas Present. But SNL came festively full circle with a clingy counterpoint to the song "Baby It's Cold Outside," reversing the song's gender roles to explore what happens when the woman doesn't want to leave. Cecily Strong held her own as a performer next to Fallon in this episode favorite, a clever and sweet finale to a classic Christmas show.