'Leverage' Canceled By TNT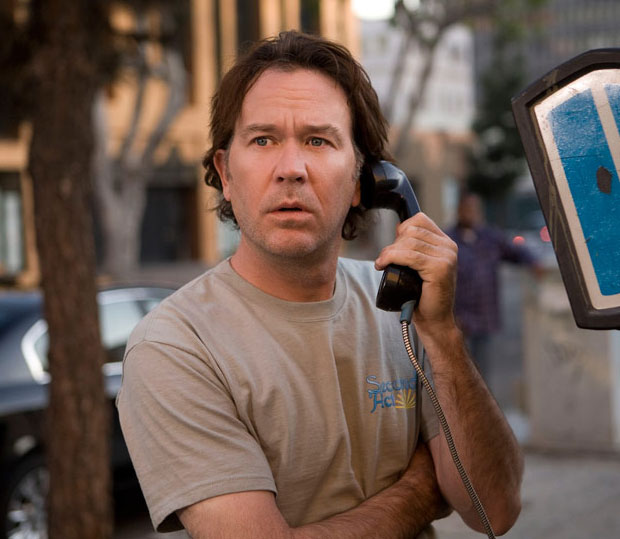 Sad news for fans of TNT's Leverage — the network has announced that the Season 5 finale, which will air on Christmas day, will be the show's final outing. The hour-long drama, which stars Timothy Hutton as a former insurance fraud investigator who leads a team of modern day corporate fraud Robin Hoods, had a small but loyal fan base. Creator Dean Devlin reached out to that fan base over the weekend on his blog, to give them an early warning about the show's fate.
"It has been decided today that this Tuesday's episode of Leverage 'The Long Goodbye Job' will be the series finale as TNT has decided not to renew the show for a sixth season," Devlin wrote before thanking the network for the show's five seasons. He had anticipated this news, so "The Long Goodbye Job" was shot as a series finale. "I'm so happy we were able to film the series finale we had always envisioned and I'm happy we're able to present it on Christmas as our gift to you. It's a bittersweet goodbye."
Hollywood.com reached out to the network for comment:
TNT's Leverage has thrilled audiences with its delightfully intricate plots, its "stand up for the little guy" attitude and its terrific performances from stars Timothy Hutton, Gina Bellman, Christian Kane, Beth Riesgraf and Aldis Hodge. But after five wonderful years, it's time to say goodbye. Leverage will come to a close on Christmas, Tuesday, Dec. 25, at 10 p.m. (ET/PT), with a series finale that stands as one of the show's best episodes.
We are honored to have worked with executive producer Dean Devlin, Electric Entertainment, creators John Rogers and Chris Downey, and all the cast and production crew on Leverage. We look forward to exploring new opportunities to work with them again in the future. We also want to thank the passionately devoted fans of Leverage, who have been the driving force behind its success.Not happy news to receive during the holidays, but Season 5's sharp ratings decline was looming heavy. Tell us, Leverage fans — will you tune in on Christmas to say goodbye?
Follow Shaunna on Twitter @HWShaunna
[PHOTO CREDIT: TNT]
MORE:
TNT Releases Winter Premiere Dates For 'Rizzoli & Isles,' 'Dallas,' and More
Poster Children For Birth Control: Also Known As Pop Culture's Worst Kids
The Best and Worst TV Episodes of 2012—Staff Picks

20 Hottest Bikini Bodies of 2012: Kim Kardashian and More!