'The Show with Vinny' Is MTV's Attempt to Turn 'Jersey Shore' Into 'Duck Dynasty'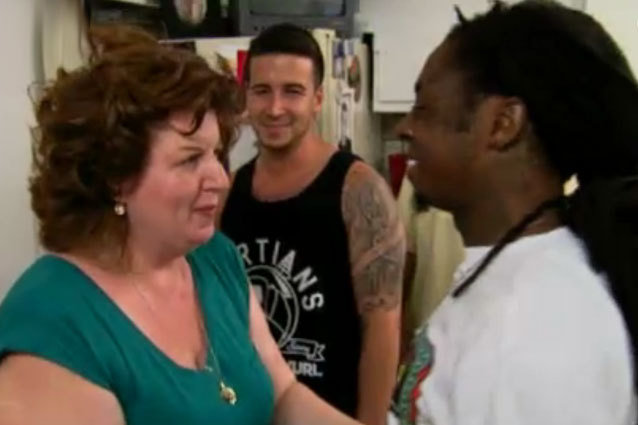 With A&E's Duck Dynasty clocking in nearly 10 million viewers, everyone on cable is trying to get into the "unscripted reality" game. The funny thing is, it's not working for most people. I think the same is true for former Jersey Shore star Vinny Guadagnino on his new family-based MTV talk show The Show with Vinny, which premiered last night (and you can watch down below). 
The hook for Vinny's talk show, and the most amusing aspect of it, is that it takes place at his parents' house in Staten Island and he gets the big stars to take the ferry out, eat his mom's Italian food, and be harassed by his often shirtless Uncle Nino (whose naked belly viewers of the Shore could never forget). It's the same formula that A&E uses, putting a camera in with an outrageous clan and watching them bring the funny. And it is pretty funny, watching Vinny's mom serve Lil Wayne sausage and peppers and then force him to take a doggie bag. But if that's the only joke this show has, I'm scared that it will wear very thin very quickly. 
The biggest problem with the talk show is that Vinny doesn't quite have the talk show chops to really interview the guests. There are some funny moments when he goes skating with Lil Wayne or plays dress up with YouTube sensation Jenna Marbles, but there is nothing really revelatory about what either guest has to say. After years of playing to the camera in Seaside Heights, Vinny is a natural on screen but he could learn a thing or two about how to build a rapport with his guests without pandering to them or flirting with them (though the later is a bit amusing). 
Still, this is a one-joke premise that seems more like a one-season show than something that will carry on for a long time. We'll have to see how it does in the ratings but after the mediocre success of The Paulie D Project,  Snooki and JWOWW, and this, there might be an official Jersey Shore spin-off curse. 
Follow Brian Moylan on Facebook and Twitter @BrianJMoylan
More:
'The Show with Vinny' Has a Secret Weapon: His Mom
Vinny Guadagnino's Anti-Bullying PSA Is Amazing
Vinny Guadagnino Is Taking Improv Classes
---
From Our Partners:


Nina Dobrev, Julianne Hough Bikini in Miami (Celebuzz)


33 Child Stars: Where Are They Now? (Celebuzz)