'The Office' Series Finale: A Lovely, Sincere Send-Off For Dunder Mifflin…and Michael Scott Was There!
Well, that was tremendously satisfying.
That's what she said.
After nine seasons on NBC, the American adaptation of Ricky Gervais' beloved British series of the same name, The Office was given an absolutely lovely, sincere, and near-perfect send-off. No, not everything in the episode worked. But what did work — those heartfelt reunions and goodbyes — are what really stood out and what mattered and what made this 75-minute finale so very special. 
But, that's almost fitting in a way. The past few years of The Office were pretty bad, but the finale erased all of that. This is exactly what the conclusion was about: redeeming yourself, making peace with something, remembering the good over the bad, and finding the beauty in imperfections. Everyone had their happy ending, including The Office itself. 
Picking up a year after the airing of the PBS documentary about them, and a day before Dwight and Angela's wedding, we found our favorite characters at different places in their lives. But the employees of Dunder Mifflin were — and still are — at their core, a family. But, you can't have a family unit without it's papa bear, which in their case is Michael Scott. Yes, the rumors were confirmed and our wishes came true: Steve Carell returned for the finale, and it was just perfect. 
After Jim was named best man for Dwight's wedding — or, as the Schrute's call it, Bestest Mensch — and he went above and beyond the call of duty (aw, remember the episode when Jim was terrible at Call of Duty?) by pulling off the Best… Prank… Ever… and surprising the groom with a new Bestest Mensch: one Michael Gary Scott. And their first exchange in nearly two years went as follows: 
Dwight: "I can't believe you came." 
Michael: "That's what she said."
Oh, Michael, you haven't changed a bit. Well, he did a little, in that he now has gray hair and is blissfully happy with a wife and their kids. But at the core, he's still the same old Michael. He still can't dance and he still says things that come out wrong ("I feel like all my kids grew up and married each other… it's every parent's dream!"), but his heart is still in the right place. Please, please let the Emmys at least give Carell one for a guest appearance.
Michael wasn't the only one who got a happy ending so richly deserved. Pam finally made a big, romantic gesture to Jim and decided to move their family to Austin so he could pursue his dream; Dwight and Angela got married; Kelly and Ryan (that's right, Mindy Kaling and B.J. Novak returned, too) got back together (even if they did so in the most terrible way possible: by ditching a baby… though would you expect any different from those two?); Andy went from a laughing stock to a hometown hero; Darryl enjoyed his continued success; Toby enthusiastically got invited to hang out; Oscar enjoyed a senatorial campaign (but sadly no showcase of his origami skills) and, in the most touching happy ending of them all, Erin finally got to meet her birth parents (played by Joan Cusack and Ed Begley Jr.). 
But, really, even if they didn't have a big goodbye, all the characters walked away with something: wisdom. Lucky for us, they all got to share a few pearls (major kudos to The Office writing team for this episode, it was some absolutely beautiful stuff):
– "I wish there was a way to know you're in the good old days before you've actually left them." Oh, Nard Dog. Someone should write a song about that.  
– "I worked for a paper company all these years, but I never wrote anything down." Phyllis just destroyed me in this episode (she was so concerned about Andy, and she carried her old nemesis Angela down the aisle, and was so genuinely happy to receive her gift of a cute bird statue of herself from her grumpy pal Stanley) and this little snippet was a reminder to us all to take more pictures and write down your memories — you'll really cherish them someday.
– "Yes, I'd say I have gotten along with my subordinates." Dwight, referring to his wife Angela, best man Jim, and his best friend (aw!) Pam, among others. 
– "Everything I have I owe to this job. This stupid, wonderful, boring, amazing job." Jim, TV's best crush, always and forever. 
– "There's a lot of beauty in ordinary things. Isn't that kind of the point?" Pam, who grew into her own and allowed herself to find happiness over the course of nine years. As she simply put it, "Be strong, trust yourself, love yourself, conquer your fears, go after what you want." And thank goodness that The Office saw the beauty in ordinary things and ordinary people who were capable of extraordinary things.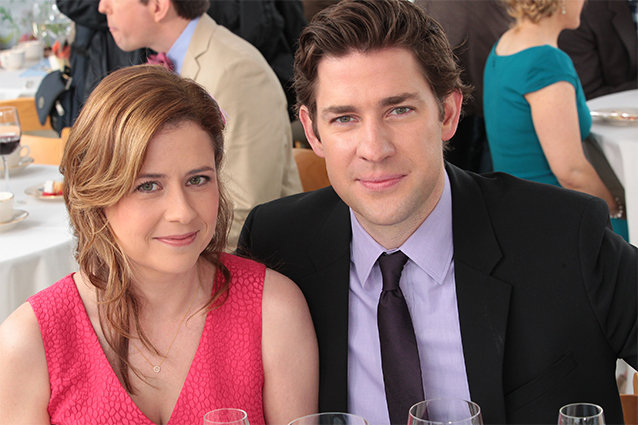 Other finale highlights: 
– Bringing back characters like Carol the realtor (Carell's wife in real life, Nancy Walls), Elizabeth the stripper, and of course, Mose. 
– Cameos by Seth Meyers and Bill Hader as themselves. Hey, we'll take as much of those guys on SNL as we can while we can get 'em. 
– Dwight carrying/dancing with Angela. 
– The group shot in front of Pam's mural calling for "everyone from the office." Judging by the cameo by Greg Daniels, it was likely everyone from The Office.  
– Creed's beautiful guitar serenade in the office.
– Reminscing about the Office Olympics. 
– Pam getting in one last "Dunder Mifflin, this is Pam" and taking her painting of the office building with her.
– Just. All of it, really. Goodbye old friends. And thank you. 
Follow Aly on Twitter @AlySemigran and Hollywood.com @Hollywood_com
More:  
'The Office': The 10 Best (and 5 Worst) Episodes 
The 5 Biggest Character Transformations on 'The Office' 
Steve Carell is Returning for the Series Finale of 'The Office'
---
From Our Partners:


Watch Justin Bieber Attacked in Dubai (Celebuzz)


33 Child Stars: Where Are They Now? (Celebuzz)