'The Voice' Recap: Of Moonshine and Men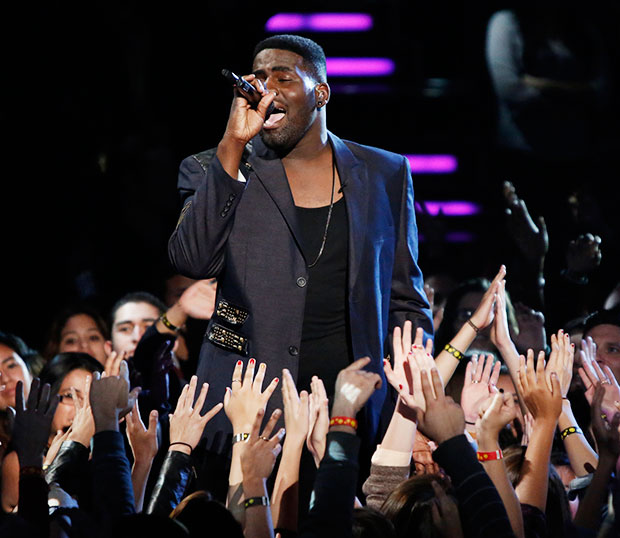 Last night, Team Cee Lo (represented by Trevin Hunte and Nicholas David) and Team Blake (Cassadee Pope and Terry McDermott) faced off on The Voice. Three contestants proceeded to the finals, and one was eliminated.
Honestly, I didn't want anyone to leave — couldn't we treat this like an elementary school track meet, and send everyone home with a medal for participation? Speaking of elementary school, Cee Lo was wearing a silk blouse that I'm pretty sure my fifth grade teacher owned. What up, Mrs. Grill? You still into long division?
For the first song of the episode, Terry and Cassadee shared the stage for "Little Talks." Terry sounded extra-Scottish (and also is wearing eyeliner?), which I'm into, and it was nice to hear a duet on a song initially conceived as one. But I know what you were thinking: Another Icelandic indie folk song? In fact, Reykjavík's own Of Monsters and Men (the original artists) were in the audience tonight. I hope this brief appearance wasn't the only reason they're in town, or that'd work out to about 1,500 miles travelled per second of TV face time.
Season 2 runner-up Juliet Simms was back to perform her new single, "Wild Child." I can't lie to you; I thought she was Ashlee Simpson at first. The audience seemed especially excited to see her, either because they're fans or they've been locked in the studio since she first appeared on the show.
Next, in the interest of staying green, The Voice recycled footage from Carson Daly's talk show Last Call. Carson and the four remaining contestants sat on risers, because there's no room in the show's budget for actual furniture.
To my surprise, this segment contained some surprisingly fresh and charming insights into the singers' backgrounds. Terry shared that he first wanted to become a musician while listening to the radio on long car rides with his dad. When Nicholas's mother first asked him to sing for her, he turned off the lights and insisted that she turn around before he would begin. By the way, Nick's glasses reemerged, to my great disappointment.
The first artist to advance safely to the finals: Terry!
The next Season 2 alum to appear was country cutie-pie RaeLynn, with the debut performance of "Boyfriend." I liked it. I only understood about 30 percent of the lyrics, but I gather that the song's narrative is basically "You Belong with Me" if addressed to evil, brunette Taylor Swift (and yes, this is my second TayTay reference in as many recaps — deal with it).
This week's topic in the Voice confessional: Who would you choose to live with on a desert island? Carson picks Adam "because he's a man, but he's pretty like a 'wo-man.'" (Carson's going to be so excited when he finds out that it's possible for men to have sex with other men.) Adam picked Christina, so that they could make a "super-baby." At this, Christina just laughed, knowingly. But the general consensus was that Blake would make the best island-mate, if only for his moonshine distillation skills.
Last season's fourth-place winner Chris Mann showed up with a boring ballad, "Roads," and his trademark crazy eyes. He's clearly an incredibly gifted vocalist, but his performance reminded me of a faith healer as he melodramatically grasped the hands of audience members.
The second finalist chosen by America's votes was Cassadee Pope. Oh, man — looks like Cee Lo's Trevin-Nicholas dream team will have to be separated after all. It's just like Sophie's Choice, except neither of them will be tragically executed by Nazis, and also, my name's not Sophie.
Last year's third-place contestant Tony Lucca stopped by as well, but didn't actually perform (maybe because Christina still hates him?). Adam called the view from the Sprint Skybox®™© "awesome," to which Christina Milian replied, "I love hearing that, thank you," as if she made any contribution whatsoever to its design or construction. Delightful.
Trevin and Nick teamed up for Mariah Carey's "Hero," a song that unsurprisingly proved to be more of a showcase for Hunte than David. Both members of Team Cee Lo are obviously more than competent, but this was a little dull — frankly, I'm just pissed they didn't perform "All I Want for Christmas Is You" instead.
In the show's waning moments, Christina comforted Trevin and Nick by noting that such wildly popular artists as herself and Jennifer Hudson failed to succeed in singing competitions early in their careers. True, but let me remind you that I, too, have never won The Voice, and my job is to write snarky things about you in my tomato sauce-stained pajamas.
The final finalist (see what I did there?) was… Nicholas David! It's a shame Trevin has to go — he arguably possesses the most raw vocal ability of any contestant this season — but I'm sure this isn't the last we'll see (or, more importantly, hear) of him.
The Voice returns next Monday at 8 p.m.—it's the finals, y'all! Follow Molly on Twitter @mollyfitz.
[Image Credit: Tyler Golden/NBC]
More:
The Voice Recap: Bublé, Please Come Home
The Voice Recap: Pretty Girls and Unicorns
The Voice Recap: 50 Shades of Blake
'90210' Star Shenae Grimes' Engagement Ring (FIRST LOOK PHOTOS)

Kim Kardashians Best Bikini Moments (PHOTOS)