'The Voice' Recap: The Final Countdown, Plus a Touching Sandy Hook Tribute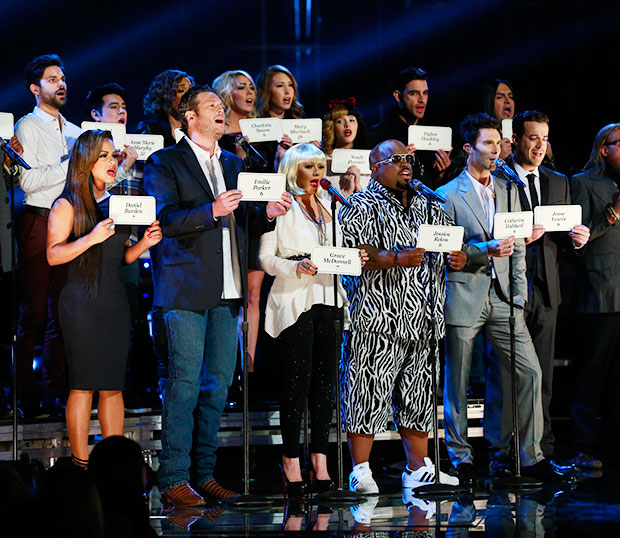 Over the last 14 weeks, we've watched a pool of 64 talented artists shrink to only three: Cassadee Pope, Terry McDermott, and Nicholas David. (Little-known fact: Charles Darwin devised his theory of natural selection after watching the 1838 season of The Voice.) Last night each finalist performed three songs: a new cover, a reprise of an earlier "breakout" performance, and duet with his or her coach.
The episode opens with a somber, candlelit rendition of "Hallelujah," in tribute to those lost in the tragic school shooting in Newtown, Connecticut last week. Each member of the chorus — composed of contestants from throughout the season and all four coaches — holds a card with the name and age of a victim. It's a beautiful gesture, and an uncharacteristically tasteful one.
Team Cee Lo's Nicholas David — soul man, family man, bearded man — is the first finalist to perform. Looking back, it's hard to believe that Cee Lo was the only judge to press his button for Nick in the blind auditions.
Nick offers a medley (isn't that cheating?!) of Jerry Lee Lewis's "Great Balls of Fire" into Jimi Hendrix's "Fire" — I guess they limited him to two songs, or the Jonas Brothers' "Burnin' Up" would surely have come next.
I love this performance. Nick has metamorphosed into a true showman, with all the "swagger" he once worried that he lacked. He breaks out some Elvis-esque pelvis gyrations, and his leg kicks like it has a mind of his own as he pounds away on his flaming — of course — piano. If this is what we can expect from Nicholas David: Live, I'm setting up a Google Alert for tickets right now.
Cassadee Pope chooses to revisit "Over You," the single that skyrocketed her to the top of the iTunes charts. Her voice is as gorgeous as ever, and this is arguably an even more nuanced, soulful version than her earlier cover.
She's apparently trying to appeal to the attention-deficit crowd, decked out in a mirrored dress that must weight at least as much as she does. Adam sums it up best. "So shiny," he comments, before elaborating a few seconds later: "Really shiny." Also, there are gems glued to Cassadee's hair, which I guess is a thing we can do with science now.
In the next pre-recorded segment, Blake has invited Terry and his family over to his home. "It's pretty big of a house," Terry's son Liam astutely notes. Blake reveals that he's flown in Terry McDermott, Sr. from Scotland as a surprise — Terry hasn't seen his father in years. Hugs! Tears! Family! God bless us, every one!
Back before the live audience, Terry and Blake team up for "Dude (Looks Like a Lady)." It's a smart song choice for McDermott, combining high, melodic verses with a grittier chorus — and because no one in their right mind doesn't love Aerosmith.
I love Terry and Blake's playful dynamic. At this point, I'd be perfectly happy if all two hours of the finale were devoted to footage of the pair trading friendship bracelets and braiding each other's hair. The song's guitar solo is performed by none other than an unnecessarily shirtless Adam Levine, in a long brown costume wig and glasses — he looks like the unholy offspring of Cassadee Pope and Garth from Wayne's World.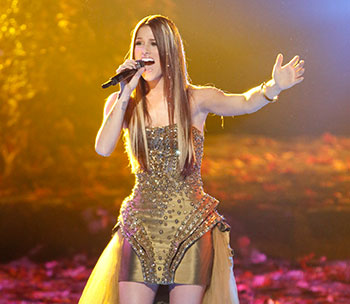 Nicholas David returns with a reinterpretation of "Lean on Me," the cover that brought Cee Lo to tears a few weeks ago. Tonight's is a slightly funkier version — less emotional than Nick's first, but successful nonetheless. Of the finalist's old-man blazer, Adam jokes, "You look like a principal… principal of the School of Funky Stuff." Then he pauses, caught up in a rare moment of self-awareness: "That's the dumbest thing I've ever said." I'm so glad to have taken this journey with you, Adam.
Terry takes on Mister Mister's "Broken Wings," his son's favorite song. It's good, not great (and we've come to expect no less than great from Terry) — he actually sounds a little flat at the beginning. In fact, it turns out this may have been the result of a technical malfunction beyond his control. Adam argues that Terry's grace under pressure is the ultimate proof of his performing chops.
After Cassadee's family sits down with Blake, she and her coach duet on Sheryl Crow's "Steve McQueen" — like Crow herself, Cassadee deftly navigates the rock-country genre divide. Freshly changed into a plaid overshirt and jeans, she gleefully commandeers a megaphone for the spoken-word bridge. The fun is infectious.
To my initial disappointment, Terry passes over his many classic rock triumphs and instead revisits "I Wanna Know What Love Is." But after hearing his version a second time, I've really come to appreciate it. I also enjoy the brief montage that summarizes Terry's time on the show — it's an unintentional time-lapse version of the mysterious de-dorkification of his mullet. The change is subtle but incredibly effective: I think they had someone lighten it? It's that or witchcraft.
Nicholas's parents and family join Cee Lo for a visit. Nick's surprisingly clean-shaven father is named David, which would be delightful if their last name was actually David as well — alas, it's really Mrozinski.
For their duet, Nick and Cee Lo play the funky music that is "Play That Funky Music." Even as he shares the stage with caged go-go girls and a break-dancing child (costumed exactly like Cee Lo… don't ask), Nick manages to remain the center of attention.The last performance of the finals is Cassadee's. As they rehearse, she reveals to Blake that her long-absent father has recently contacted her in the hopes of reuniting. I'm concerned, as a recent Key & Peele sketch comes to mind—don't let him hurt you again, baby girl.
Once the frontwoman of pop-punk band Hey Monday, Cassadee still has the unfortunate forearm tattoos to prove it. But once again, she goes full country with Faith Hill's "Cry." The song definitely plays to her strengths, giving her ample opportunity to belt with a woman-scorned intensity. Papa Blake says he's never heard her sound better; I'm inclined to agree.
The Voice is back tomorrow night with a two-hour finale featuring Rihanna, The Killers, Bruno Mars, and Kelly Clarkson. Follow Molly on Twitter at @mollyfitz.
[Image Credit: NBC (2)]
More:
The Voice Recap: Of Moonshine and Men
The Voice Recap: Bublé, Please Come Home
The Voice Recap: Pretty Girls and Unicorns

'The Hobbit' Cast: A Who's Who New Character Guide (Moviefone)

'Les Miserables' Unscripted: Hugh Jackman, Anne Hathaway On Singing And Being Modest