NSFW: True Blood's Sexiest (and Creepiest) Sex Scenes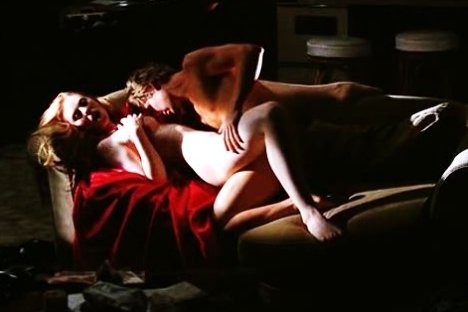 HBO
If you're still watching True Blood, you either love terrible television, or you're dependent on HBO's Sunday night sex scenes. HBO's Sunday nights have featured some of the raunchiest scenes in television history, from Sex and the City and Girls to Game of Thrones, but none of them compare to what we've seen on True Blood. As the show prepares to meet its true death, we're taking a look back at the moments that had us all hot and bothered, as well as the most disturbing ones.

1. Intro to Fang-Banging: Jason & Maudette

The very first episode of True Blood introduced Jason Stackhouse, god amongst men, spending time with lady friend, Maudette Pickens. Maudette, a fang-banger, is watching a home movie of her kinky adventures with a vampire while she services Jason. In the next scene, Jason has Maudette chained to the ceiling of her living room while the two of them have intense sex. Needless to say, this scene is why we started watching the show.
2. Saints, Sinners, and Suds: Jason & Sarah Newlin Take a Bath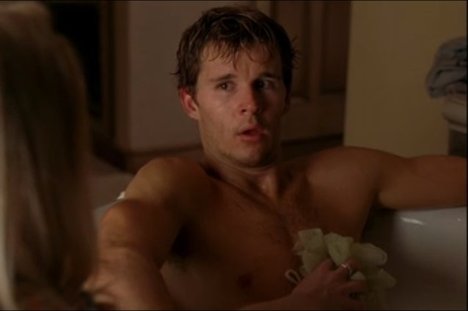 HBO
There was something so subtle, so sensual, so sexy about the way Sarah Newlin interrupted Jason's bath in season 2. Staying at the Fellowship of the Sun in an attempt to repent for his sins and mend his ways, Jason found trouble when Sarah decided she wasn't happy with her husband and decided to take matters into her own hands…literally.
3. Little Red "Ride-Me" Hood: Jason & Jessica
 HBO/PerezHilton.com
HBO / facepunch.com
There's really nothing like some spontaneous role playing to spice up your sex life. After telling Hoyt that he and Jessica were sleeping together, Jason got punched in the face. But Jessica made it up to him, Halloween-style. (Honestly, we would let Hoyt beat us as badly as he wanted if Jessica would help us recover like this, too).
4.  In Your Dreams: Sookie, Eric, & Bill
HBO
This show constantly pinned Bill against Eric in the battle for Sookie's affection, so when Sookie dreamed of a threesome with the two hunky vampires at the end of season 4, fans around the world rejoiced. I mean, obviously this was the solution to this love triangle, right?
5. Girls Just Wanna Have Fun: Tara & Naomi
HBO / truebloodgifs.tumblr.com
HBO / truebloodgifs.tumblr.com
Tara had the worst luck of any character from any season of this show. She dated Sam, but that didn't work. She dated (and really loved Eggs), but he was killed. Her mother is terrible. No matter what happens, Tara's life is awful. That's why it was so nice to see this brief moment of bliss from her. She finally seemed free of her old life, of its troubles, and able to start anew with Naomi. Unfortunately, that was short-lived too…
6. Same-Sex Tendencies: Jason & Eric
HBO / blaineswolf.tumblr.com
HBO / greginhollywood.com
Drinking a vampire's blood can have serious effects on a person. Hallucinations, the vampire's ability to sense emotions, and sex dreams. Oh, the sex dreams. They've provided some of the sexiest moments the show has ever given us, but none were anywhere near as intense as this one. We were biting our lips and grabbing at our bedsheets just from watching at home.
7. Pool Table Twister: Sam & Daphne; Arlene & Keith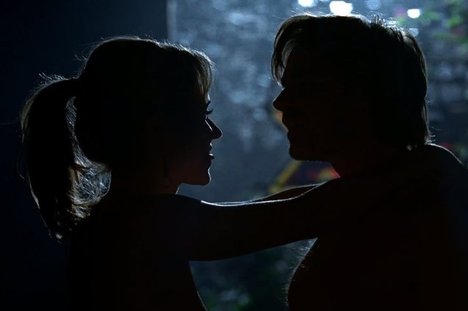 HBO
"Nice rack," – "nice balls." Though Sam  and Daphne may have used the pool table for their pun-filled romp on the pool table at Merlotte's, it's Arlene whose billiards boffing makes our list. We had never really seen Arlene in such a sexual light, and now we realize how much we"ve been missing out on. She tried to fight the temptation to sleep with Keith, because she doesn't have sex with vampires, because she's Hep V-positive, because, because, it's… wrong? Fighting proved futile, and the sex just seemed so…right.
8. Trip: Jason & Amy on V
Jason and Amy (played by the perfect Lizzy Caplan) had a wild relationship that involved drug abuse and vampire abuse. It wasn't the healthiest relationship, and it left its fair share of damage to Jason once it ended. It also provided one of the trippiest V-induced sequences in the history of the show.
9. Fantasy vs. Reality: Eric & Sookie
HBO / fuckyeahtruebloodhbo.tumblr.com
HBO / jasonstackedhouse.tumblr.com
We can't really choose just one Sookie and Eric scene. Every time the pair get involved, it's insanely sexy. There's something about it that feels inherently naughty, as if sleeping with a vampire who isn't Bill, especially his nemesis, is entirely forbidden. Whether it's her fantasies about lying on silk sheets with the Viking vamp or it's the reality of sleeping with an amnesiac, it's always hot.
10. Good to Be Pack Master: Alcide & Rikki
As someone who never cared about the werewolves on the show, I'm fairly certain Alcide was only there to prove that supernaturals have incredible sex. And werewolves are no exception. This scene makes it impossible to argue otherwise, so well done, True Blood. Well done.
And now onto the creepiest:
11. Sibling Relations: Eric & Nora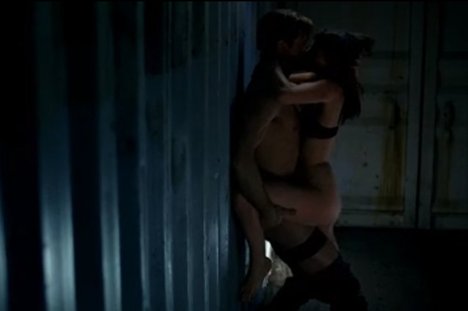 HBO
HBO / PerezHilton.com
When making this list, this particular scene was hard to place – is it sexy, or is it creepy? The scene's sex appeal is undeniable, but, you know, Nora is Eric's sister, soo… we're just going to let Eric explain this one: "We fight like siblings, but we fuck like champions."
12. Bill & Sookie Get Dirty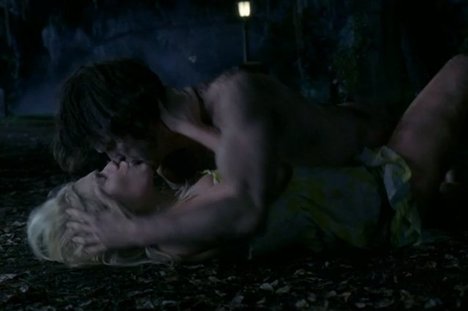 HBO
The cemetary sex scene is another scene that's sexy yet creepy (way, way more creepy than sexy though). Sookie thought the love of her life had died tragically in a fire. She went to the cemetary to mourn her loss, when suddenly, her lover crawls up from the ground naked. He grabs her ankles as she tries to crawl away, screaming and terrified, before she realizes that it's Bill. Then, the two of them start rolling around in the dirt of the graveyard, having bloody vampire sex. This is one of the first scenes that really established the show as the campy sex-fest that it really is.
13. The Wrong Kind of Hole: Jason & the College Girls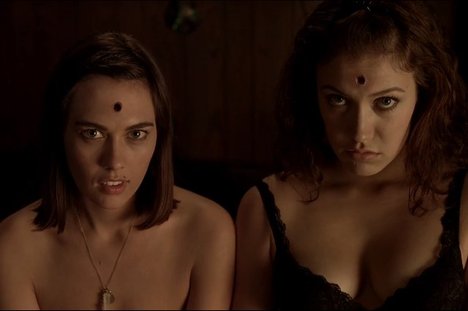 HBO
Whenever Jason is naked in a scene, the show has our undivided attention. The show has our excitement. This is the only time we were let down, when a naked and glistening Jason tries to distract himself from Eggs' death by hooking up with two college girls. The moment is ruined quickly when Jason can't stop envisioning his lovers with gigantic bullet holes in their foreheads, just like Eggs. From hot to horrifying in a matter of seconds.
14. You Spin Me Right Round: Bill & Lorena
HBO / gifake.net
There's hate sex, and then there's this. Bill hates his maker Lorena so much that he spins her head all the way around while having sex with her just so he won't have to look at her. Then Mr. Compton just continues doing his thing.
15. Revenge Romp: Eric & Talbot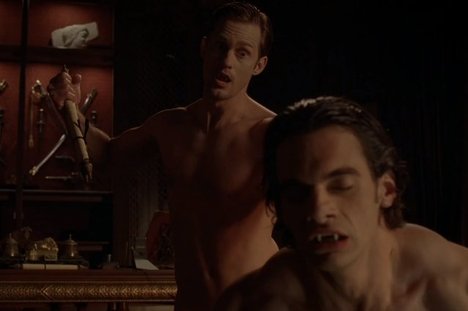 HBO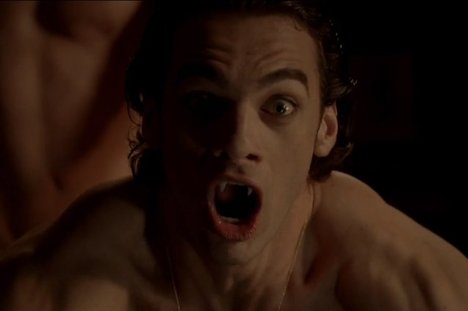 HBO
This scene is not even close to the creepiest the show has ever given us, but it's one of the least enjoyable. Eric, seeking revenge on Russell Edgington for killing his family, has sex with Russell's husband, Talbot, and stakes him from behind while doing so. Poor Talbot. This is a perfect example of what True Blood has given us for 7 seasons – sex, blood, death, and the unexpected.
Honorable Mention: every single orgy scene from season 2's Maenad fiasco. We could have lived very happily without ever seeing those scenes.