TV Throwback Thursday: Top 5 Prom Episodes 'The Vampire Diaries' Needs to Live Up To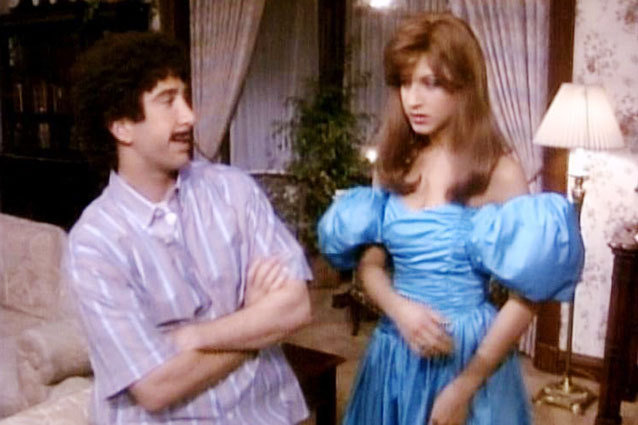 In our quest to bring you the best TV content, sometimes we have to look… backwards. That's why we have TV Throwback Thursday, wherein each week our staff of pop culture enthusiasts will be tasked with bringing back some of the best television clips that have been forgotten by time, space and the general zeitgeist.
This week, in honor of The Vampire Diaries airing its big, long-awaited prom episode, we're taking a trip down memory lane with our five favorite prom episodes, ever. TVD has some major competition here, folks.
5. Dawson's Creek, "The Anti-Prom": If you weren't totally on Team Pacey by this point, then this classic Anti-Prom must have swayed you. True, Dawson helped organize the event held in protest of Jack not being able to bring a male date, but he really only did it to try to impress and win back Joey, or really, just beat Pacey. Luckily Joey and Pacey did get a dance in, where he muttered the now infamous words, "I remember everything." God, they just feel so right:
4. Saved by the Bell, "The Prom": Poor little (formerly) rich girl Kelly didn't get to go to the prom, because her dad lost his job and she selflessly decided that family was more important than a pricey school event. But that didn't matter, because teen heartthrob Zack Morris came to the rescue, creating a super low-budget but still totally romantic prom that swept Kelly (and Amerikur) off her feet. Unfortunately the clip isn't available online (rights and such), but you remember: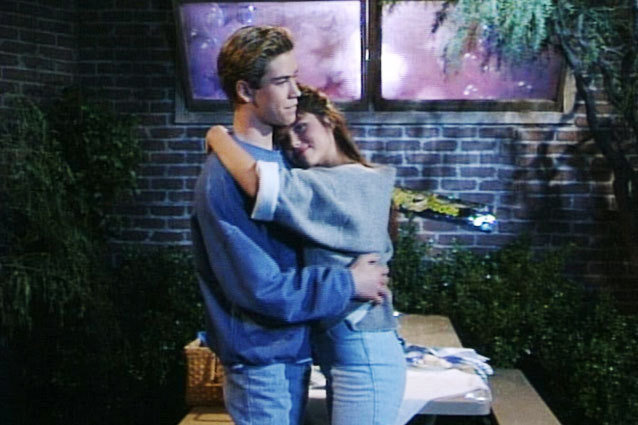 3. Beverly Hills, 90210, "A Night to Remember": "Donna, you're drunk. Do you have any idea what this means?" Donna (and the audience) didn't that eventful night, but we quickly learned the cruel aftermath of her reckless decision-making — no graduation. Summer school. Substance. Abuse. Education.
That's right, prom is where the now infamous phrase "Donna Martin Graduates!" was born — as well as the protest that fueled the nation. WARNING: TEEN DRINKING AHEAD.
2. Buffy the Vampire Slayer, "The Prom": Buffy's prom wasn't great because of any romantic intrigue or drunken antics. In fact, she barely got to attend, and she definitely didn't have a date. Instead, Buffy spent her prom night doing what she always does — sacrificing her personal life to thanklessly save the lives of others. Only this time, finally, it wasn't so thankless. When Ms. Summers finally arrived at the tail end of prom, she (and we) were shocked when her classmate Jonathan delivered a beautiful speech in her honor, letting her know that she was, in fact, loved. Here it is in all its glory, because you deserve it today:
"We have one more award to give out. Is Buffy Summers here tonight? Did she, um… This is actually a new category. First time ever. I guess there were a lot of write-in ballots, and, um, well, the prom committee asked me to read this. 'We're not good friends. Most of us never found the time to get to know you, but that doesn't mean we haven't noticed you. We don't talk about it much, but it's no secret that Sunnydale High isn't really like other high schools. A lot of weird stuff happens here. But whenever there was a problem or something creepy happened, you seemed to show up and stop it. Most of the people here have been saved by you or helped by you at one time or another. We're proud to say that the class of '99 has the lowest mortality rate of any graduating class in Sunnydale history, and we know at least part of that is because of you.' So the senior class offers its thanks and gives you, uh, uh, this — It's from all of us, and it has written here, 'Buffy Summers, Class Protector.'"
Okay here's the entire episode, because I'm crying now.
1. Friends, "The One With the Prom Video": It was a tough call between Friends and Buffy, but the look on Ross Gellar's face as he stands alone on the stairs in his "knight and shining armor" tux gave many of us our first TV heartbreak, and helped launch the defining television relationship of the '90s. Bonus points for the spectacular '80s hair, '80s dresses… just '80s everything, as well as the long-lasting emotional resonance. Her lobster, indeed:
… Damn. Your move, sexy vampires.
Follow Shaunna on Twitter @HWShaunna
MORE:
'TV Throwback Thursday': Lindsay Lohan on 'That 70's Show" and More
'TV Throwback Thursday': 'Sons of Anarchy' Stars on Childhood TV Terror
'TV Throwback Thursday': The Best 'Real World' Housemates Ever
---
From Our Partners


Stars Pose Naked for 'Allure' (Celebuzz)


Which Game of Thrones Actor Looks Least Like His Character? (Vulture)