Colbie Caillat Spreads Christmas Cheer, Talks Rap Ambitions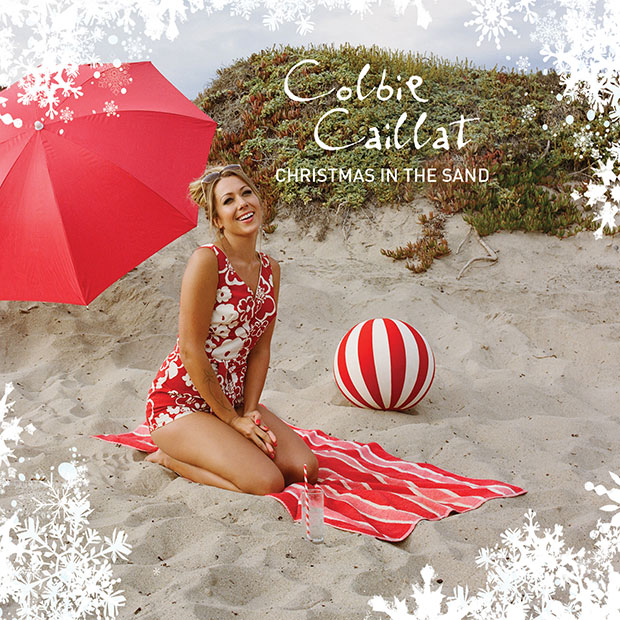 Holiday pop songs like Mariah Carey's "All I Want for Christmas Is You" and 'N Sync's "Merry Christmas, Happy Holidays" get so much play during the holiday party season we almost get sick of hearing them (almost). But this year we have a slew of new songs to shake things up on our holiday playlists thanks to Colbie Caillat's new Christmas album, Christmas in the Sand, released Tuesday. Hollywood.com got the chance to catch up with Caillat about her new album. She also opens up about working with Taylor Swift and dishes on her own celebrity look-alike, Jennifer Aniston.
Christmas Cheer for All to Hear
For Caillat, the holidays are a time for cheer, family, and friends. So when it came to doing a Christmas album, she was all in. She even used memories of a personal experience to give her collection of songs a unique title based on the way some people spend their holidays at the beach. "I got my inspiration because I was in Hawaii for Thanksgiving last year with my family," she tells us. "We were talking about how fun it was to be in a tropical place for the holiday — [and how] not everything is a white Christmas and not everyone spends their Christmases in the snow."
Caillat has a track on the album titled "Christmas in the Sand" as well, which she co-wrote with her friends Jason Reeves and Kara DioGuardi. "It was really fun to be able to write that with them," she says. "They were able to make it really tongue-and-cheek and playful like I wanted the song to be."
Caillat's also collaborated with country star Brad Paisley on the album, to record "Merry Christmas Baby" as a duet. But the collaboration happened in true 21st century style. "I've never met Brad!" she reveals. "I've never even spoken to him before, but my management company, they managed him in Nashville. So, when I said I wanted to do a duet song, my manager, was like, 'What about Brad Paisley? We can ask him.'" Caillat lucked out. "He was kind enough to do it," she says, adding, "I'm still looking forward to speaking to him and thanking him."
For another star-powered duet, Caillat recorded the song "Baby It's Cold Outside" with Gavin DeGraw. "We wrote together last January," she says. "He's really silly, really fun. I knew this song had to be playful and I love his voice, so I asked him if he wanted to sing it with me. We [then] recorded it in August in the middle of our tour together."
The song "Mistletoe" is another one of Caillat's originals. "That was the first Christmas song I wrote," she says. "It's about how not everyone gets to have a perfect Christmas. They don't get to spend it with their family members. I related to it because I was always traveling for my job and coming home very late in the Christmas season. And that always hit me hard that I had to be away from everyone when they were doing all the decorating and the shopping and fun stuff."
Caillat's new album went on sale Tuesday.
Next Up: Caillat Talks American Idol Rejection, Taylor Swift, and Jennifer Aniston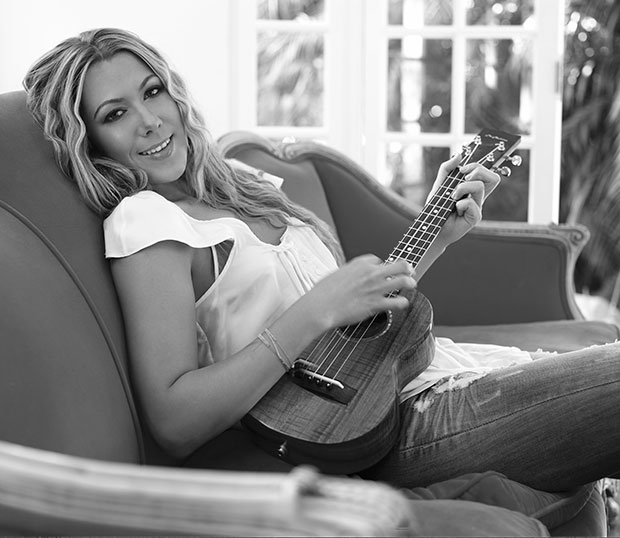 American Idol's Most Grateful Reject
Before Caillat became a two-time Grammy-award winning singer-songwriter, she tried out for the singing competition show American Idol… twice! But both times she was rejected. To this day, Caillat doesn't blame anyone but herself for not making it on Idol. "I know both times I gave an awful audition because of my nerves," she says. "I didn't want to audition — but my friends were going to audition and everyone told me I should go with them. I was like, 'Whatever, I'll go with them even though I do not want to do this. I don't want to be on a TV show. I'm too nervous. I'm too shy.'" She adds, "I didn't look cute then, [so] I don't blame anyone but myself."
Even now that Caillat's career has taken off, she's still not interested in taking part in a TV show, even if it's for a hosting gig. "Those TV shows always bother me," she says. "It's just so dramatic." Caillat doesn't like how the shows focus on drama more than the talent, for example like how the fight between Mariah Carey and Nicki Minaj is being played up in the media. "Do they make that up because they want more publicity for the show?" she asks. "It's just too stressful for me."
So Little Time
Besides Paisley and DeGraw, Caillat has also collaborated with Taylor Swift. The two wrote and recorded "Breathe" together in 2008. While the song was a hit, Caillat says it will be a while before she and Swift work together again — but not for lack of interest. "Our schedules are crazy," she explains. 
Timing for another collaboration with alternative singer/songwriter/heartthrob Jason Mraz has been similarly tricky. "I wrote with Jason Mraz two albums ago, and you can do it again together, but you're not going to have duets every year. You kind of have to hold off on that till the right time."
It's Jen… It's Jessica… No, It's Colbie Caillat!
If you put a picture of Caillat next to actress Jennifer Aniston, it's easy to see how the two beautiful stars might be easily confused — and Caillat sees the resemblance herself. "Some pictures of her laughing and my smile — I'm like, 'Whoa! That's weird," Caillat says. "I [also] see certain resemblances in our hair and eye color."
Caillat is also sometimes gets mistaken for Justin Timberlake's new wife, Jessica Biel. "In person, I don't see it all," Caillat says. "But, like in all artists and actresses, when you see them in pictures, sometimes you all start to look alike a little bit. I can see what they mean in a couple of pictures I've taken, but not in person."
Next Up: John Mayer Rumors, A Secret Music Obsession, and Wedding Songs Keep In Touch
Caillat has toured with many famous musicians and bands including the Goo Goo Dolls, Lifehouse, and John Mayer. And because of her time spent with these people, she tries to foster the friendships she developed on the road. "I stay in touch with Lifehouse," she says. "And the drummer of the Goo Goo Dolls, we've texted over the years every once in a while."
But when it comes to Mayer, who she was once rumored to have dated, things are a bit different. "We don't stay in touch," she says. "But when we see each other… We both did a show with Dave Stewart in L.A. a few weeks ago and I saw him there, it was good to say hi. But that's the extent of it." Caillat also denies that she had a relationship with him.
Colbie Caillat: Rap Star?
Will Caillat's next challenge be crossing over into the rap world? She is a huge fan of hip hop music, after all. "It's so good," she says. "I like certain kinds of rap where it's melodic and the music is great." That's why she is a fan of Biggie. "My fave songs are 'Notorious Thugs' and 'Juicy,'" she admits. "I know all the words to rap to them. It's fun to dance to and sing along with — you kind of feel like a bad ass."
She would even consider coming out with a fun cover rap video, like the one actress Rebel Wilson recently did where she impersonates Missy Elliot. "We actually did a reenactment of 'Notorious Thugs,'" says Caillat. "It was actually a few years ago — but we never put it out. We'll do it again."
The Wedding Singer
Caillat's chart-topping, aww-worthy duet with Jason Mraz, "Lucky," has become a staple at weddings, even ones Caillat herself attends. "It's like my close friends, it'll be on their playlist," she says. "My cousin got married last month and a couple of my songs were on the playlist. I just think it's cute."
Caillat has even become a bit of a wedding singer herself, lending her vocals and romantic tunes for a friend's ceremony."I sang my song 'Magic' at one my best friends' weddings," she says. "She got married on the beach in Malibu and that was the only wedding I said yes to sing at." But Caillat did refuse to sing at her sister's wedding. "I didn't sing at it because I wanted to enjoy it and I get nervous when I have to perform," she says. "So I just wanted to soak up the moment."
Follow Lindsey on Twitter @LDiMat.
[Photo Credit: Universal Music]
Scotty McCreery Juggles Fame and College, Weighs in on 'Idol' Judges Spat
We Get It, Clint Eastwood, Your Pro-Romney
Joe and Tina Simpson File for Divorce

12 Hot (And Horrifying) TV Nude Scenes

Hollywood.com's Holiday Movie Guide: Best of the Season!