Awesome Alert: Mila Kunis Producing Feminist Drama for CW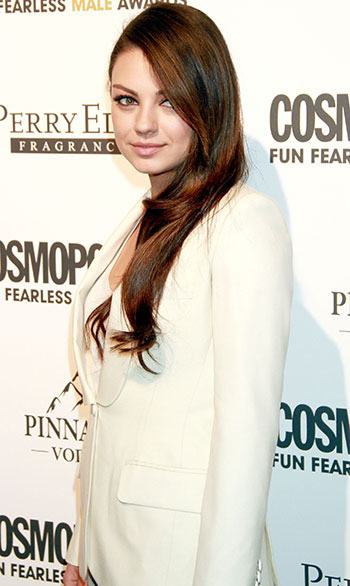 Are you a lady? Or a general television viewer that is younger and enjoys shows that talk to you about things other than crazy relationship drama? Well, Mila Kunis has got that covered for you. Hollywood.com has confirmed through a rep for Kunis that she is indeed set to executive produce a '70s-era drama called Meridian Hills. The show is said to revolve around a newly-married young woman who joins the Junior League during the beginning of the era that brought us the Equal Rights Amendment. Her character will befriend and interact with the eclectic group of other young women who became unlikely allies while trying to change the status quo.
For those in need of a wee history lesson, the Junior League was founded in 1901 by a young woman named Mary Harriman. According to their mission, "The Association of Junior Leagues International Inc. (AJLI) is an organization of women committed to promoting voluntarism, developing the potential of women and improving communities through the effective action and leadership of trained volunteers. Its purpose is exclusively educational and charitable."
Don't expect Kunis to star as the main character, though: she has not attached to have an on-screen role, instead taking on one of those serious, behind-the-scenes roles instead.
As a former younger person (and current middle person) who—a few years ago—would've been smack-dab in the CW's most rabid viewing audience, I can't help but think this is a very cool deviation from the standard fare that dominates a lot of teen programming. Not that there's anything wrong with some of those programs, obviously, but man oh man—that's a lot of shows about romantic relationships!
To show this audience a show about strong, female characters trying to change the world in such a big way is a refreshing (and needed!) change-up. Do you know who are former Junior Leaguers? Julia Child, Betty Ford, Eleanor Roosevelt, Sandra Day O'Connor, Katherine Hepburn: all some seriously awesome female role models (and that's just a tiny sampling!) that could use more attention from the younger set.
So what does this mean? Well, great things. There is a desperately-large hole when it comes to television shows that focus on the historical struggles that speak to (and inspire) young women. Sometimes, finding true love isn't the only cause near and dear to young girls' hearts! Therefore, exposing an audience who may or may not have missed this chapter in their history books, is an honorable step in the right direction for The CW, and television in general.
There's always a need for more TV made by women about women. Ladies making TV is a hip new trend we hope really continues. And to do so for a group always looking for role models, is a great thing. Maybe it's the election season flu I have, but telling the story of the role that young women have played in moving our country forward is a really cool way to keep our young people invested in the future through the stories of our collective past.
Would you watch Meridian Hills? Sound off in the comments!
[Photo Credit: WENN.com]
Follow Alicia on Twitter @alicialutes
More:
'Downton Abbey' Sets Ratings Records, Gives Us Reason to Celebrate
'Boardwalk Empire': How Many Deaths Will It Take to Live Up to Jimmy?
'Real Housewives of Beverly Hills' Recap: Flowers in the Addict
---
From Our Partners:

Channing Tatum to Be Named Sexiest Man Alive by 'People' (REPORT) (Celebuzz)

Real Beach Bodies: 20 Celebrities of All Ages and Sizes (GALLERY) (Celebuzz)