'Ben and Kate': What You Need to Know Before Watching Tonight's Premiere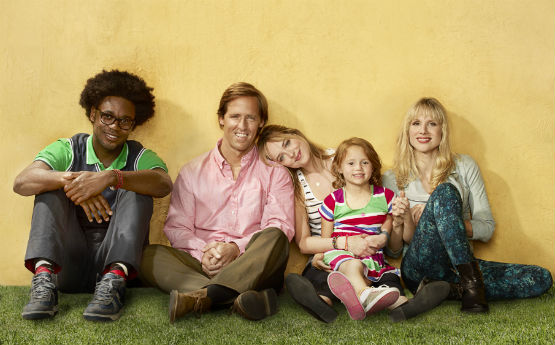 Over the next few months, we'll see new series soar, old series sour, and so much Jersey Shore madness, we'll want to shower. Let's face it: The Fall TV season is intimidating. With dozens of new and returning shows hitting our small screens, we know we have some big choices to make. So, to help you determine what to watch, we're digging deep into the most notable series premiering this season. Where did each show leave off? Where is it headed? And who should you watch it with? Today, we're checking out new series Ben and Kate, starring Oscar winner Nat Faxon and former Miss Golden Globe Dakota Johnson. Will Ben and Kate lead Faxon one step closer to EGOT? Let's dive in!
Series: Ben and Kate
Premiere Date: Tuesday, Sept. 25 at 8:30ET on FOX.
Synopsis: Ben and Kate are two very different peas in the Fox family pod. The siblings must navigate their own flawed — but close — relationship and flawed — but fun — lives while raising Kate's young daughter.
Who's Ben?: A sweet — yet doltish — man who wants to grow up even less than Peter Pan.
Who's Kate?
: An awkward — yet charming — single mom who grew up far too soon.
Cast: Nat Faxon plays Ben; well-adjusted celebrity spawn Johnson (daughter of Melanie Griffith and Don Johnson plays Kate; We Bought a Zoo child star Maggie Elizabeth Jones plays Kate's spunky daughter; Bad Teacher's Lucy Punch plays the aptly named BJ; and newcomer Echo Kellum plays the quirky Tommy who loves Kate more than he loves mispronouncing salmon.
What's a Nat Faxon?
: Don't worry — even
Mindy Kaling
 has wondered. But comedy lovers would recognize the actor for his bit, but memorable roles in
Orange County
 and
Walk Hard: The Dewey Cox Story
. Champagne-swillers, however, would know him best from his Oscar-winning co-penmanship of 2011's
The Descendants
.
Pilot Plotline: Kate plans to sleep with a man for the first time in five years, while Ben plans to break up his ex-girlfriend's wedding. Oh, Tuesdays.
Choice Soundbite: Ben, after Kate asks him what he will do after learning his ex-girlfriend, Darcy, is getting married: "I'm thinking about starting on the roof and then repelling down to the side of the building and then maybe, like, knocking through an AC duct, and then crawling, like, elbows like this, and then maybe, like, dropping down into, like, an electrical closet, maybe, like, throw in a couple of smoke bombs in, and then just kidnapping Darcy, taking her out the back and maybe, like, renting a Jeep Wrangler or something and popping down to Mexico. But, I don't know, it's a little bit up in the air."
You'll Like It If…: You watched Friends for Ross and Monica.
You'll Hate It If…: You watched Friends for the laugh track.
Ben and Kate's Formula: (Happy Endings + Parenthood – Kleenex) + (Two Guys, a Girl, and a Pizza Place – Guy)
Breakout Character: Jones' Maddie. There hasn't been a child as precious and precocious since Drew Barrymore's Gertie in E.T.
Style Moment: Taking a page from her father's handbook of outdated fashion, Johnson wears a fanny pack throughout the pilot, leading one character to call her "a Korean lady golfer."
"Aww" Moment: A flashback shows young Ben and Kate crawling under the dinner table to drown out the sound of their fighting parents.
"Awful!" Moment: A good 60 seconds of the 23-minute pilot is dedicated to U-Turn humor. Austin Powers called — it wants its gag back.
What We Learn From the Pilot: Putting objects constantly in your mouth makes you instantly sexier.
What We Learned from Happy Endings: This is most definitely not true.
Watch It With: A sibling you've been meaning to get closer to.
Don't Watch It With: Anyone with a limp high five.
Wine and Cheese Pairing: A Muscat with a slice of Manchego dipped in honey. Because it's so sweet!
What You're Most Likely To Yell At the Screen: "Why are you charming me into adding you to my already chock-full DVR, Ben and Kate?!"
What It's Missing: Nothing. Except Clooney, of course. Make it happen, Nat.
[Image Credit: FOX]