All of the Actors Who Got Started on 'Sex and the City'
John Slattery
Slattery has become a major star as Roger Sterling on Mad Men. However, before he was seducing women throughout the 1960s, he took advantage of Carrie Bradshaw's daddy issues as New York politician Bill Kelley in a two-episode arc "Politically Erect" and "Where There's Smoke." Sadly, things didn't work out: he liked water sports and Carrie didn't have time for that.
HBO
Kat Dennings
Before 2 Broke Girls, Dennings played one rich girl, Jenny Brier, who was a client of Samantha Jones. She was so sexually aggressive it even shocked Samantha. It's hard to imagine a pint-sized Dennings, but check out "Hot Child in the City."
HBO
Jennifer Coolidge
Coolidge is another 2 Broke Girls regular that starred on Sex and the City. Fresh from her American Pie fame, Coolidge played a Real Housewife type who decides to design handbags. Sadly, Samantha ruins her party by having sex with a waiter.
HBO
Justin Theroux
Theroux was a two-time guest on SATC. Before he was Jennifer Aniston's man with the perfect abs, he was Carrie's man with the perfect family. He was a writer with sex issues who had such a dynamic family with whom Miss Bradshaw decided to try and make it work in "Shortcomings." He also had a few lines in "The Monogamists" as a flirty writer, oddly.
HBO
Elizabeth Banks
Not only was Banks on Sex and the City, but she was in the same episode as John Slattery. She had a couple of lines as a political girlfriend type in "Politically Erect." You never know who will go from small role to big star. Is this the origin of Avery Jessup?
HBO
Timothy Olyphant
Olyphant is best known for darker roles on Justified and Deadwood, so it's funny to think that one of his early roles was as Carrie's latest addiction. In "Valley of the Twenty-Something Guys," the girls all find themselves with guys in their twenties. He wasn't a huge star, but he was a big enough star that they used a double when his character Sam flashes a tongue ring.
HBO
Bobby Cannavale
Cannavale has brought some major sex appeal to television. It started as one of Samantha's numerous lovers, Adam Ball, the "funky spunk" guy. He was an intense businessman who inhabited Samantha's Island of Misfit Guys for his role in episode "Easy Come, Easy Go."
HBO
Matthew McConaughey
McConaughey as Mr. Big? For a brief second, Carrie was considering a movie version of her column. The famous actor, not an Oscar-winner yet, was in talks to play Mr. Big. The two flirted but it didn't go anywhere and Carrie's love for L.A. faded fast.
HBO
Will Arnett
GOB Bluth was a bit of a kinkster, but Arnett also played Miranda's kinky boyfriend in the episode "La Douleur Exquise!" He was obsessed with getting caught until, as expected, it became too much. It's almost hard to imagine such a huge comedy star in such a small role on the show.
HBO
Bradley Cooper
Cooper's acting career seems like a "how to" guy. He famously appeared on Inside the Actor's Studio as a student then a guest. His first acting role was as a hot guy who picks up a drunk Carrie at a bar in "They Shoot Single People, Don't They?" Sadly, Jake didn't take her home because she was too heartbroken over an embarrassing magazine cover.
HBO
Heidi Klum
Remember those crazy few days when Klum was a model and not a high-powered producer and television personality? When Carrie ventured into the world of celebrity modeling and became fashion roadkill, Klum briskly walked by her. Luckily, Klum helped Carrie realize her beauty in "The Real Me."
HBO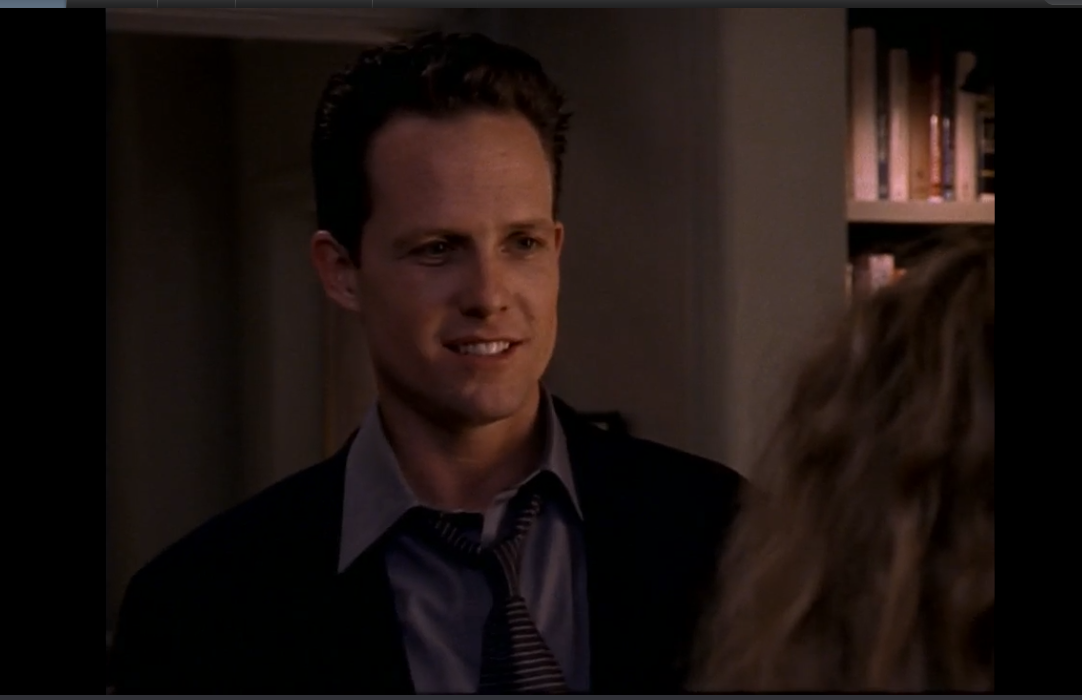 Dean Winters
Winters was on HBO's Oz before he became Dennis Duffy on 30 Rock. It seemed logical that the star of Law & Order: SVU would stop by Sex and the City. He played Carrie's friend-with-benefits before America was even fully aware of the idea; the episode "The F**k Buddy" helped coin a term. Winters might be considered a part of sexual history.
HBO
Vince Vaughn
Before Old School, Vaughn only had "Swingers" and "The Lost World" under his belt. He played Matt Damon's agent in "Sex and Another City." He and Carrie have a brief flirtation until he helps reminder her why she loves NYC.
HBO
Andy Cohen
Before Cohen became the unchallenged ruler of Bravo, he played a shoe salesman. Is this before or after he and SJP became besties? He plays Carrie's "dealer" for her Manolo Blahnik addiction in this blink-and-you'll-miss-him role.
HBO
Amy Sedaris
It does bring a little bit of artistic legitimacy to the series to have David Sedaris' sister and accomplished author Amy play Carrie's agent. When Carrie became a published author, Sedaris had a multiple-episode arc and appeared on the show for a few seasons until she was laid off in "Lights, Camera, Relationship." It does serve her right as she did introduce major drama into the Carrie/Berger relationship.
HBO
Carrie Preston
Preston is more widely known for another HBO show, True Blood, but she started on Sex and the City with retroactively shocking blonde hair. She plays Miranda's interior designer, Madeline Dunn, who inadvertently steals Miranda's perfect man. Not only did she steal Cynthia Nixon's hair color but she also steals scenes in her role on the hit show, "The Good Wife."
HBO
Brian Van Holt
Cougar Town star Van Holt played Wylie Ford, an actor that seduces Charlotte in "The Caste System." But things did not fare well for that courtship. He also played a similar hot jerk in A Very Brady Sequel if you're feeling nostalgic.
HBO
Sarah Michelle Gellar
Of course, Gellar is best known as our dear friend Buffy. In SATC's heyday, she played Carrie's agent Debbie. In an attempt to make the series more L.A. for the two-episode arc, Buffy was tapped to play Carrie's agent.
HBO
Lucy Liu
Liu is a native New Yorker. In the height of her Ally McBeal celebrity, she stopped by SATC when Samantha was looking for celebrity clients. However, she ended up saying "Coulda, Woulda, Shoulda" when she dropped Liu's name to get a Berkin bag. You don't mess with O-Ren Ishi.
HBO
Murray Bartlett
Before he was Looking, Bartlett played a very Australian and super sexy potential gay BFF for Carrie. However, their brief love affair did not last after "All That Glitters" was over. Twelve years later, Bartlett was back on HBO with his own major role as a single 40-year-old. Life's funny that way. Maybe someday, SJP will guest star on his new HBO show?
HBO
Matthew Morrison
Before he graduated to teaching Spanish and self-esteem on Glee, Matthew Morrison spend most of his time handing Carrie menus on SATC.
HBO
H. Jon Benjamin
Miranda had a three-way with Sterling Archer and Bob Belcher? Not quite, but Benjamin (the voice behind both iconic animated characters) appeared on the series. He's one of Miranda's lawyer friends who fixes her up with a woman. It's a little sad that the hilarious actor has only had a few non-V.O. roles like in this episode, "Bay of Married Pigs."
HBO
John Benjamin Hickey
Hickey has been on a ton of TV shows. He's found huge success with roles on The Good Wife and The Big C, but people may not remember him as the Catholic, bathing-obsessed lover Miranda couldn't handle in "Oh Come All Ye Faithful."
HBO
Heather Graham
Graham has the best random cameo in "Critical Condition." She plays herself and gives Carrie the stink-eye over what she did to Aiden. Don't we all really feel that way deep down?
HBO