Could Seth Meyers Replace Regis Philbin on 'Live! with Kelly'?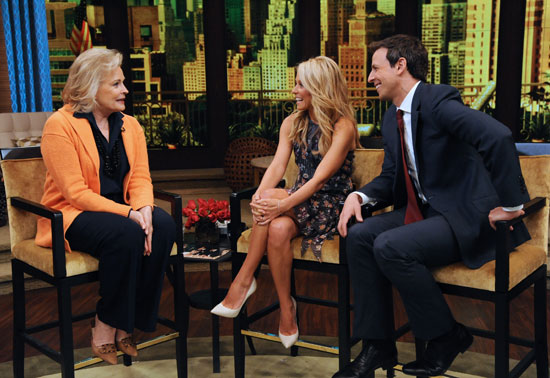 Seth Meyers may not bear much resemblance to veteran host-of-all-trades Regis Philbin, but the Saturday Night Live head writer may very well be closer to Reege than ever before. If a certain rumor is true, Meyers is on the shortlist — and with only three names on said list, it truly is a short one — to step into a permanent co-hosting role alongside Kelly Ripa on Live! with Kelly. 
Showbiz 411 reports that the search for a replacement for Philbin has been narrowed down to three possible (and puzzling) potentials: Meyers, who would seem right at home given his popularity in the
guest co-host seat
in the spring; singer Josh Groban, who has hosted five times since December; and perhaps most bizarrely, erstwhile New York Giants defensive end Michael Strahan. Of the trio, Meyers seems most poised to handle the hosting demands, given his four years of experience manning
SNL
's "Weekend Update" segment.
The report goes on to affirm that Meyers is the closest to nabbing the job. Beginning this coming Monday, July 9, he will step in next to Ripa for the entire week, which is the longest hosting stint for any guest since fan favorite Neil Patrick Harris. Whether the lengthy tenure is a trial for a possible permanent spot is unconfirmed, however, and a rep for Meyers could not be reached for comment.
Meyers could do it, you know. He's got the personality, the wit, the intelligence, and he knows how to bring the funny — something which, one may argue, isn't exactly Philbin's strong suit. And you've got to admit, it would be a smart career move for Meyers, who may opt to join outgoing SNL cast members Kristen Wiig, Andy Samberg, and Jason Sudeikis sooner rather than later (no one likes a lingerer). Would you like to have your morning cup of coffee with Meyers?
[Photo Credit: Disney-ABC]
More: