'Dancing With the Stars: All-Stars' Recap: Three's a Crowd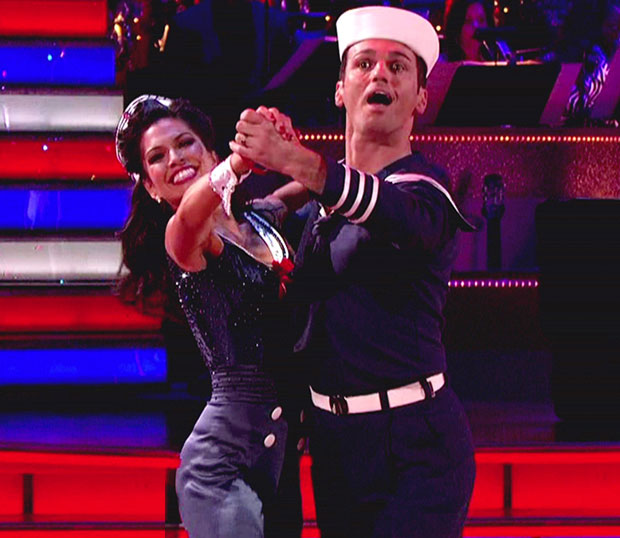 It's threesome week on text DWTS! Heh, heh… but actually. This week, to fill a timeslot that's roughly two hours longer than it needs to be, the celebs and their dancing dates performed two dances, one as a tribute to U.S. military veterans (aww) and the other a Latin trio. I'm sure how patriotic that is, exactly, but let's go with it.
First off, the tribute performances.
Shawn & Derek
The dynamic duo performed a Viennese waltz to Sarah McLachlan's "Angel." I get that the wardrobe people clearly wanted us to see Shawn as an angel, given the white dress and all, but really, even Shawn Johnson, America's Sweetheart™, doesn't look angelic in that deep of a neckline. Derek, on the other hand, looked like my dream soldier. Marry me?
Carrie Ann: 10
Len: 9.5
Bruno: 10
Apolo & Karina
Once again, Apolo showcased his love of literally throwing Karina around in the air. Granted, his zipline entrance was pretty incredible, but his outfit (a military vest with no shirt underneath) ruined the mood. Honestly, is that even comfortable? I found myself more concerned about his risk of chafing than his actual performance. No regrets.
Carrie Ann: 10
Len: 9.5
Bruno: 10
Kirstie & Maks
I have to hand it to Kirstie – I actually almost enjoyed this dance. Kirstie was pretty good, and even vaguely graceful. Of course, this being Kirstie, you know she always finds some way to ruin the magic, and today, the culprit was her atrocious hat. I can picture the backstage scene now: someone definitely pinned that hat to her head and went, "Oh, how jaunty! This is perfect." To that person, I say: you are wrong. So, so terribly wrong.
Carrie Ann: 9
Len: 9
Bruno: 9
Kelly & Val
I'd like to take a moment to stop complaining about the wardrobe department and instead focus on the stage crew. Someone in the staff seems to have decided that a smoke machine is essential to DWTS' success. It's not. It's distracting. Half of Kelly's performance was obscured by smoke. I couldn't even tell whether she and Val made out at the end of their routine. Oh, who am I kidding? They totally did.
Carrie Ann: 9.5
Len: 9
Bruno: 9.5
Gilles & Peta
Are you sitting down? This is the biggest DWTS news all season. Don't say I didn't warn you. Are you ready? PETA WORE A FULL BODY JUMPSUIT. As in, she didn't take it off halfway through the dance, she didn't wear a nude-colored ensemble that made her look naked, and she didn't have any fringe. Just a full-on jumpsuit. Has she ever worn this many clothes at once? I've never been prouder.
Carrie Ann: 9.5
Len: 10
Bruno: 10
Emmitt & Cheryl
Approximately how many emus did the wardrobe department have to kill to put Cheryl in that gown? My money's on at least four. I hope she isn't ticklish, otherwise that must have been absolute torture. As for Emmitt, he consistently has the classiest outfits of any male dancer, but that doesn't make up for the fact that he really doesn't do much on the dance floor. America, I ask you: you chose this man over Sabrina Bryan?
Carrie Ann: 9
Len: 9
Bruno: 9.5
Melissa & Tony
Hey, wardrobe department? Yeah, sorry about everything I said before. Melissa and Tony's Motherboy XXX costumes make up for all of your past mistakes – and more. I was physically incapable of watching this performance without imagining George Michael Bluth in a sailor costume, and that's totally fine with me. The costume team, like the actual dancers, gets a perfect 10.
Carrie Ann: 10
Len: 10
Bruno: 10
The second half of the evening was devoted to the threesomes. No, I will never not think that's funny. And neither will Bruno – he was loving the awkward sexual comments.
Shawn, Derek & Mark BallasThis tribal trio might literally be the scariest thing I've seen on DWTS – and remember, I've watched every dance Kirstie Alley has ever done. Granted, the tribal-inspired routine was really well done and intense, but it was also really creepy, and there is nothing weirder than seeing Derek and Mark pelvic thrust in coordinated time.
Carrie Ann: 10
Len: 7
Bruno: 9
Apolo, Karina, & Sasha Farber
It must have been hard for Apolo to dance in perfect coordination to Sasha, since they just aren't at the same skill level. But he held his own, and for once in my life, I wasn't horrified by his outfit, his hair, or his dancing. So that makes this a winning performance in my book. If only he'd lose the soul patch.
Carrie Ann: 10
Len: 9.5
Bruno: 9.5
Kirstie, Maks & Tristan McManus
Remember when I said Kirstie was almost good in the last dance? That was before she performed to seventh-grade-goth favorite "My Immortal" by Evanescence. Did I mention that all three dancers were wearing feathery wings? Wardrobe department, stop killing birds. Please.
Carrie Ann: 8
Len: 8
Bruno: 8
Kelly, Val & Louis Van Amstel
There was no smoke machine this time, meaning we didn't have to guess about Kelly and Val making out (they did). I can't help but wonder how tense rehearsals must have been with the three of them, given that the partners probably spend half their time canoodling in a dark corner of the studio. Poor Louis.
Carrie Ann: 9.5
Len: 9.5
Bruno: 9.5
Gilles, Peta and Chelsie Hightower
No one panic. Peta has returned to her normal almost-naked state, donning a truly horrific Vegas showgirl outfit for the evening's second number. Gilles, too, was back in natural form, with a deep-V neck shirt and a whole lot of shimmying. I'm just glad to see everything is back to normal – I was worried for a minute.
Carrie Ann: 9.5
Len: 10
Bruno: 9.5
Emmitt, Cheryl and Kym Johnson
Is anyone else starting to get suspicious that Emmitt can't actually dance? After carefully watching and re-watching his dances every week, I've come to the conclusion that his only saving grace is his (truly stunning) hip swivels. Other than that, though, he really doesn't do much on the dance floor.
Carrie Ann: 10
Len: 10
Bruno: 10
Melissa, Tony, and Henry Byalikov
I've said it before and I'll say it again: Melissa is so good she shouldn't be in this competition. It's just not fair. Even her trashy Moulin Rouge-inspired costume and the inexplicable scream she let out halfway through her performance can't take away from the fact that she, more than anyone else, has been consistently solid throughout the whole season.
Carrie Ann: 10
Len: 10
Bruno: 10
Since there wasn't an elimination last week (thanks, election!), tomorrow's show will feature a double elimination. Who will go home? Who will stay? We'll just have to wait and see… but seriously, don't let me down, America.
[Image Credit: WENN]
More:
Dancing With the Stars: All-Stars Recap: Indecision 2012
Dancing With the Stars Elimination: Imma Let You Finish But…
Dancing With the Stars: And the Eliminated All-Star Is…

'Twilight Saga: Breaking Dawn — Part 2' Star Kristen Stewart on 'Twilight' Finale: I'm 'Desperate' For a Job Now (VIDEO)
(Celebuzz)