Elise Testone backstage at 'Idol': Judges Were Never Helpful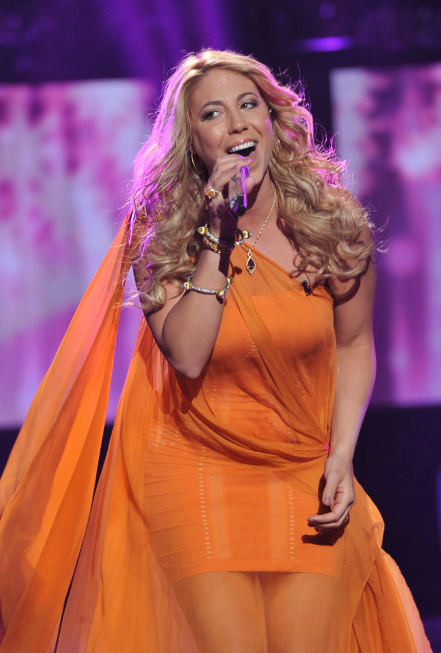 Another one bites the dust. (And, no, it wasn't the ailing Ryan Seacrest, who was back in true form Thursday following a nasty illness. What a pro!) One week after Colton Dixon's shocking elimination, American Idol viewers weren't too surprised Thursday to see perennial bottom three dweller Elise Testone sent straight out of CBS Television City, where I was sitting in the audience, taking in all the action of the calmest elimination night in weeks.
When Ryan announced that Elise would be heading home, there was as little shock inside the theater as there likely was for audiences watching from home. The audience gave her a perfunctory standing ovation, but it wasn't until her swan song that people seemed to realize what the competition was losing. Even the judges and her fellow competitors couldn't deny Elise's powerhouse vocals during her final number — J. Lo stood up throughout the song and Phillip Phillips rocked out on air guitar. Most of the crowd in those final moments agreed with a woman in my section who wondered aloud, "Maybe if she had sung like this all season, she would still be the competition."
In the press tent, Elise didn't seem surprised by her elimination. Instead, she was more worried about how she would move forward. "I think that my brain is just wired in a way that I just accept everything that happens," she said. "So as soon as [Ryan] said my name, it's almost like I heard him say it before he said it, and I just accepted it immediately. I was like 'Okay, well now I've got to do my best.'"
But, she didn't leave the competition without receiving plenty of love on stage. During her final video package, Ryan briefly put a supportive arm around her back and she received hugs from all of the other contestants once the cameras stopped rolling. The judges also joined her on stage for a quick chat. What did they tell her? "[Jennifer Lopez] was saying she really respects me as an artist and she thinks I'm awesome and just to keep persevering," Elise explained backstage. ("Steven [Tyler] said he fell in love with me," she added jokingly.)
That might have just been the first time Elise and the judges saw eye-to-eye. Backstage, the contestant said she didn't find all the judges' comments throughout the competition so helpful. "I'd like to say that they were [helpful], but I don't really feel that way, I'm sorry. I feel bad about that," she told reporters. "It's just different for me. I mean I'm 28… So I've learned so much, and some things that they say don't line up with what I feel like I've learned on my own."
Before Elise's elimination — and trip back to the press tent — Ryan had to name the three contestants that were flirting with elimination. (And after the past few weeks, anyone watching — at home or in the theater — was on pins and needles waiting for the results.) After Ryan told Jessica Sanchez she would remain in the competition, Elise was the first contestant put in jeopardy on Thursday. While Jessica received hugs from Joshua Ledet and Hollie Cavanagh, Ryan came over to Elise for a quick word before he ran off-stage himself during the commercial break.
As soon as Ryan left her side, it was clear that Elise would rather have been anywhere but on the silver stool. During every commercial break, she ran from her seat and back to the couches to chat with the other contestants. In fact, the stage manager, Debbie Williams, would jokingly pull her back to her stool just in time to go live.
Next to find out their fates on Idol were best friends Hollie and Joshua, who could be seen embracing during the commercial break before the announcement was even made. Hollie looked thrilled when she heard Jimmy Iovine positively discuss her song choice (a rare moment!), Miley Cyrus' "The Climb," as did Jennifer Lopez who nodded in agreement with his comments. But the loudest cheers of the night belonged to Joshua, who was once again saved after his strong performances on Wednesday. That doesn't mean the audience was happy to see Hollie placed in the bottom three — the crowd quickly erupted in boos as soon as the contestant sent to her silver stool. The judges, however, showed little reaction to the addition of the second member in the trio.
The final pairing — Skylar Laine and Phillip Phillips — had everyone in the audience on the edge of their seats. After all, these were two contestants pegged as frontrunners for weeks. Skylar has a fan in Joshua, who clapped whenever she was complimented in the video package, while Jennifer looked a little annoyed at Jimmy for saying that Skylar got knocked out in round two of the competition on Wednesday night.
Finally, it was revealed the last member of the bottom three (at least for a very brief moment) was Skylar. The producers made a smart decision by bringing her back to the "safe" couches before even taking a commercial break — the way the audience was revved up seeing her placed in the bottom, CBS Television City might have broken out in a riot if Ryan kept the anxious audience waiting another moment.
Of course, there were far less stressful moments during the show. The first musical number of the night came courtesy of The Queen Experience, singing "Somebody to Love" as the audience sang along to nearly every word. (Randy Jackson was especially psyched to see the band channeling the iconic rockers — the judge grinned the guitarist completed a particularly difficult riff on stage.) Next up was former Idol hopeful, Stefano Langone, who struggled to win over the audience (except for those in my section, who stood for the entire performance). Even the contestants looked a little disinterested as Phillip became distracted by the happenings in the crowd several times throughout the song.
But the night's biggest performance came courtesy of Katy Perry. What you didn't see on TV? The audience erupting in boos. Not that we can hold Perry responsible — the crowd was upset to learn that her performance was pre-taped, and that they wouldn't be able to see the pop star live. Maybe next time Katy-Cats?
Will we be booing next week seeing the Top 5 results? With only five contestants left, who will be the next to go? Come back next week to read behind-the-scenes intel from the show — and share your whole lotta love for Elise below!