'Glee' Graduates Are Set to Return, But How's That Going to Work?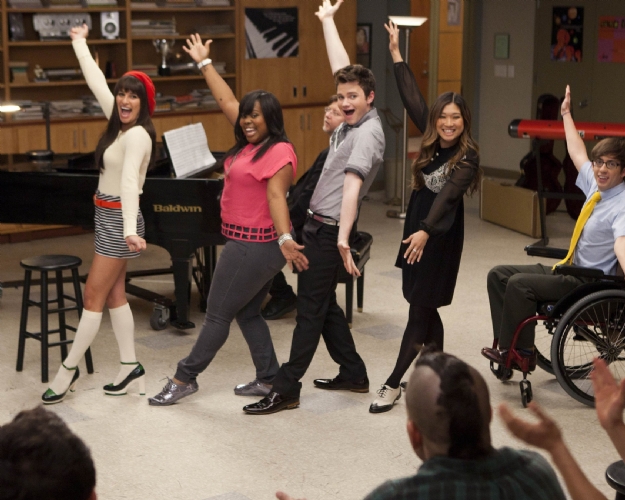 Gleeks everywhere panicked (or something less dramatic) when rumors started flying about losing our favorite McKinley High glee club members after the graduation-themed finale. How will the show work without them? How will we get our spot-on commentary on the world of YouTube series like Lord Tubbington's riveting weekly video? Who will we turn to for genius ideas like a dinosaur prom? Okay, so maybe we were planning on missing Brittany more than the others, but still. What is Glee without our original crew?
Deadline confirms that we won't have answer that question for the time being. We were already sure that Lea Michele  and Cory Monteith would return to the series, but now Matthew Morrison, Jane Lynch, Chris Colfer, Naya Rivera, Kevin McHale, Darren Criss, Amber Riley, Jenna Ushkowitz, Jayma Mays, Dianna Agron, Mark Salling, Harry Shum Jr. and Heather Morris are all headed back. Chord Overstreet is reportedly in talks to return to the series as a regular, which would make sense since his character was a junior in Season 3. Hollywood.com has reached out to Fox for comment.
But now that the gang's all here, how are they possibly going to fit into the plot when it centers on the glee club at the Lima, Ohio high school? (You guessed it) We've got an idea or two. 
Brittany (Heather Morris): After hitting it big with Lord Tubbington's web show, Brittany scores a job at the local news station where she and Lord Tubbington take over Sue's Corner. Sue will be mad, but when their first segment is a hard-hitting intervention in an effort to curb Lord Tubbington's Home Shopping Network addiction, she'll come around. 
Mr. Schue (Matthew Morrison): After last year's Spanish teacher debacle (in which we learned Will, the Spanish teacher, didn't know Spanish) Will's confidence in teaching things that don't involve catchy choruses and stage presence is still down and he suffers the consequences of a history brain fart and is demoted to P.E. teacher. 
Sue (Jane Lynch): In the wake of losing her local news segment to Brittany and Lord Tubbington, Sue starts packing on the pounds. No one seems to notice because she's supposed to be with child, so she's forced to finally turn her vicious one-liners on herself.
Santana (Naya Rivera): Santana "I Just Want to Be Famous" Lopez, scores a Disney channel deal for a children's sitcom. Her catchphrase? "I wants… what I wants." (Snap and head-wag implied.)
Kurt (Chris Colfer): After getting denied from NYADA, Kurt rationally applies for Spring semester at NYU, where he is rejoined with his text-happy friend from Between the Sheets. Kurt will get his revenge on Blaine for the "It's Not Right (But It's Okay)" performance with his own city-centric rendition of "Telephone."
Artie (Kevin McHale): Artie will refuse to stop rapping, and in accordance he opens Lima's first (and probably history's first) Center For Kids Who Can't Rap But Choose to Anyway. 
Blaine (Darren Criss): Blaine will make impassioned speeches about how he's not the new Rachel of the New Directions, but in taking the floor to make said speeches, he will in fact become the dreaded Rachel. But to be fair, Blaine will never be not lovable, so at least he'll have that. 
Mercedes (Amber Riley): After moving to L.A., Mercedes will hop on the fast track to superstardom, sending Sam into an emotional tailspin. She flies back on occasion to remind him that she dumped her football star boyfriend for him and that he needs to breathe normally. She will always love him. (Get it? Because she sang that to him that one time?)
Tina (Jenna Ushkowitz): Robbed of her "New Rachel" title by Blaine, Tina tries to make her mark by being "That Girl Who Brags About Her Boyfriend in Chicago" (because Mike Chang got into that Chicago dance program). Needless to say, it is short lived. 
Emma (Jayma Mays): Emma spends most of the season trying to convince Will not to spend their life savings flying all the graduated New Directions members back for their wedding. 
Quinn (Dianna Agron): After leaving Joe in an awkward no man's land relationship quandry, Quinn will come back one weekend to profess that she's moved on to Yale boys, but that they can be ambiguously interested in each other and not official for as long as he wants. 
Mike (Harry Shum Jr.): Mike is happy in Chicago, learning amazing things at his dance academy, and he would not be involved at all in the ridiculous antics at McKinley, but Tina and Schue drag him back to teach the new glee clubbers to dance. So at least we won't lose his magic moves. Whew. 
Okay, so most of this probably won't happen because this is a Ryan Murphy series and nothing is ever predictable, but how about we agree to give me a pat on the back if I'm right about any of it. Deal? Deal. 
More: