'Happy Endings' Recap: Friendship… It Will Kill Us All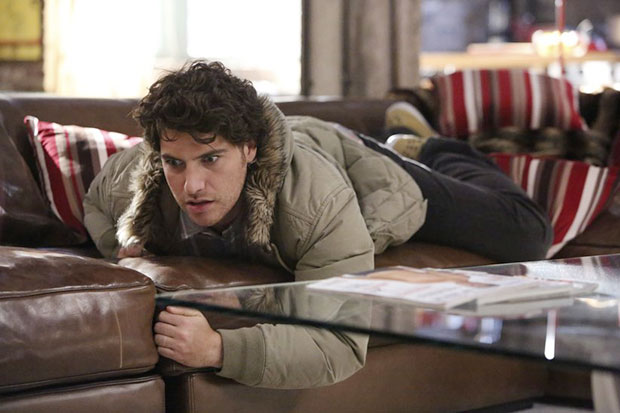 The functional social circle — the gang of confidants whose group mentality is based on constructive interaction and healthy barriers. For many of us, the phenomenon is nothing more than an urban legend, as we instead revel in the glory of whatever manifestations of codependence, passive-aggression, competitiveness, and any number of other vices are upheld by the people with whom we choose to pass the time. Marginal toxicity began pervading small screen cliques some time ago, overtaking the spotlit posses of Cheers, Taxi, and The Mary Tyler Moore Show, subtly. Seinfeld kicked this up a few dozen notches, allowing the likes of other '90s and post-millennium wonders to grab hold. But no television program has been more deliberately devoted to the delivery of the theme than Friends.
Often cited as a precedent and spirit animal for our contemporary gem Happy Endings, Friends not only showcased but brazenly celebrated the diametric self-obsession maintained from the pilot through the series finale by the West Village sextet. One particular exhibition of the group's ill regard for the world beyond the confines of their personal circumference transpires in a Season 6 episode, "The One with Rachel's Sister." Upon a hearing a knock on Monica's apartment door, the entire gang is visibly bewildered as they try to fathom who, if not any of them, could possibly be paying a visit. This sort of insistent oblivion to all other living entities is the theme ventured in this week's Happy Endings, and to a much more extensive degree.
Happy Endings has consistently been a much more self-aware program than its mega-hit predecessor. Calling attention to its own retcons, abuse of sitcom staples, and other absurdities, the show is no stranger to meta commentary. But this week's application might be the most extensive yet, as the very idea that these Chicago-set adult-children are so desperately invested in their definition as a component of this irrevocably adhered six-headed monster, a malignant societal pockmark, is, and always has been, the life blood of the program. So in the latest "The Ex Factor," Happy Endings doesn't just put its latest device under a microscope, it really challenges its entire state of being. And it does so with comedic brilliance.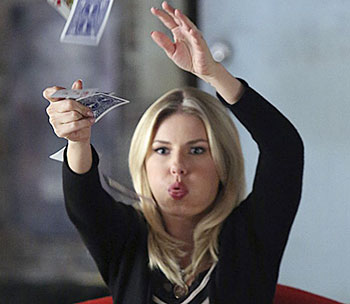 Penny is flustered when her boyfriend Pete (hey, Nick Zano is still on the show!) invites her to hang out with his friends for a change. After struggling to understand the very concept of such an idea, Penny agrees, diving headfirst into the disaster that is destined to be: a conversation with normal, mature, mentally stable adults. In fact, each of the three storylines on this week's episode involve the interloping of outsiders in the Happy Endings group. First, Max, along with Alex and Dave, tries to track down his totally awesome new roommate (Mark-Paul Gosselaar! It's Mark-Paul Gosselaar, everybody!) after he doesn't return home one night: Dave plays a surprisingly adroit detective on the hunt for the well-dressed Chase, calling his credit card company and tracing his steps (all while wearing Chase's swanky jacket), while Max and Alex crawl around on couches and practice "card tricks."
Jane invites her former lover, a woman named Ryan, to dinner at her apartment. Brad, initially delighted to learn that Jane's ex is female (employing the usual creepy behavior that sitcom males exhibit in the presence of lesbians), becomes infuriated with jealousy and insecurity when Ryan reveals that Jane once told her that she loved her. In turn, Brad invites one of his ex-girlfriends over (and she comes right away — she must have been doing, like, nothing), inflating the situation with scathing tension and hostility.
In other words, not quite healthy adult behavior coming from any of the described parties. But this is the norm for this crew, as divulged by Penny in her description of what she considers average behavior. Wacky high jinks, misunderstandings elevated to catastrophe, deception, manipulation, one-upsmanship. Week after week, these are the ideals this group upholds, practicing in the vein of Friends, Three's Company, and the like. And even when presented with the alternative — the opportunity for normalcy, as represented here by Pete's cronies — the central gang turns to their regular debacles. Because, as Penny's boyfriend comes to realize at the end of the episode, that's far more interesting. And this is TV.
So while the rest of us embedded in toxic friend groups might suffer consistently at the hands of our horrid social choices, those on scripted comedies rejoice: things generally work out for these self-destructive loons. Because, again, this is TV. But to all those real life individuals who relate a little too well to the Happy Endings group, maybe it's time to distance yourself from your own manifestations of roommate stalking, spouse sparring, and insult pile-ons. Join a book club or something.
[Photo Credit: Danny Feld/ABC (2)]
More:
10 Bitchiest One-Liners From This Week's Don't Trust the B—- in Apt. 23
'Pretty Little Liars' Recap: Who Did Start the Fire? We Find Out!
The Least Normal Things About 'The New Normal': Mr. Mom Edition

Craziest Celebrity Swimsuits (Celebuzz)